Flying first class
Samsung Galaxy Note 10.1 2014 review: Flying first class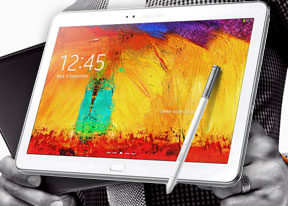 S Apps
The Samsung Galaxy Note 10.1 2014 Edition features a wide array of advanced features and applications that really make it stand apart from other flagships.
One of the coolest apps is called Group Play. It shares various multimedia across multiple devices in the same room, but unlike DLNA it's interactive.
One use case is to play a music track on the Samsung Galaxy Note 10.1 and use multiple Galaxy devices as speakers. You can pick the role of each phone (e.g. left channel, right) all the way up to surround sound. This way you can control the music from one phone but use the loudspeakers of all.
Of course, the other phones will need to support Group Play - the devices communicate over Wi-Fi (your Galaxy Note 10.1 becomes a hotspot that others connect to) and the pairing is done via NFC or Bluetooth.
More useful are the options to share a picture or a document - you can have the same picture appear on everyone's device and you can draw over it if you need to highlight a certain element of the image.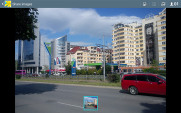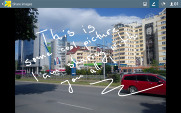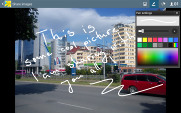 Sharing a photo and drawing over it
Finally, perhaps the coolest feature of Group Play is that it allows for multiplayer games to be played on several phones simultaneously. Of course, only supported games work - there was a poker and puzzle games preloaded on our unit with Asphalt7 and Gun Bros offered as other games that support Group Play multiplayer.
Multi Vision on the Samsung Galaxy Note 10.1 allows you to stack up several devices and get a bigger resulting screen area for your content. If your friends rock a Galaxy Note 10.1 you can team up and create a cool video watching experience.
Moving on, there's Samsung Link, another way to share content between devices. Unlike Group Play, Samsung Link is intended for personal use. You can link the phone to a computer that is synced with Dropbox, SkyDrive or SugarSync and remotely access content on that device.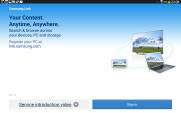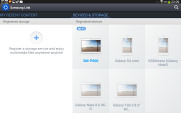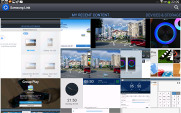 Samsung Link lets you access content from your computer remotely
S Translator will help travelers - it can translate between two languages using either typed text or by using speech recognition. It can read out the resulting translation too, if you don't think your Korean accent can cut it. S Translator supports all the widely-spoken languages - English, Chinese, Spanish, Portuguese, French, German, Italian, Japanese and, of course, Korean.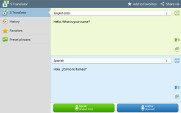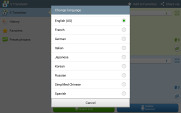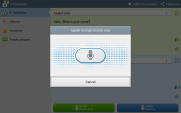 S Translator can be invaluable when traveling
The Peel Smart Remote is the primary app used with the built-in IR emitter on the top of the phone. First you will be ask to configure it to acts as remote on your TV and your set-top-box. Then the app asks about your zip code and pulls up a number of TV service providers in that area, so it can double as a TV Guide.
Hubs
Hubs are not just for Windows Phone - Samsung, at least, seems to think so. And while before there used to be several different applications for the various Samsung Hubs, in the latest TouchWiz they're all accessible from one centralized Samsung Hub location.
One thing you can see right off the bat when accessing the Hub is absence of any social networking features. Samsung has dropped Social Hub features found in TouchWiz versions of old, leaving you to traditional dedicated apps for your social networking fix.
Otherwise, the new Samsung Hub gives you access to stores for apps, games, and books. Each of the sections take you to the respective stores. The first app section will get you to Samsung Apps store. You can either buy digital magazines, books and online newspapers from the Book Store, browse and play either Social or Premium games in the Game Store. The latter features a try-before-you-buy option, as well as titles by Gameloft and EA, which are otherwise not available on the Google Play Store.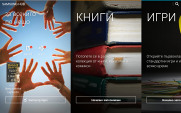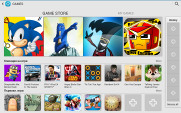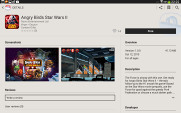 The new Samsung Hub offers apps, books and games
Google Maps and Navigation, where available
The Samsung Galaxy Note 10.1 2014 Edition comes with a GPS receiver, which got a satellite lock in under two minutes with A-GPS turned off. A-GPS can speed this up quite a bit, but requires Internet access. We gotta say, we didn't experience any issues with signal reception.
The Galaxy Note 10.1 comes with Google Maps and Navigation. Voice-guided navigation has become a viable solution already. Vector maps are smaller and way easier on your data plan and 3rd party SatNav apps are in danger.
For now though, turn-by-turn voice guidance using Google Maps Navigation is available in lots of countries, but if you don't live in any of them, the best you can do is plan a route in advance and keep an eye on your current location during travel.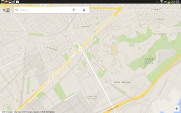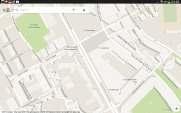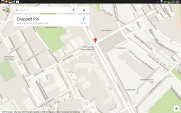 Google Maps with vector maps does a bit of 3D
Quite naturally, the app also supports the Street View mode. If it's available in the area you're interested in, you can enjoy a 360-degree view of the surroundings. When the digital compass is turned on it feels like making a virtual tour of the location.
If Google Maps Navigation doesn't do it for you, you can grab an alternative app from the Android Market - there are both free and paid ones.
Google Play is where the Android apps are
The Google Play Store features several scrollable tabs - categories, featured, top paid, top free, top grossing, top new paid, top new free and trending. Apps usually have several screenshots (some even offer a demo video) so you can get an idea of what the app looks like before installing it.
You can also check out comments and ratings, as well as the number of downloads and so on, to help you decide if the app is worth it.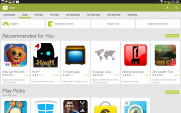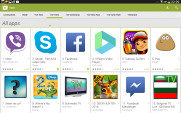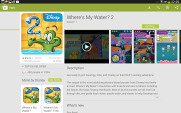 The Google Play Store will give you access to hundreds of thousands of apps
The Google Play Store is full of all sorts of apps. From music / video players, to file managers and various tools, you'll always see something worth a try. The problem is those specifically optimized for tablets are only a fraction of all available apps. Some of the rest scale pretty well to the large screen, but some simply end up pixelated and downright poorly looking.
Samsung has naturally included its own Apps store. It features largely the same type of interface as Google Play, except here you'll find a far lower number of apps. The good news is Samsung uses this repository to distribute some exclusive titles and some promotional offers, available only to its customers.