Flying first class
Samsung Galaxy Note 10.1 2014 review: Flying first class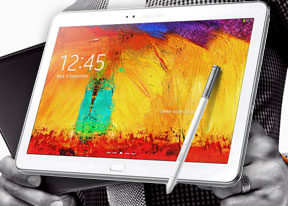 S-Pen, Motion gestures
Now let's talk about the new S-Pen features. You'll find pretty much every S-Pen-enabled app that premiered with the Notes e pre-installed on the Note 10.1 2014 Edition. Once you pull the S-Pen out, the new Air Command menu pops up. The new menu is available everywhere throughout the UI too, you just need to press the side button on the S-Pen.
The Air Command menu is a virtual ring with five shortcuts - Action Memo, Scrap Booker, Screen Write, S Finder and Pen Window.
The Action Memo lets you write stuff and then use it to initiate an action - i.e. add a contact name and number to your phonebook, or check out an address on Google Maps. You just need to mark a part of the text and send it to one of the supporting apps. The handwriting recognition works impressively fast and accurately - it handles just about everything you throw at it.
Scrap Booker lets you add pieces of your screen to... well, a Scrapbook. You don't need to take a full screenshot - just mark the stuff you need. The Scrap Booker will automatically extract pictures and text from the selected area and will save them to one of your Scrapbook categories. You can then add an optional memo to every scrapbook entry you create.
Screen Write allows you to start writing on the display no matter what screen you are on. You can either use a clean sheet or use a snapshot of the screen you are currently using. It's the best tool for taking quick memos.
The S-Search is a local search that'll browse through all the content on your Note 10.1 with preset filters. It can search in all S-Pen content you've added (including notes, scrapbook pages, etc.), messages, multimedia, settings, phonebook, even the internet. Naturally, all handwritten stuff is an easy job for the S-Search. You can even search for symbols you've drawn with the S-Pen. That last one seems to work quite slowly, however, and unless you actually use the scrapbook quite a lot you probably won't need it that often.
The last element of the Air Command menu is Pen Window. It lets you launch a mini window with one of the supported apps by drawing a rectangle on the screen. The Galaxy Note 3 will then fit the floating app in said rectangle (correcting the aspect, of course).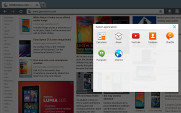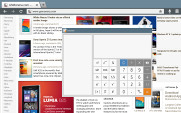 Placing mini apps anywhere on the screen
S Note is an application that allows you to create and customize notebooks. There is a total of 9 preset notebooks to choose from but you can also create your own custom look from images in your gallery.
After you're done creating a notebook you can go ahead and fill it with notes, drawings, images on which you can draw or doodle, etc. The app gives you a nice little preview of the notes inside a notebook when you swipe it down in the main window.
Inside a note you can choose from a variety of pens and brushes, adjust the color and thickness of the line, insert text in a number of fonts, make the text bold or italic, etc. You can create custom shapes, have an undo and redo option and choose to delete whole lines or just parts of the content.
You can insert just about anything into a note - voice memos, images, video, charts or illustrations, maps, etc.
Scrapbook lets you keep any content you browse through on the Note 3's screen. You need to select anything on the screen of the Note 3 by pressing the S Pen button and the software highlights it and gives you a prompt to send it to Scrapbook via an image. Air Command also gives you a shortcut to Scrapbook and lets you highlight anything on screen.
You can also add notes to a scrapped image as well as tags.
The app lets you import images from your phone or SD card storage and sync with your Samsung account but to our disappointment won't let you sync your scraps and tags to Evernote, Springpad, Google Keep, or any other third party app.
The Samsung Galaxy Note 10.1 2014 Edition comes with a number of other advanced features enabled by the powerful hardware and dedicated sensors.
The first is Air View, which debuted on the Galaxy Note II and worked with the S Pen. Just like before when you're hovering the S Pen or finger over text or image, email, the software responds and brings you a larger pop up version of it.
This is called information preview (e.g. SMS text, calendar entry text and so on). It also works for previewing videos just by pointing to a spot in the timeline, and it lets you checking out the next track in the music player by hovering over the next button (available with the previous button too). There's also the use for for previewing folders, speed dial contacts, and magnifying links in web pages. Air view detects only the S Pen (fingers are not supported) around 3cm away from the screen, so there's no danger of accidentally tapping the screen when you wanted to use Air View instead.
The familiar Smart Stay and Smart Rotate features are enabled too. Stay prevents the screen from locking as long as the front-facing camera can see your face (great for reading) and Rotate uses the orientation of your face rather than accelerometer info to decide how to rotate the screen.
Smart Scroll is yet another feature that leverages on the front-facing camera - it allows you to scroll up and down by tilting the phone or by tilting your head. It's a bit hard to get used to it initially, but once you do it's rather useful for certain scenarios - particularly when your other hand is busy.
The final Samsung-exclusive feature is dubbed Smart Pause. While watching a video, it uses the front-facing camera to track your face and will automatically pause the video when you look away. Look back and the screen and the playback continues.
There is a basic set of motion gestures as well - you can zoom, move stuff or browse images by tilting or panning the device. You can also pause the music player by putting your palm on the screen. A palm swipe takes a screenshot.
S Voice and Google Now
Naturally, being a Jelly Bean tablet, the Galaxy Note 10.1 also comes with Google Now.
Google Now integrates with your Google account and can access your daily routine, internet searches, email, etc. and give you information relevant to your interests and daily needs.
It provides traffic information to your work or home, knows those scores of sports teams you follow, gives you the weather forecast for your city and can even tell you who Kevin Spacey is.
Google Now also has its own dedicated widget for the homescreen.
S Voice is also present on the Galaxy Note 10.1 2014 Edition. S Voice can be used to dictate text, play music, open an app, change a setting, make a memo (including voice memo), add a reminder, schedule an event, set an alarm or timer, check the weather, do a search on the internet, look for local listings (e.g. nearby restaurants) and even get an answer to a question.
S Voice does duplicate parts of Google Now, but being less search focused it tries to do more on the actual tablet and it has some added features. Some of these are available outside of S Voice too, so you can set the Galaxy Note 10.1 to snooze an alarm, take a photo and what not by voice commands even when S Voice isn't running. The only problem with S Voice is not nearly as fast or as accurate at recognizing your speech input as Google Now.