Flying first class
Samsung Galaxy Note 10.1 2014 review: Flying first class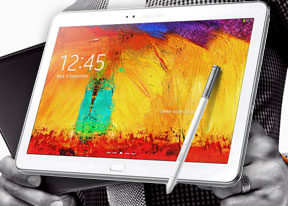 Connectivity misses NFC
The 3G-enabled Note 10.1 2014 Edition gets you quad-band GSM with 3G speeds of up to 21 Mbps HSDPA and 5.76 Mbps HSUPA.
There is also an LTE-capable model running on the Snapdragon 800 chipset. It also comes with quad-band GSM and 3G support with HSPDA up to 42Mbps. The LTE support covers six bands and is category 4, which means you get up to 150Mbps downlink and up to 50Mbps uplink speeds.
There's ac/a/b/g/n Wi-Fi support, with both 2.4GHz and 5GHz band compatibility. Wi-Fi Direct and DLNA support are also available.
All three models of the Note 10.1 2014 are GPS-enabled with GLONASS support.
There is a microSD card slot as well, on top of the 16/32/64GB of internal storage. This means that getting some of the more expensive storage options is unnecessary as microSD cards are really cheap these days.
Naturally, Samsung Galaxy Note 10.1 2014 Edition supports USB-on-the-go, but you will need to buy an adapter for that. Using one you can connect card readers, USB flash drives and other compatible devices to your tablet and access their contents through the file manager. Mice and keyboards are supported as well.
You can also buy an HDMI adapter and connect the tablet to your HDTV with a regular cable. There's no NFC connectivity or FM radio on the Galaxy Note 10.1 2014 Edition, though.
Finally, there is also an IR-port, which allows you to control various TV's and other devices using Samsung's WatchON app, which we'll cover below.
Web browser
While the interface of the Android tablet web browser hardly has changed, the Samsung Galaxy Note 10.1 2014 Edition has the hardware specs to propel it to great heights of user experience. The huge, ultra sharp display with great colors makes reading a joy.
The tabs are kept in a bar on top, much like on a desktop browser. The address bar and search bar are incorporated in a single field - typical Android - which scores another point for the Galaxy Note 10.1.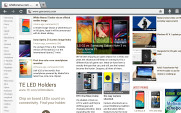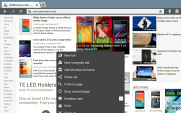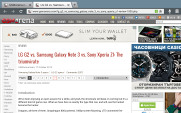 Browsing GSMArena.com on the Samsung Galaxy Note 10.1
The browser supports both double tap and pinch zooming along with the two-finger tilt zoom. There are niceties such as multiple tabs, text reflow, find on page and so on.
Bookmarks and History have their own split-screen interface. In History you can check the pages browsed today, yesterday or over the past week.
Air view, Smart scroll and Smart stay all work in the browser, the first of which lets you simply hover your S-Pen over a web element and it will act as if a mouse cursor was over it instead, which is great for websites not optimized for mobile devices.
Flash is no longer welcome as even the stock browser has dropped support for plug-ins.
The Web browser comes with Incognito mode, which enables you to surf the web without the browser keeping track of your history or storing cookies.
Organizer has everything
A good set of organizer apps are available on the Samsung Galaxy Note 10.1 2014, including the Polaris Office with both viewing and editing documents enabled. It has a nice user interface and solid file management. It supports both internal and web storage (via Box.net, Dropbox, Google Drive or SugarSync).
Viewing and editing word documents, spreadsheets and Power Point files is hassle-free. There's a PDF reader in the bundle as well.
Printing options are also available.
The calendar has six different types of view: daily, weekly, monthly, yearly, list and tasks.
Adding a new event is quite straightforward and you can also set an alarm to serve as a reminder.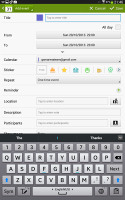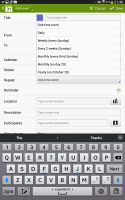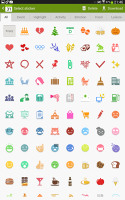 List view • Creating an appointment
The calculator app is nicely touch optimized with huge, easy to hit buttons.
The Alarm app is optimized for big-screen use and is pretty intuitive. You can set multiple alarms.
The World Clock app is full of eye-candy. You get an animated globe where you can pick time zones or cities, there are country flags, day and night animations, etc.