Starting over
Samsung Galaxy Note 10.1 preview: Starting over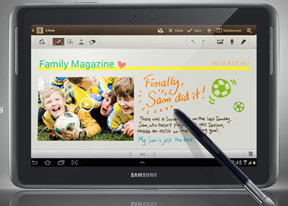 Web browser with a twist
The web browser on Android has always been excellent and the Ice Cream Sandwich version is no exception. On the revamped Galaxy Note 10.1, the web browser UI has been altered to fit the overall design language and resembles Google Chrome for mobile.
Tabs are available at the top of the screen, so switching between them and closing unneeded ones is very easy. In the top right corner, you'll find the multitasking button we mentioned earlier and the extended settings button, which brings out cool features like Find on page, Desktop view, Save for offline reading and several others.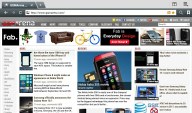 The web browser got a redesign
One thing enabled by the S Pen that's missing in other mobile browsers is "mouse over". Some web pages have elements that react differently to clicks and hovering.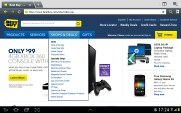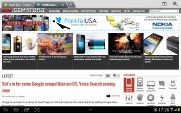 Using the hover function in the browser
One thing that's missing from the browser's settings is the Brightness/Color, but it's okay since the pull-down notification area provides such an option and it is easy to access. There's also the Inverted screen rendering option, which turns the web page black and white (with white backgrounds becoming black). You can further tweak this effect using the Contrast slider.
The browser has a new trick too, one which it learned from its desktop sibling, Chrome. When searching for something, if the browser is confident you'll click on a certain search result (and with Google's algorithms there's a good chance you will), it will start preloading that page right away so that it opens faster when you eventually click it. You can set this to work only over Wi-Fi or turn it off completely.
Another trick the Android browser snatched from Chrome is the Incognito mode - there's no global setting, but you can open Incognito tabs.
If you don't like this desktop-like interface, you can enable Quick controls from the Labs settings, which reveal many controls (Tabs, URL, Reload, History, etc.) when you slide your finger in from the side.
Now, for the Flash performance - the Galaxy Note 10.1 does great at 1080p YouTube videos right in the browser. Flash games run well too.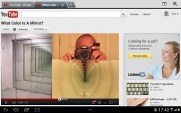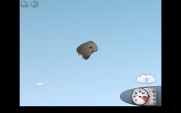 1080p Flash videos are now possible • playing a Flash game
If you find Flash content to slow down your page load times or cause stutter when panning, you can switch it to on-demand in the settings menu (or even turn it off altogether), but we doubt you'll need to do so on the Note 10.1.
First impressions
The Samsung Galaxy Note 10.1 left us feeling pretty positive about its prospects. It has evolved into something more than a tablet - it's taken yet another step towards becoming a proper laptop replacement. The S Pen adds quite a lot to what you can do with a tablet and the split screen and mini apps make multitasking as good as we have ever seen it on a droid.
In the usual Samsung manner, there's something for everyone with the Galaxy Note 10.1. Artists can do wonders with the preloaded Photoshop Touch, S Note and S Memo apps, but the average user can also scribble the occasional note or two.
The extra horsepower under the hood is welcome and, quite frankly, was a much needed boost for the Galaxy Note 10.1. Power users will be more than happy with how the slate behaves in heavy multitasking. Plus, the Note 10.1 was not going to be considered as a premium device with just the dual core chipset.
There's much more testing to be done before drawing final conclusions on the Note 10.1 and we'll try and answer all remaining question in our upcoming review. By the looks of it, though, Samsung may have another winner on their hands.