Connectivity chock-full of new technology
The Samsung Galaxy Note 3 has an impressively long list of connectivity features. Let's start off with the basics - quad-band GSM/GPRS/EDGE and quad-band 3G (AWS is missing though). The 3G connectivity is backed by HSDPA (42Mbps downlink, 5.76Mbps uplink).
The Note 3 has an LTE-A-enabled version too, which uses the Snapdragon 800 chipset (the Exynos 5 Octa 5420 comes without 4G). The LTE-A speeds are 150Mbps down and 50Mbps up.
The Wi-Fi support covers a/b/g/n as well as the latest ac standard, with both 2.4GHz and 5GHz band compatibility. Wi-Fi Direct and DLNA are part of the package, of course.
The third-generation phablet also has Bluetooth 4.0 LE. It incorporates Bluetooth 3.0, but also includes the efficient Low Energy mode. It also supports the high-quality Apt-X audio codec.
The Samsung Galaxy Note 3 lets you share all sorts of media via NFC by simply touching the devices back-to-back. You'd need two S Beam-enabled devices to get this to work. You can share with other NFC devices as well, but the functionality is limited to what is provided by the stock Android Beam.
The AllShare functionality is now split into two: AllShare Play and AllShare Cast. The first is for transferring and sharing data and multimedia files to your notebook or PC. AllShare Cast on the other hand provides streaming content to and from different kind of devices (TV or computer) over DLNA.
And finally, for wired connectivity we have the mobile debut of the microUSB 3.0 port. It's basically the standard microUSB 2.0 port that's extended by additional pins to provide extra speed. You can hook a standard microUSB port on the left, but Samsung has included a special microUSB 3.0 cable that lets you take advantage of the extra oomph. You still get backwards compatibility and can use all your old cables, though.
The microUSB port is also MHL-enabled, which lets it output output by using a MHL-to-HDMI dongle. Sadly, there isn't one included in the retail box.
The MHL port has yet another feature - it enables USB On-The-Go. You'll need an adapter for that too (there isn't one in the box) but this one is fairly straightforward - you plug it into the Galaxy Note and plug a standard USB cable on the other end.
Just about every USB thumb drives and card reader we tried worked and reading all sorts of cards was problem-free - it even worked with a big CF card. Connecting phones worked pretty well too - we were able to access the memory of a Nokia 808 PureView we had laying around straight from the Galaxy Note 3.
USB keyboards and mice are also supported - a mouse cursor appears on the screen of the phablet and you can use it to do all sorts of stuff around the interface. We even managed to connect a printer, but we couldn't print a file straight from the Note II, as that only works with Samsung-made printers.
There's also an IR-port, which allows you to control various TV's and other devices using Samsung's WatchON app, which we'll cover below.
Web browser now supports gestures
While the interface of the Android web browser hardly has changed, the Samsung Galaxy Note 3 has the hardware specs to propel it to great heights of user experience. The huge, ultra sharp display with great colors makes reading a joy.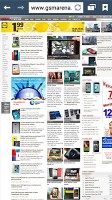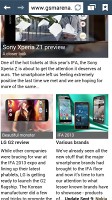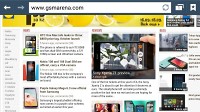 Browsing GSMArena.com on the Samsung Galaxy Note 3
The browser supports both double tap and pinch zooming along with the two-finger tilt zoom. There are niceties such as multiple tabs, text reflow, find on page and so on. A neat trick is to pinch zoom out beyond the minimum - that opens up the tabs view.
Thanks to the Galaxy Note 3's Air gestures support, you can flip between open tabs by simply swiping left and right across the screen, or scroll up and down by doing the same vertically. It takes a bit of getting used to, but is a neat feature once mastered.
Air view, Smart scroll and Smart stay all work in the browser, the first of which lets you simply hover your finger over a web element and it will act as if a mouse cursor was over it instead, which is great for websites not optimized for mobile devices.
Flash is no longer welcome as even the stock browser has dropped support for plug-ins.
The Web browser comes with Incognito mode, which enables you to surf the web without the browser keeping track of your history or storing cookies. The brightness and colors option gives you four different presets to adjust the display according to your preferences. Automatic brightness is an option, too, and works only within the browser.