Neoclassic
Samsung Galaxy Note 3 Neo review: Neoclassic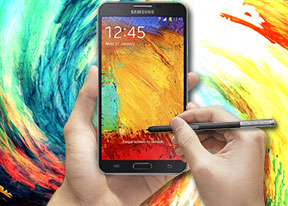 Unboxing the Galaxy Note 3 Neo
There are no surprises in box the Galaxy Note 3 Neo ships in: a powerful 2A charger, a USB cable and a headset are all waiting for you inside. A bunch of spare tips along with the metal tool needed for replacing them complete the list of accessories.


The Galaxy Note 3 Neo retail package contents
360-degree spin
If you put the original Note 3 and the Neo next to each other the size differences are negligible. The Note 3 Neo's screen diagonal is a fraction of an inch shorter, which results in a tad smaller footprint compared to the original Note 3. At 148.4 x 77.4 x 8.6 mm, the Neo is just 3.5mm shorter, about 2mm narrower, and 5.5g lighter. Overall though, at this size the weight and thickness differences are hard to spot when the two are side by side, let alone feel when you handle just one of them.
Design and handling
The new member of the lineup looks exactly like the original too - it has the same faux-leather battery cover, complete with the stitching. The S-Pen compartment is in the same place at the bottom as well.
Just like the regular Note 3, the Galaxy Note 3 Neo is entirely made of plastic, which on the rear cover has been designed to look and feel like leather with almost real stiches. The illusion isn't as good here as the new back is a bit harder which takes away some of the feel. The good news is it will still handle damage very well and even survive a few drops - no trickery there. The frame around the screen has the familiar brushed texture and, this time around, Samsung went for a similar finish on the sides - instead of the grooves on the Note 3.
Almost the same size and weight as the original, the Samsung Galaxy Note 3 Neo is near impossible to operate with one hand. Samsung has of course tried to make up for it with the familiar set of layout optimizations and has even supplied a dedicated one-hand mode. What that does is reduce the interface so that it only takes a part of the screen so you can reach for the furthest angle. You get very precise control over the size of the window and also get to pick which corner it occupies so it can actually be useful at times.
Bottom line though, if you are getting the Neo hoping for more comfortable single-hand operation in everuday full-screen mode, don't set your hopes too high.



Handling the Samsung Galaxy Note 3 Neo
Once you pull the S-Pen out of its compartment, several shortcuts pop up on the screen, so the stylus can often be the fastest way to perform certain tasks.