Samsung and Verizon launched the Galaxy Note 3 today, right on schedule. The phablet flagship costs $299.99 with a two-year contract or $699.99 off contract.
Verizon is also offering the Samsung Galaxy Gear smartwatch accessory. It can be yours for $299.99, but is currently compatible only with the Galaxy Note 3 phablet and the Galaxy Note 10.1 2014 Edition. Samsung will add compatibility with mode devices later this year through a software update.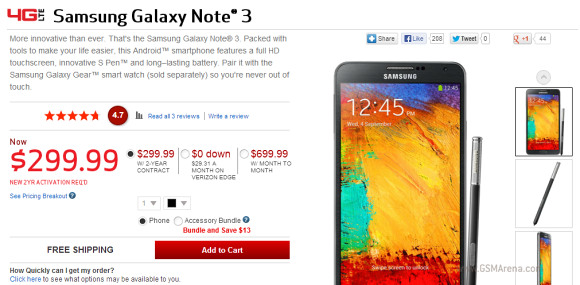 If you want to know more about those gadgets you can check our Galaxy Note 3 review and Galaxy Gear review.
The Wi-Fi-only Samsung Galaxy Note 10.1 2014 Edition has also hit the shelves in the USA today. The slate is available through various US retailers and costs $549.99 for the 16GB model and $599.99 for the 32GB version. The Wi-Fi-only model is powered by the Samsung's own Exynos 5420 Octa chipset, not the Snapdragon 800.
B
iPhone 5S is on fire on Verizon. Note 3 has fake leather. Lmao.
r
Note3. I love this phone but i have short of the money.
D
The one that needs a gorilla pocket is the Z Ultra. The Note 3 is actually lighter than the Z1! And not that much bigger since the Z1 has that crazy wide bezels around its screen. Nobody who owns Note 1 or 2 has ever complained it for not fitting in ...