Bigger, better, faster
Samsung Galaxy Note 3 vs. Nokia Lumia 1520: Bigger, better, faster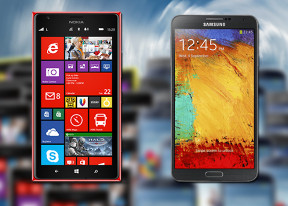 Displays
Moving on to displays. Both devices have top-notch screens. First off, the Nokia Lumia 1520 is more generous in terms of size - 6" vs the 5.7" of the Samsung Galaxy Note 3. Resolution is the same - 1080 x 1920 but the pixel density is slightly higher on the Samsung Galaxy Note 3 - 386 ppi against the 367 ppi of the Lumia phablet. However at these densities you can rest assured that both devices offer sharp and crisp on-screen content without pixilation anywhere to be found.
It's also worth noting that while Samsung offers a Super AMOLED unit on the Note 3, the Nokia Lumia 1520 comes with a ClearBlack IPS LCD - but more on the natural characteristics of these panels in a bit.
In terms of software adjustments, both manufacturers offer rich options for their devices.
The 1520 comes with the Lumia Color Profile option in the settings, which gives you two sliders to play with - one for color temperature (which spans the cool, neutral and warm range) and color saturation (natural to vivid).
Nokia Glance screen keeps the clock and notification counters visible even after you lock the screen. This could be set to appear only for a little while after you lock the screen, intermittently on and off and always on. There's a separate always on setting for when the device is charging. A Night mode allows you to pick a different color for the Glance screen info - Red, Green or Blue - if the default White setting is too bright for your sleepy eyes.
Samsung has included different color modes for the Galaxy Note 3. Dynamic is the most saturated of them, while Professional photo provides real colors. While different modes don't give you as much freedom as the fine tuning sliders of the Nokia they still provide enough flexibility and are somewhat easier to use.
Then there's adapt display, which optimizes the color range and saturation when you're browsing content through the gallery, camera, browser, etc. The mode, however, won't apply setting when you're using third-party apps.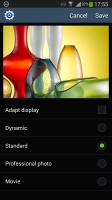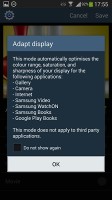 Samsung Galaxy Note 3 display modes
Finally, to save power the Galaxy Note 3 can automatically adjust screen tone depending on the on-screen content. Sadly, the Samsung Galaxy Note 3 doesn't provide always-on glanceable information while locked, which would have been nice given that the AMOLED needs only illuminate a couple of pixels to display clock and unread message count, leaving the rest of the pixels off. Oh well.
The LCD on the Nokia Lumia 1520 has the standard pixel alignment of the RGB matrix - an equal amount of red, green and blue pixels lined together in a row. The screen on the Galaxy Note 3 uses the diamong PenTile matrix type, which is known to be the cause for visible pixelation - but that's not a problem on screens with such a high pixel density. The PenTile matrix uses OLED sub-pixels of different sizes as each color has different levels of power efficiency and longevity. Sub-pixel rendering is employed to properly distribute each of the primary colors.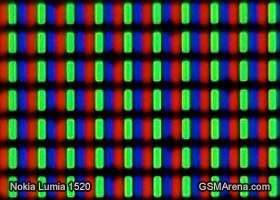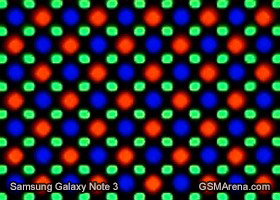 Nokia Lumia 1520 • Samsung Galaxy Note 3
Looking at the numbers in our display test both devices look really good without being the best. Being an AMOLED, the screen on the Samsung Galaxy Note 3 has the deepest blacks and a practically infinite contrast ratio. It's the maximal brightness that's usually the weakest point of these displays.
The Nokia Lumia 1520 has pretty good (read deep) levels of black and almost double the brightness level at both 50% and 100%. As for contrast the Lumia 1520 is a good performer with solid numbers but falls short of leaders in this field, such as the LG G2, HTC One or Sony Xperia Z1. But both phablets beat the Sony Xperia Z Ultra in the contrast section.
Display test
50% brightness
100% brightness
Black, cd/m2
White, cd/m2
Contrast ratio
Black, cd/m2
White, cd/m2
Contrast ratio
Nokia Lumia 1520
0.22
263
1174
0.43
522
1207
Samsung Galaxy Note 3
0
149
∞
0
379
∞
Oppo N1
0.25
285
1118
0.47
553
1164
HTC One Max
0.14
224
1591
0.40
629
1572
LG G Flex
0
131
∞
0
411
∞
Sony Xperia Z1
-
-
-
0.38
580
1513
Nokia Lumia 1020
0
172
∞
0
398
∞
LG G2
0.10
149
1522
0.45
667
1495
Sony Xperia Z Ultra
-
-
-
0.47
467
1001
Sony Xperia Z
-
-
-
0.70
492
705
Huawei Ascend Mate
0.23
222
982
0.67
711
1053
Samsung Galaxy Mega 6.3
0.12
160
1364
0.32
440
1379
Samsung I9505 Galaxy S4
0
201
∞
0
404
∞
HTC One
0.13
205
1580
0.42
647
1541
Next up is the sunlight legibility test. It provides readings on how well the screen performs in bright outdoor light by showing the contrast level. The AMOLED unit on the Samsung Galaxy Note 3 proves unreflective thanks to it having one less glass layer, which compensates for the average brightness level.
The Nokia Lumia 1520 proved to be very reflective, which cost it dearly and put it way behind its competition.
Sunlight contrast ratio
Samsung Galaxy Note 3
3.997
Nokia Lumia 1520
1.813
To sum up - both devices have great displays with good color reproduction and solid numbers on brightness, blacks and contrast. When dealing with displays usually more is better but in this case it was the outdoor visibility performance that was the true deciding factor. Feel free to count this round in the Nokia 1520 favor in case the sheer screen size is more important to you than the outdoor legibility.
Winner: Samsung Galaxy Note 3.
Battery life
Battery performance would be an interesting fight between these two phablets. The Nokia lumia 1520 has 200 mAh more than the Samsung Galaxy Note 3 - a total of 3400 mAh vs 3200 mAh.
Right off the bat the Nokia Lumia 1520 wanted to send a message. It managed a whopping 10 hours more in the call test compared to the Galaxy Note 3 for an insane 28 hours. Still the Galaxy Note 3 got a great 18 hour result in this test, which is a really good result on its own, too.
Talk time
Nokia Lumia 1520
28:34
Samsung Galaxy Note 3
18:12
Next up is web browsing where the Lumia 1520 once again bested the Galaxy Note 3 by almost three hours. That's a score of 12:40 minutes. Anyway, we have a solid score from the Galaxy Note 3 here as well.
Web browsing
Nokia Lumia 1520
12:40
Samsung Galaxy Note 3
9:04
And finally, the Galaxy Note 3 was able to pull one victory under its belt in the video playback test. The Lumia 1520 got a stellar result, nonetheless.
Video playback
Samsung Galaxy Note 3
13:32
Nokia Lumia 1520
12:31
Combining the results and taking into account the standby power consumption, we get an outstanding 107 hour endurance rating for the Nokia Lumia 1520. That's the distance the device can walk in between charges and that's a lot more than the already great battery-wise Galaxy Note 3 did.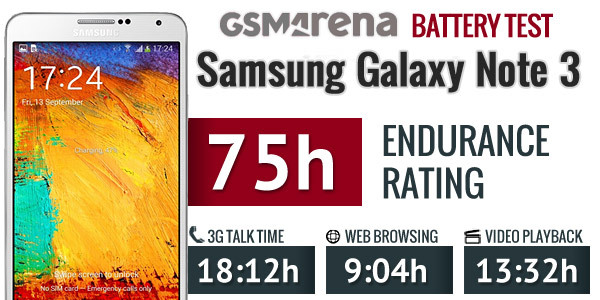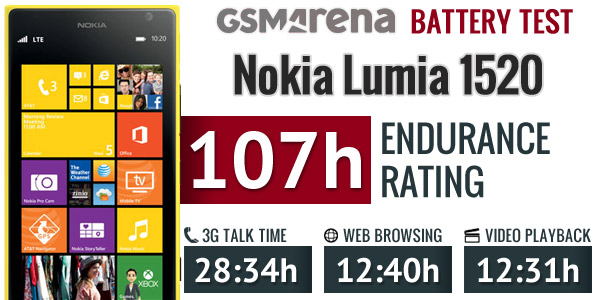 Winner: Nokia Lumia 1520. The Samsung Galaxy Note is a genuinely great performer in our battery life test but the Lumia phablet was simply out of this world.