Bigger, better, faster
Samsung Galaxy Note 3 vs. Nokia Lumia 1520: Bigger, better, faster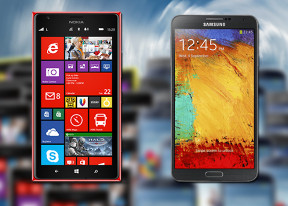 Watching movies
With such big screens on tap you can bet the Lumia 1520 and Galaxy Note 3 are second to none when you're choosing which gadget to use for watching movies in your commute. After all, the screen you would most likely use is the one you have always with you - and that more often than not will be your smartphone.
At 6" and 5.7" in screen diagonals these devices offer as much screen real estate as practical for a phone. So how's watching movies on either?
The video app on Windows Phone has a very simple interface - you have fast forward and rewind controls, a timeline and a video size button that toggles full-screen viewing. It supports XviD, DivX, MOV and MP4 videos up to 1080p resolution. The few things it won't play are MKV files and videos using the AC3 audio codec. There is no subtitle support at this point.
The TouchWiz video player is among our favorites. It lists the last watched video on top for quick access. Under it there are three tabs - personal (showing you the videos on your local storage), Download (which lets into the Videos store) and Nearby devices, which shows the PCs and players on your local Wi-Fi network. The grid view would actually play the videos in small thumbnails instead of showing static images.
There's a chapter preview which detects chapters in the video and shows a rectangular grid, with live thumbnails (just like the grid view above).
Hovering your finger or the S Pen over the timescroll lets you preview part of the video in a small thumbnail - just like YouTube videos do when you hover the mouse of your computer.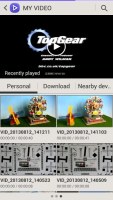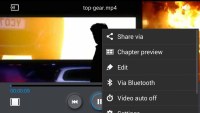 Watching a movie on the Galaxy Note 3
Samsung also has Pop up play as an option - it let's you pop out the video as an overlay to the OS and use other features while watching - such as texting with a friend or checking your location on Google Maps, you name it. You can use pinch zoom to adjust the size of the video and also you can move it around, too.
The Samsung Galaxy Note handles every video file type you can imagine all the way to 1080p with ease. It's really in a league of its own when it comes to video playback.
Winner: Samsung Galaxy Note 3. While both smartphones have great and big displays for enjoying video, the Samsung Galaxy Note 3 elevates the whole experience to new levels. The great codec support and feature list of the Samsung phablet easily place it at the top.
Listening to music
The music player on the Lumia 1520 is embedded into Xbox. It's made up of albums, songs, playlists, genres and artist with a lack for dedicated folders.
The music hub has a simple and straightforward interface. You won't have any difficulties using it. However there are some things missing, like an equalizer. Another missing feature is the ability to scrub through a song - you have to press and hold on the FF/rewind buttons to simply jump back and forth.
Nokia's Mix Radio offers free music streaming (it works out of the box) and has an extensive library of tracks. While it is mostly streaming oriented, you can make tracks available offline in Mix Radio (they remain on the device only temporarily though). The app also offers playback of local storage and features Dolby sound enhancement and equalizer settings.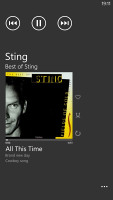 Now playing on the Lumia 1520
The TouchWiz music player on the Galaxy Note 3 is jam-packed with features. Then there's Music square - it's quite similar to the SensMe feature of Sony smartphones. It automatically rates a song as exciting or calm, passionate or joyful and plots those songs on a square (hence the name). Aside from the usual sorting options there's also Folder support, which is great if you have loads of folders with music on your device storage.
Samsung has enabled equalizer presets that simulate the environment that you're in. You can choose only the effect that you wish to be simulated (Tube amp effect, Virtual 7.1 channel, Concert Hall, etc.)
The Now playing screen gives you the usual options - a timescroll of the song, play/pause and back/forth controls, repeat and shuffle, volume control but it also adds lyrics support, AllShare shortcut and a direct sound settings shortcut.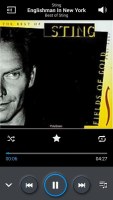 Now playing on the Galaxy Note 3
Once again the TouchWiz app is much more feature rich than its competitor covering a wider base of must-have features - like equalizer and folder support.
Winner: Samsung Galaxy Note 3.
Audio output
The Nokia Lumia 1520 and Samsung Galaxy Note 3 both have excellent audio outputs in both our test scenarios - first, when connected to an active external amplifier and second, when you plug in a pair of headphones.
The Nokia phablet has the upper hand with an external amplifier as in this case it matched the Galaxy Note 3 for cleanness, but it was slightly louder.
Yet, when you plug in a pair of headphones, the Galaxy Note 3 does better to retain its spotless output, making it the better performer. The Lumia on the other hand takes a hit to its frequency response and distortion and stereo crosstalk levels increase. Albeit minor, these deviations are enough to make it second best here.
And here go the scores.
| | | | | | | |
| --- | --- | --- | --- | --- | --- | --- |
| Test | Frequency response | Noise level | Dynamic range | THD | IMD + Noise | Stereo crosstalk |
| Nokia Lumia 1520 | +0.02, -0.04 | -89.3 | 90.0 | 0.0097 | 0.016 | -89.4 |
| Nokia Lumia 1520 (headphones attached) | +0.50, -0.07 | -88.5 | 89.2 | 0.013 | 0.302 | -52.8 |
| Samsung Galaxy Note 3 | +0.02, -0.07 | -96.5 | 92.8 | 0.0035 | 0.0099 | -96.3 |
| Samsung Galaxy Note 3 (headphones attached) | +0.01, -0.09 | -96.2 | 92.7 | 0.017 | 0.017 | -62.1 |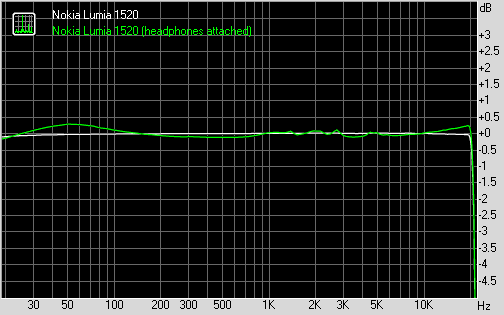 Nokia Lumia 1520 frequency response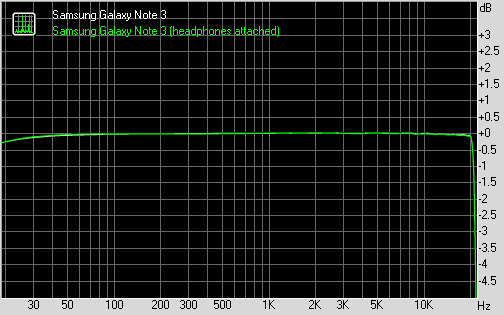 Samsung Galaxy Note 3 frequency response
You can learn more about the whole testing process here.
Winner: Samsung Galaxy Note 3. The superior output with headphones attached helped the Samsung device to the win here, as this is the more frequent usage scenario.
Photo viewing
The Windows Phone Photos hub is the place for your camcorder shots, albums and - you guessed it - social images from your contacts. The main view of the Photos hub offers four options - camera roll, albums, date and people. A swipe to the left reveals what's new, which displays your Facebook friends and liked pages' new picture galleries. Another swipe shows your favorites section, where the photos you've faved are displayed.
The TouchWiz gallery is more of an app that stores all your photos instead of a hub. You get thumbnails for your albums and upon selecting one you have two viewing modes. By default you get a list of thumbnails for the album you're currently in with all your other albums on the left - you can swipe the latter away, leaving you seeing only the album thumbs.
Viewing an image on the Nokia Lumia 1520 shows the image itself and a little settings menu in the top right corner - that's it.
Viewing an image on the Samsung Galaxy Note 3 shows you a strip of thumbnails representing the other images in the album you're in and a couple of buttons overhead for sharing, AllShare for streaming your content to another screen, editing and finally to delete the photo.
Both image galleries are good for what you're most likely ask of them - showing you your photos. However Samsung has stacked more features at hand without the need for you to go looking for them in folders. Both galleries will fetch you albums from online services such as Facebook, SkyDrive and Picasa, if you need them to.
Winner: Tie.