Bigger, better, faster
Samsung Galaxy Note 3 vs. Nokia Lumia 1520: Bigger, better, faster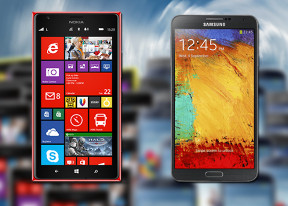 Camera breakdown
The Nokia Lumia 1520 has a brand new version of Nokia's PureView camera line. It uses a 1/2.5" sensor with 20MP resolution (19 MP of which effective). To put that in context, the sensor has 15% smaller surface area than the 20MP 1/2.3" sensor in the Xperia Z1 but it's bigger than the 1/3.06" sensor of the Galaxy Note 3 by 50%.
The f/2.4 aperture of the Lumia 1520 is also smaller than the f/2.2 of the Note 3, giving a little edge to the Note 3 in terms of the quantity of light it lets through.
Finally, the Nokia Lumia 1520 has optical image stabilization on tap, which aids greatly in low light, as it can shoot handheld at lower shutter speeds than other phones. Lower shutter speeds also translate into more light reaching the sensor, hence better exposed low light photos.
Thanks to its immense resolution, the Nokia Lumia 1520 can also zoom in 2x times from either 19 MP or 16 MP resolution without losing any detail. Things could get pretty shake at zoom levels, though, so you might want to hold the device steady despite the OIS on board.
Nokia has created a proprietary camera app for its flagship Lumias dubbed Nokia Pro Camera. From left to right the available options here are flash, white balance, focus, ISO, shutter speed and exposure compensation.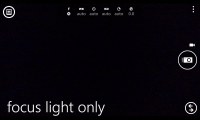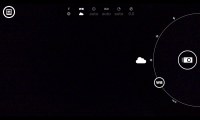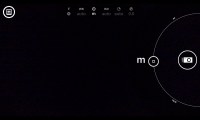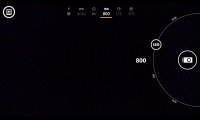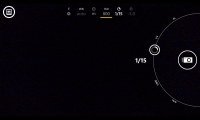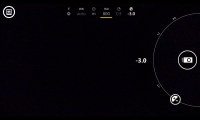 Nokia Camera app user interface
The Pro Camera lens has another cool trick up its sleeve. It snaps two photos at once - one in full resolution (16MP or 19MP depending on the chosen aspect ratio) and another one in 5MP, which benefits from the pixel oversampling technology, while at the same time being far easier to share.
Oversampling 19 MP (or 16 MP) shots into a 5 MP-sized image holds the benefit of reduced noise.
Another advantage to Pro Camera is that it allows the Lumia 1520 to shoot in RAW. It's DNG - a digital negative - format developed by Adobe, which is widely supported by various photo editing applications. While casual consumers will probably stick to JPEG, photo enthusiasts can work wonders with a RAW file - since there's no software processing or JPEG compression applied, editing RAW files gives you more headroom for editing than a JPEG image.
Keep in mind that those files are around 20MB big. A full-resolution JPEG is around 4MB, while the 5MP JPEGs are a mere 1MB. RAW files cannot be viewed by most apps either (e.g. web browsers) without processing, which is another thing to keep in mind if you want to share photos.
Finally, Nokia and third-party app makers can develop different lenses for the Lumia 1520 - each doing something different. The Cinnemagraph lens creates animated images (read GIFs), there's a Panorama lens and many more, all designed to teach the camera app a new skill.
The TouchWiz user interface is based on the Galaxy Camera interface. A single viewfinder handles both still and video capture, so you don't have to switch modes. However, this is certainly not the most convenient solution wince when you're shooting full resolution 13MP photos, you'll have to frame your videos using a 4:3 viewfinder.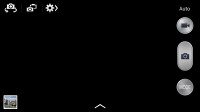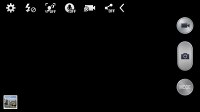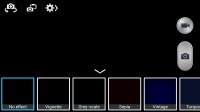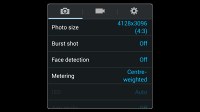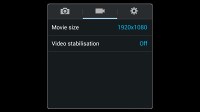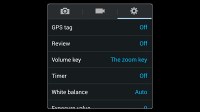 Samsung Galaxy Note 3 camera app
The Galaxy Note 3 comes with a variety of shooting modes too. There's Surround Shot, which brings Google's Photo Spheres to life, as well as Best Photo and Best Face snap multiple images and then shows you the best possible result. There are lots more fun effects like animated images with or without sound.
Let's look at the field of view on both devices. In 4:3 aspect the Nokia 1520 shoots 19MP photos, while in 16:9 aspect it snaps 16 MP stills, both of which have a wider field of view than what the Galaxy Note 3's maximum 13 MP can offer. you can check out the difference bellow.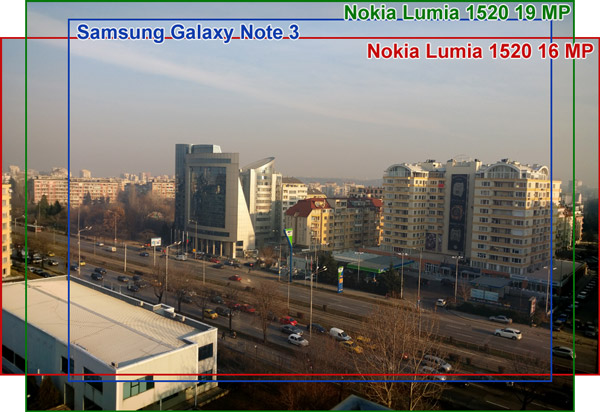 Both the Nokia Lumia 1520 and the Samsung Galaxy Note 3 offers a wide variety of available options to work with when shooting images. Both can record panoramas, GIFs, dramatic shots with more than one instance of the same object, etc. And while Samsung's camera app is stocked with all these features, Microsoft and Nokia have allowed developers to freely make new lenses for the camera apps.
Winner: Tie.