Four of a kind
Samsung Galaxy Note 4 review: Four of a kind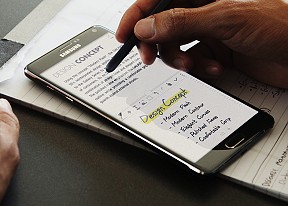 Latest, less-bloaty TouchWiz
The Samsung Galaxy Note 4 runs on the latest available Android 4.4.4 KitKat customized by the most recent incarnation of TouchWiz for smartphones. Samsung has added multiple features that increase productivity and enhance security but also reduced the number of S apps and features out of the box. Most of the gimmicky air gestures are no longer in service on the latest Note 4 and in their place Samsung has put a lot of multitasking features, which we welcome wholeheartedly.
Here's a quick video to get things started.
The lockscreen no longer has widgets aside from a few special controls. More importantly, you can now fingerprint-secure it - the Galaxy Note 4 can be set to recognize up to three fingerprints. If those fail for some reason (e.g. wet fingers), the phone will ask for a password so you'll never get locked out.
The main homescreen is the usual affair of widgets and apps with four docked shortcuts next to the app drawer shortcut on the far right.
You can move homescreens around, place widgets and choose a transition effect. You can also enable and disable Flipboard's Briefing, which replaces the left-most My Magazine pane.
On by default the Briefing pane differs from the My Magazine pane by name only. Both are powered by Flipboard and you get categories (e.g. News, Business, Facebook) are displayed as tiles, each displaying its top article. You can reorder and hide the tiles. Once inside an article, you can browse more articles in that category with the familiar Flipboard effect.
The notification area is similar to what we've seen on recent Galaxy smartphones (Galaxy S5 and Alpha) with its design and circular icons. The toggles work as usual and below them are two buttons (S Finder and Quick Connect) and below that is the brightness slider, which can be hidden to save space, but you're stuck with the two buttons.
Recommended apps are gone, though.
S Finder can search through the phone's memory for just about everything. At the very end of the search you'll get the option to search Google but we feel a productivity boon has been lost here - it would've been much better if S Finder listed the top Google Search results as a default instead of forcing one more step upon us.
Quick Connect allows you to connect to devices through Wi-Fi Direct and Bluetooth and mirror your screen or share media.
The app drawer has multiple windows that can be reordered. It lists apps but can also hold folders of apps.
The app switcher is thankfully changed. Gone are the small app thumbs with inexplicable teal backgrounds and now you get a vertically-scrollable list of apps much like in Google's Android L - thumbs are very big and responsive and scroll naturally.
The settings menu is a vertical list of apps divided into categories. At the top you can place a list of favorite apps as quick settings. You can alternatively choose the old tabbed settings menu.
Samsung has reduced the number of features you get in the TouchWiz UI. We prefer this approach as it makes TouchWiz more focused on the content and less inclined to place design elements everywhere for their own sake. The task switcher interface is the best example of this.
Still, TouchWiz remains probably the most feature-packed Android OS incarnation around and you'll have to bump into endless pop ups and agree-or-not prompts but once you've set up the Galaxy Note 4, it's smooth sailing from there on.
The TouchWiz on the Samsung Galaxy Note 4 has a kind of immersive mode on at all times. Android users with on-screen buttons may be familiar with immersive mode but for the rest of you - it's the mode which hides the status bar and navigation buttons bar while in certain apps. The Samsung Galaxy Note 4 constantly pushes the status bar behind the content so that you enjoy the whole screen real estate.
It's easy and intuitive to bring the bar back (if you want access to the notification area, for example) by doing a swipe.
Multitasking features, S Pen, S Voice
The Samsung Galaxy Note 4 is the latest flagship phablet for Samsung and as such carries the very latest in multitasking abilities. Some things have been improved over the previous Galaxy Note 3 and S Pen has been made much more powerful.
Multi window is here and allows you to place two apps side by side. You can adjust the divider so that one app will get more room to itself. There's a sidebar (accessible by pressing and holding the back button) with all the Multi window-supported apps and you'll need to drag them to the screen.
You can also access the split screen mode from the task switcher interface.
The Samsung Galaxy Note 4 allows dragging of content between the two on-screen apps, which is fantastic.
One-handed operation is here and shrinks the entire UI to a window with an adjustable position and size. You can enter one-handed operation via a quick swipe in and out from the side of the phone but it will not work with the S Pen (or when it's out of its holster).
This time around one-handed operation has a black background for the rest of the screen and not the grey one of old. This should improve battery consumption from the Super AMOLED display.
As part of one-handed operation you can enable side key panel - it offers a floating panel of the home, back and recent apps button so that you can make them easier to access.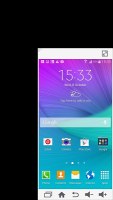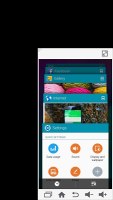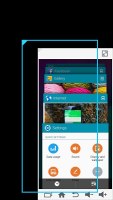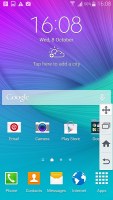 One-handed mode • Side key panel
Pop-up screen allows you to pop and app out of its frame to use as a mini app. Using pop-up screen you can also drag and drop content from one app to another.
Once you've taken the S Pen out of the Galaxy Note 4 body (or hover it above its display and press the side button of the pen), you get the Air Command pop up. It lists four options with the first being action memo. Last year's fifth (S Finder) has now been moved to the notification area.
The Action Memo lets you write stuff and then use it to initiate an action - i.e. add a contact name and number to your phonebook, or check out an address on Google Maps. You just need to mark a part of the text and send it to one of the supporting apps. The handwriting recognition works impressively fast and accurately - it handles just about everything you throw at it.
Smart select is the newest option. With it you to select on-screen content and clip for later use, you can clip multiple items and share all at once.
Image clip is last year's Scrap booker. It lets you add pieces of your screen to... well, a Scrapbook. You don't need to take a full screenshot - just mark the stuff you need. The Scrap Booker will automatically extract pictures and text from the selected area and will save them to one of your Scrapbook categories. You can then add an optional memo to every scrapbook entry you create.
Screen Write allows you to start writing on the display no matter what screen you are on. You can either use a clean sheet or use a snapshot of the screen you are currently using. It's the best tool for taking quick memos.
S Note is an application that allows you to create and customize notebooks. There is a total of 18 templates to choose from but you can also create your own custom look from images in your gallery. You can sort notebooks by tag, time or location.
S Note features the photo note camera. It's used to snap a photo of text which it can then convert to digital, editable text. However this feature is buried into the S Note app and we think it would've been way less confusing to place it as a mode in the camera app.
Scrapbook lets you keep any content you browse through on the Note 4's screen. You need to select anything on the screen of the Note 4 by pressing the S Pen button and the software highlights it and gives you a prompt to send it to Scrapbook via an image.
Hovering the S Pen over certain kinds of content can display a pop up with information. In the S Planner calendar app hovering over a date will list the events, in the gallery a hover will show you a preview of a picture of album, in the video player if you hover over a video it will silently play in a pop up. In the browser clicking the S Pen will let you highlight text and give you a copy option.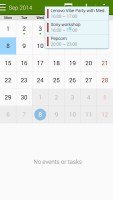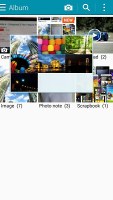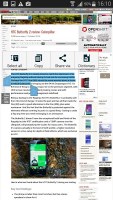 Hover • Text selection with S Pen
You can enable and disable all or some of the S Pen features in its dedicated settings menu. The motion and gestures menu has seen a big deduction in features. You can directly call a contact from the messaging app by raising the Samsung Galaxy Note 4 to your ear, mute or pause a song by placing a palm on screen or turning the device over (this will also mute the ringer).
A palm swipe on the screen will capture a screenshot. Finally, smart alert will vibrate the phone when you pick it up if you have unseen notifications.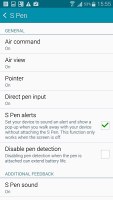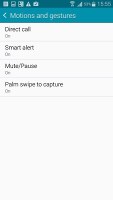 S Pen settings • Motion gestures
S Voice has gotten smarter as well. It can be set to constantly listen to your voice and you can set a custom command to wake it. S Voice can be used to initiate a call, dictate text, play music, open an app, change a setting, make a memo (including voice memo), add a reminder, schedule an event, set an alarm or timer, check the weather, do a search on the internet, look for local listings (e.g. nearby restaurants) and even get an answer to a question.
As is the case with most carrier devices in the United States, Samsung Galaxy Note 4 for AT&T comes with a number of preloaded apps whose functionality is questionable. Thankfully, they can be easily disabled.