If you've been refusing to believe that the Galaxy Note 5 and Galaxy S6 edge Plus are coming soon, this latest offer from AT&T should give you some food for thought. The US carrier has taken $200 off the prices of the Galaxy Note 4 and Note Edge phablets.
Admittedly, we're talking about the 2-year contract prices but if you're after a commitment with AT&T anyway, snatching a Note Edge for $199.99 is a properly good deal. The Note 4 is even listed at half that, $99.99.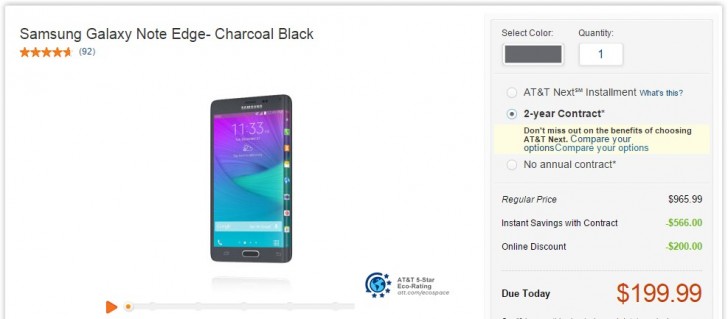 Now,that's the price of the device only, and it comes with a monthly plan with 10GB of data, which will set you back $100, plus an additional $40 smartphone access charges, totaling $140 a month. So in essence, the deal saves you as much as a month and half worth of fees.
D
They're not really getting price cuts. It only looks like they are. You're still paying full price no matter how you look at it. Rebate or contract, the full amount still leaves your pocket.
b
water resistance is futile
t
and you are better how? they are rubbish compared to the Note 4, do you want him to lie and say that the Z3 is a worth competitor to the Note 4?