A few hours ago we brought you the first photos showing the Samsung Galaxy Note 4, and now we have a couple more shots for you to feast your eyes upon - though this time it's just the front panel of the phablet that is getting pictured.
It seems to have undergone a photo shoot somewhere in the wild, and it shows a design that's extremely similar (though at first sight not 100% identical) to that portrayed by the earlier images.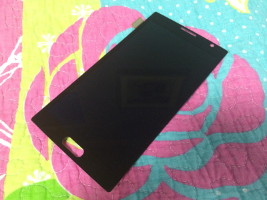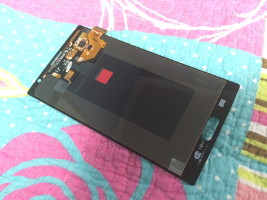 Samsung Galaxy Note 4 front panel
The cutouts for the front camera, speaker, and Home button are all where you'd expect them to be, and you can see where the capacitive touch buttons will go alongside the Home button too - adhering to Samsung's standards in terms of placement.
The Galaxy Note 4 is going to be unveiled at the company's pre-IFA event on September 3. The new phablet has been rumored to come with a 5.7-inch QHD (2560x1440) touchscreen, and either a Qualcomm Snapdragon 805 chipset or a Samsung Exynos 5433 (depending on market). It may reach stores after September 15.
Thanks for sending this in, tipster!
d
Do You really believe in rectangular shape of the S Pen as we could see on some leaked photos. IMHO all those photos are fake, just to keep audience in focus.
D
previous leak is more believable.. 1.old menu button instead of new multitasking button 2.this one is not compact at all (and i assume they would make it at least more compact than note3) 3.too sharp corners for samsung's taste the only t...
D
You cannot imagine how many prototype mobile phones comes to India,but people here are not obsessed by tech community,every New Iphone even if made in China comes here,i seen Ipad Mini and Iphone 5 because my friend recorded that on note 2,and most p...
ADVERTISEMENTS