The Samsung Galaxy Note 4 was announced by the Korean company last month during the IFA trade show in Berlin. Britons have been able to book their SIM-free unit for a while now as pre-orders have opened, but now we learn more about the on-contract prices of the phablet.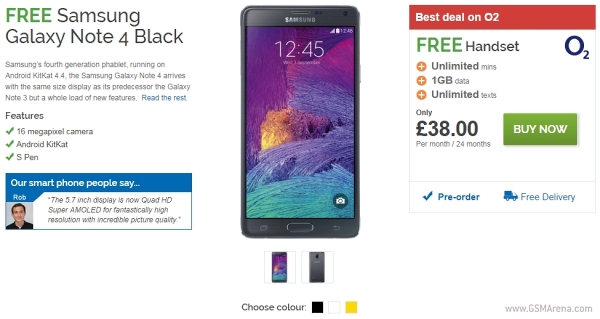 So far only O2 plans are available, but other carriers should offer very similar pricing. Here it goes - if you sign a contract that costs at least £38/month you can get the Samsung Galaxy Note 4 at no up-front cost.
The cheapest available contract is £18/month - if you opt for that you will need to pay £380 for the device itself. Naturally there are all sorts of options in between, so you can find a match for your needs.
Black, White, and Gold color options are available, and devices will ship to customers on October 17.
The Samsung Galaxy Note 4 offers a 5.7-inch Super AMOLED QHD display alongside either a quad-core Qualcomm Snapdragon 805 or octa-core Exynos chipset, 3GB of RAM, and 32GB of expandable storage. It'll keep thickness in check at 8.5mm while including a hefty 3,220mAh battery.
For more on the Samsung Galaxy Note 4, check out our hands-on from our time with it at IFA last month.
D
In Romania cost 749€ free contract and 289€ on 41€ monthly payment two years. Available start 20 Oct. In Orange shop.
D
Samsung Galaxy Note 4 Case, SUPCASE [Heavy Duty] Belt Clip Holste... http://www.amazon.co.uk/dp/B00MP3OWVI/ref=cm_sw_­r_udp_awd_xdilub1HX415V Dave I've seen some good looking cases on Amazon, in stock the second half of October
D
Just trying to help people save money. Bring on the 17th lol! Still cant decide on what case to get. Are Otterbox still good?