The Samsung Galaxy Note 4 is a worthy successor to the legendary phablet family with every feature put into overdrive. It's the first Note not to grow the screen size, which remains at 5.7", but it now has nearly 80% more pixels thanks to its new QHD resolution pushing the pixel density from 386ppi to 515ppi.
It's a Super AMOLED, of course, but it's covered by 2.5D Gorilla Glass 3. For those who don't remember the Nokia N9, 2.5D glass has curved sides to make swiping from the edge smoother, and edge gestures are everywhere in Android now.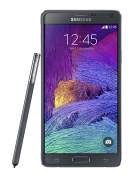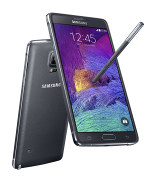 Samsung Galaxy Note 4 official images
The Galaxy Note 4 will bring a redesigned S Pen stylus that offers better grip. The accompanying software (S Note, Multi-window) has also been enhanced. A new Snap Note app will turn photos of printed documents into editable text.
The phablet will be available in two versions – one with Snapdragon 805 chipset and LTE Cat. 6 connectivity and one with Exynos 5433 chipset and LTE Cat. 4 connectivity. The phablet will run Android 4.4 KitKat at launch with all the new TouchWiz features Samsung has come up since the Galaxy S5 launch.
The camera department has been upgraded and the main camera now features a 16MP sensor with optical image stabilization. The front-facing camera has a 3.7MP sensor (matching the pixel count of the screen) and a fast f/1.9 aperture.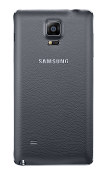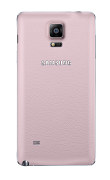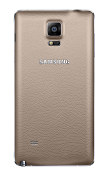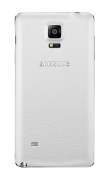 The Samsung Galaxy Note 4 color range
The Samsung Galaxy Note 4 features three microphones for noise suppression that is so advanced that a special app can silence selected sources of noise from an audio recording.
The phablet has a metal frame like the Galaxy Alpha and a faux leather back, which will come in Frosted white, Charcoal black, Bronze Gold and Blossom Pink. There's no water resistance though (again, like the Alpha).
There's a 3,220mAh battery powering the phablet and you can add the optional Qi wireless charging panel if you like.
The Galaxy Note 4 will be available in October, the pricing isn't announced just yet.
?
the actual Samsung Galaxy Observe will not dissatisfy. It arrives full of any dual-core 1. several GHz EQUIP Cortex-A9 cpu Exynos chipset beneath hood. It also has a Mali-400MP GPU regarding far more intense images. This is the more powerful cpu in c...
?
Outselling has nothing to do with being a better phone or not. And that's the problem with Apple fanboys... They come with arguments that aren't even legit. I don't know whether you stats are true or not. But if so, then there are to many people on t...
?
The fact that you are saying that Apple is has a good marketing is true. About that first IPhone is just plain nonsense. You are also saying that people are blind even tho Apple is running behind. But it seems like you are praising Apple up in the sk...