Samsung Galaxy Note 5 latest ad puts an emphasis on its battery pack with Fast Charging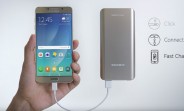 Samsung's latest Galaxy Note 5 ad is out and focuses on dealing with times of low battery charge. An issue even more important when removable batteries aren't an option. The company's Battery Pack with Fast Charging 2.0 comes to save the day.
The portable battery pack is 5,200mAh in size and its fast charging capabilities will fill in nearly 50% of the Note 5's 3000mAh battery in 30 minutes. Naturally, you can use the Battery Pack with the latest crop of Samsung smartphones like the Galaxy S6 edge+, Galaxy S6 and Galaxy S6 Edge. Any device with Quick Charge 2.0 technology will also be able to benefit from the battery pack's swift charging.
The Samsung Battery Pack comes at a rather steep price of $69.99 on Amazon, but if you'd like to quickly charge your devices on the go, it's a viable option.
Check out the Samsung Battery Pack ad:
S
I bought the sami 9500 mAmp for that price. At the begining it was doing fast charging than its gone. They sent me the 2nd one and ot didnt do any fast at all. Sami page says it does fast charging
D
"you specifically said gaming has surpassed console gaming" - Provide link as proof, I know what I do and dont say, Mobile gaming WILL surpass console gaming. iPad pro should match it. Secondly it's freemium but it is still the best MOBILE MOBA got i...
D
Well no, you specifically said gaming has surpassed console gaming, and now you admit that you play freemiums. What your Mac can do is irrelevant. When I said rating I meant endurance rating on gsm, if you look at what it constitutes it is 21 ho...