Samsung Galaxy Note 7 will reportedly have the same AMOLED suppliers as the S7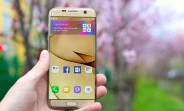 A new report from South Korea today claims that Samsung plans on using the exact same three suppliers for the upcoming Note 7's display as it did for the Galaxy S7 and S7 edge (pictured below) earlier this year.
Of course, Samsung will be putting the AMOLED touchscreens together itself, but the OLED components will come from these companies: Samsung SDI, Dow Chemical, and Idemitsu Kosan. Samsung SDI will supply the "phosphorescence green host", the report says, while Dow Chemical will be in charge of the red material, and Idemitsu Kosan will ship the blue one.
The aforementioned three companies are likely to be the exclusive suppliers of these materials for the lifetime of the Galaxy Note 7. An unnamed representative of the industry said "these 3 companies will have huge performance this year since they are chosen as suppliers of OLED materials for Samsung Electronics throughout this year".
It makes sense for Samsung to influence the OLED materials industry so much because it's both the world's biggest smartphone maker and the biggest user of AMOLED displays in its devices. So, understandably, firms that haven't been chosen as Samsung suppliers "had gone through slumps".
The Galaxy Note 7 is once again said to enter mass production in July for an August release. 5 million units should be produced as the initial supply. The Note 7 will only come with a curved display, 5.8" in size, and with 6GB of RAM, according to a rumor from earlier today.
?
but i do forgive yall, for not knowing your phones , im just assuming yall first started using notes during the note 4 s5 time frame , the only time there were actually true differences between the 2 phones beyong just size and s pen.. so i guess yal...
?
i guess yall need to start slapping gsmarena around for not knowing their phones, because the note has to be far superior then the s varient, just has to be.
?
While mobile devices are typically good at content consumption but not creation, Samsung is trying to break that barrier with the S Pen. The split-screen interface also promises improved productivity. Still, the Galaxy S III is lighter on the po...
ADVERTISEMENTS