Duplicate apps and duplicate app stores
Bloatware isn't as big of a problem as it used to be (remember ChatON?), but it's still a very prevalent issue on Samsung smartphones. For some reason, the company seems convinced that having its own duplicate for almost every Google app and service will help it in the long run somehow.
The Galaxy Note8 ships with two app stores, the Google Play Store and the Galaxy Apps store. Amusingly and bafflingly, some of the dozens of preinstalled Samsung apps update through the former, while most use the latter. We've given up trying to understand the logic here.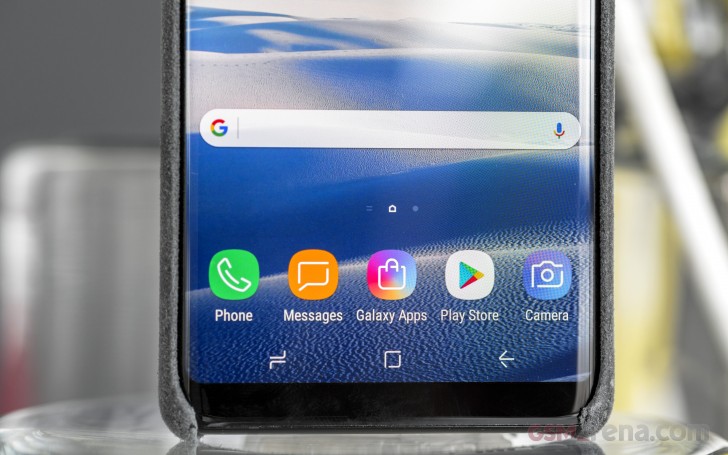 Speaking of preinstalls, there are fewer of those than there were a few years back, with Samsung now offering an assortment of apps through the initial setup - when you can choose to install them or not. That doesn't mean that the Note8 ships only with the mandatory Google apps and nothing more - thanks to its partnership with Microsoft, Samsung even throws in Excel, OneDrive, PowerPoint, and Word on top of everything else.
Clearly this isn't a company that understands the value of simplicity in software - when you aren't confronted with options you may not care about, you're given two of each kind of app just because Samsung can't admit that the Android ecosystem is Google's, not its own.
Bixby and its button
Bixby isn't identical to the Google Assistant in what it can do, both have their strengths and weaknesses - Google's wins at anything that requires going online to fetch an answer or tapping into the data in your Google account, obviously. Bixby's main focus seems to be having a voice-driven alternative way to navigate your phone and its options.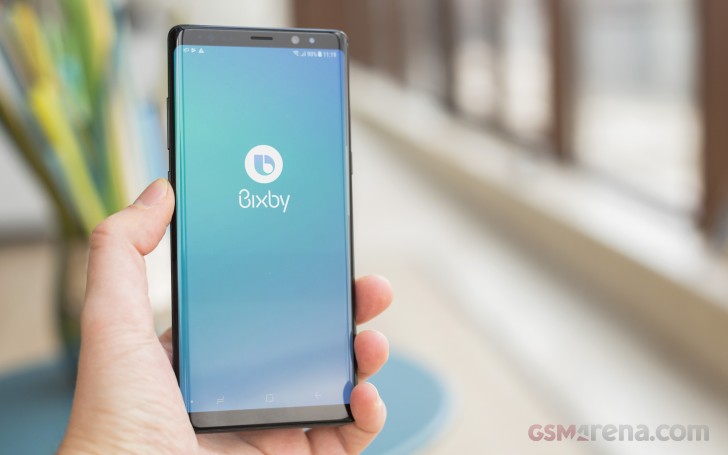 All that aside, in concept having a virtual assistant of its own is yet another attempt by Samsung to duplicate functionality that Google already provides in the base Android OS. There still aren't many people who use any one digital assistant multiple times a day, so how much sense does it make for a phone to ship with two? On the other hand, if you're a fan of such assistants, keep in mind that you can add Cortana and Alexa to your Note8 as well, for a grand total of four - because having just two isn't confusing enough, surely.
Then there's the Bixby key. Clearly, Samsung put this in there to signify how serious it is about Bixby, but it is a button you will find yourself pressing by mistake a lot of times. And when you do, you'll be reminded that Bixby exists. How troubling that is for you depends on whether or not you've found any use for it.
The fingerprint and iris scanners
You probably knew this was coming, but it's well deserved criticism. The position of the fingerprint sensor in the Note8 is bad, there's no way around that. Surprisingly, the biggest problem isn't even with the fact that it's not centered - it's how high up on the back it is. The fact that it's quite narrow doesn't help things either.
Long story short: you will constantly have to hunt for it. And of course you may end up smudging the cameras in the process. Samsung is rectifying this mistake with its 2018 flagships, but if you buy a Note8 you're just going to have to live with it. It also feels slower than sensors in competing devices, even ones that are already pretty old, such as the OnePlus 3, iPhone 6s, and the Huawei Nexus 6P.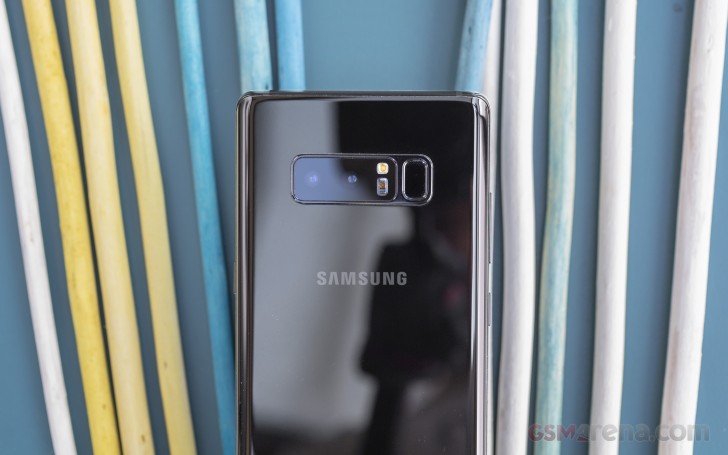 Using the iris scanner means you don't have to do any finger gymnastics to reach the awkwardly placed fingerprint sensor, but this comes with a downside or two of its own. The iris scanning isn't faster than using your fingerprint to unlock, and you're also required to hold the phone at a certain distance and angle from your face.
To add insult to injury, some of us have found the iris scanning tech found in Samsung's 2017 flagships (the S8 duo and the Note8) less reliable than it was in the ill-fated Note7. Overall none of these secure unlock methods that the Note8 employs are as fast and easy to use as we'd like them to be. Many of us have ended up using the less secure Face Unlock. Not that it's fast either, but it's at least reliable.
Samsung Pass
Samsung Pass is a centralized keychain for all your login credentials, which enables automatic web sign-in. However, that 'automatic' part is a bit exaggerated. In reality, you do have to use either an iris or a fingerprint scan each time Samsung Pass fills in credentials for you.
Samsung could have at least implemented some time-out logic to have the keychain verification valid until you close or minimize the browser. Since having to scan your eyes to log into a food ordering website probably isn't worth the hassle, you might end up using Samsung Pass only for important passwords that should be encrypted. Samsung's excellent internet browser can already save credentials for all the other websites.
And yet there is a slight issue with that approach as well, especially if you have a password backup saved on Samsung's cloud from using previous Galaxy devices. Each time the browser fetches one of your old, unprotected logins and fills it in, Samsung Pass pops up a notification asking you if you want to move that username and password combo to its secure storage. You can either agree to move it or deny forever. There is also a third option, to temporarily ignore it, which means that you will get the same message every time you open the site.
Settings search
The sheer amount of settings on the Note8 can be overwhelming. So it's a bummer that the Settings search, while definitely a godsend and a necessity to navigate yourself around, is far from perfect. Especially now that Bixby is part of the mix, with its deep integration in menus and UIs.
It's quite annoying that, with all the AI floating around, there is no sign of any kind of dictionary, natural language or fuzzy search implemented in this vital search bar.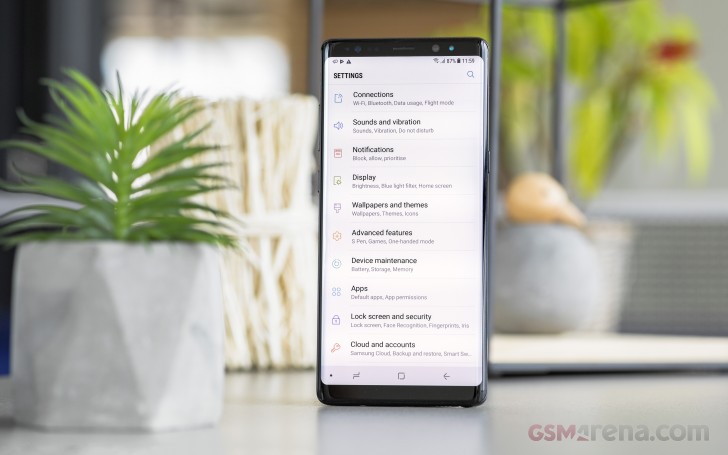 Also, for one reason or another, some options can't be found through search at all. One that especially ticks some of us off is the Fast cable charging toggle. This might be open to debate, but some say quick charging, in the sense of charging a Li-ion battery at a higher voltage, is not ideal for it in the long run. That's why you may prefer to keep this option off, if you only charge your device at night anyway. Yet the Settings search can not take you to the toggle. It is only reachable by manually going through Device maintenance > Battery > Advanced settings. And it's not the only option you have to hunt down for yourself.
Smart Switch, "fast" charging
The Smart Switch app is supposed to help you seamlessly migrate your apps and data from your old phone to the Galaxy Note8. We found a wrinkle, however - if you try and use a cable with USB-C connectors on both ends in order to grab that data, the process simply doesn't work. It wants you to use the USB-C to USB-A adapter for some reason, even though we have previously connected two Google Pixels to each other with a USB-C to USB-C cable and successfully transferred everything over. So this doesn't seem to be a limitation of the hardware, but something Smart Switch just isn't able to do at this time.
Samsung's fast charging definitely isn't as fast as what some of its competitors have been offering for a few years now, yet the company insists on not challenging Huawei, Oppo, OnePlus, or Essential in this area. Sure, Samsung's tech will juice up your device faster than if you use a regular 5W or 10W charger, but in this day and age it should do better.