Conclusion
The Galaxy Note8 is without a doubt the best Samsung smartphone ever. It's also the most powerful and most beautiful S Pen-wielding device in history, and that's important to note for fans of the stylus. You don't get such a built-in accessory with any of the Note8's competitors, and frankly we're a bit perplexed as to why nobody is challenging Samsung with a great stylus solution.
Sure, it's a remnant of a bygone era in mobile tech. One that, pretty ironically, stuck around on a device that quite adamantly prioritizes looks over functionality. Reasoning and justifications aside, the S Pen can be supremely useful and is practically implemented - ideal for creative work, as well as precise power user tasks on the go.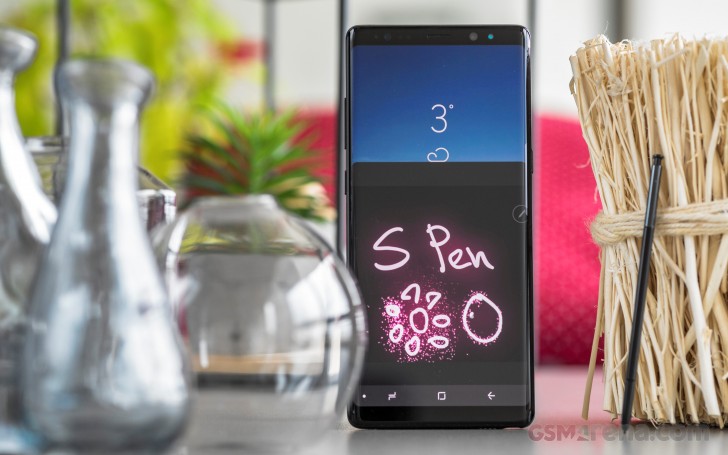 Even if you choose not to ever use the S Pen (as some of us have), the Note8 represents the ultimate in smartphone versatility and advanced functionality at the moment. And if that's what your nerdy personality and lifestyle crave, there is really no viable alternative out there. It's a real do-it-all device. The combination of a huge screen that happens to be the best around, Android's full power user pedigree, expandable storage, and the S Pen is unmatched anywhere in the smartphone world. You know that whatever needs to be done, this is the perfect tool to do it with.
For example: you can draw on maps to give better directions, binge watch TV series, have a bunch of emulators for games, edit RAW photos, have private files in the Secure Folder, and use two Facebook Messenger apps (thanks to Samsung's dual messenger feature) on the Galaxy Note8. Oh, and all of this can be done in the bathtub or in the shower thanks to water resistance! Let's not forget that you're also able to listen to music on wired headphones while charging at the same time, something that's unfortunately becoming quite rare in the mobile world nowadays.
The Note8 isn't perfect however, because there's no such thing as the perfect smartphone. Every handset out there comes with its own assortment of things to rave about and compromises you'll have to learn to live with. Samsung's propensity for giving you multiple options everywhere may tick some people off.
Additionally, its continued development of more and more apps and services that mostly duplicate functionality that already exists in Android or Google's app suite can make for a pretty annoying experience if you enjoy the 'less is more' concept. It's also rather frustrating that many of the things the company inserts into its vision of Android, be they apps or settings, will simply go unused (or unchanged from the defaults) by many, if not most owners of the phone.
For the minority that is unashamedly into having manual control over as much of the smartphone experience as possible, the Galaxy Note8 is a godsend. Likewise for the people who prioritize sheer number of features on offer over software smoothness. A true power user will probably love this phone, while for everyone else it might just be too much.