The other side
Samsung Galaxy Note Edge review: The other side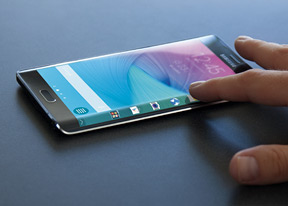 Gallery
The gallery on the Samsung Galaxy Note Edge can be viewed by time or by album and sorted by several filters. The Events filter groups photos based on time and location, while People does it by looking at the faces in the photos. Additional filters include Documents, Pets, Flowers, Scenery and even Food.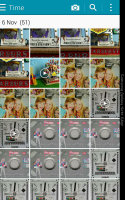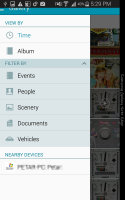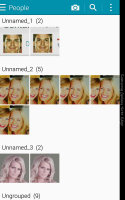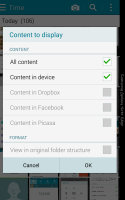 Gallery • filtering options • browsing photos by the people in them • online album support
And if you're the type to post pictures of what you're having for lunch on social networks, you'll be pleased to hear the app handles Facebook, Dropbox and Picasa out of the box. DLNA is also supported so you can view media from devices on the local network (or send photos from the Note Edge to such devices).
Pinch zoom will change the size of the thumbnails and can also open and close individual photos. Batch operations are supported and that includes not just copy/delete but also image rotation. You can easily edit images right in the Gallery itself or use the Studio app. It does anything from basic editing and photo collages to creating and trimming videos. It also handles the post-processing of Shot & more photos.
The Gallery also supports highly customizable slideshows.
Music player
The TouchWiz music player on the Galaxy Note Edge is jam-packed with features and supports a wide variety of file formats, including FLAC. Music is sorted by several categories and you can hide some categories you don't need. Folder view is available and so is scanning for DLNA servers (Quick Connect helps with this).
The Now playing screen gives you the usual options: timescroll, playback controls, an AllShare shortcut. A coverflow-like list of album art lets you know what the next song will be and is an easy way to skip right to it. The music player will also try to find the lyrics for the song you're listening to.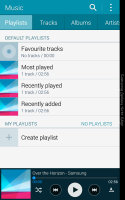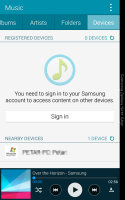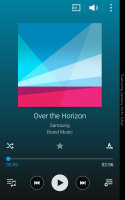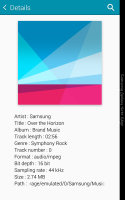 Music player with DLNA support
The Music square feature rates each song in your music library in terms of tempo (Exciting or Calm) and emotion (Passionate or Joyful) so you can easily build playlists from a visual selection.
The SoundAlive equalizer presets are cleverly organized into a square similar to the Music Square. A 7-band equalizer and multiple effects are available to more advanced users. Smart volume will keep the sound level consistent across tracks, while Adapt sound tests the performance of your headphones and tunes the equalizer based on that.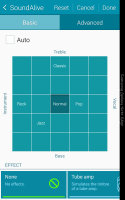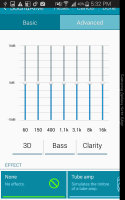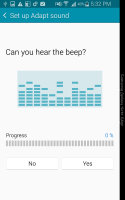 Sound Alive • Equalizer • Adapt sound
While listening to a song you can find music controls on the Edge screen, so you can skip tracks without leaving the current app or even opening the notification area.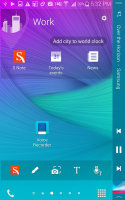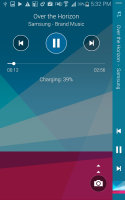 Music player controls on the Edge screen
Video player with Edge controls
Typically video controls are overlaid on top of the video itself, but the Galaxy Note Edge is different - it puts the controls on the Edge screen so video is unobscured. After a few seconds, the controls go away but can be brought back by a tap on the screen.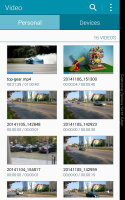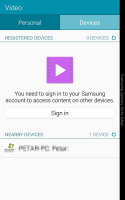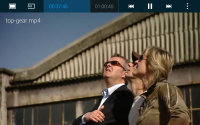 Video player • notice that the controls go on the Edge screen
The video player on the Samsung Galaxy Note Edge handles files from the local storage and DLNA-compatible devices. If subtitles are available, the video player will automatically find and load them. You can also manually load subtitles if the video and subtitle file names don't match.
You can pinch zoom in on videos just like photos or turn the video into a floating window with the familiar Pop Up Play feature.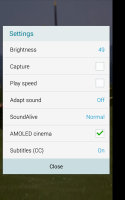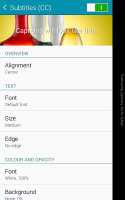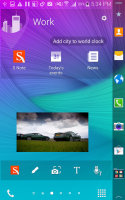 Video player options • subtitle settings • Pop out video player
The only problem we encountered is that the player failed on videos with multi-channel audio - a shame since the MHL 3.0 compatible port can output surround sound over HDMI.
Flagship-grade audio quality
Not quite surprising, the Samsung Galaxy Note Edge audio quality performance is identical to that of its non-curved sibling, the Galaxy Note 4.
The phablet aced the first part of our test, where it had to show how it works with an active external amplifier. The Galaxy Note Edge achieved excellent scores top to bottom and garnished them with nicely high volume levels - not HTC high, but good enough to keep pace with the rest.
Plug in a pair of headphones and some stereo crosstalk creeps in - it's not too bad, but worse than some competitors, once again, from the HTC lineup. Take those out however and the Galaxy Note duo can match or beat just about every smartphone out there.
And here go the results.
| | | | | | | |
| --- | --- | --- | --- | --- | --- | --- |
| Test | Frequency response | Noise level | Dynamic range | THD | IMD + Noise | Stereo crosstalk |
| Samsung Galaxy Note Edge | +0.01, -0.04 | -95.9 | 93.2 | 0.0021 | 0.0099 | -93.3 |
| Samsung Galaxy Note Edge (headphones attached) | +0.04, -0.01 | -96.8 | 93.5 | 0.011 | 0.035 | -55.2 |
| Samsung Galaxy Note 4 | +0.01, -0.04 | -96.6 | 93.4 | 0.0015 | 0.0086 | -94.2 |
| Samsung Galaxy Note 4 (headphones attached) | +0.03, -0.02 | -96.8 | 93.5 | 0.011 | 0.035 | -55.2 |
| Apple iPhone 6 Plus | +0.04, -0.04 | -94.0 | 94.0 | 0.0013 | 0.0064 | -72.0 |
| Apple iPhone 6 Plus (headphones attached) | +0.10, -0.04 | -94.0 | 93.9 | 0.0016 | 0.087 | -64.1 |
| HTC One Max | +0.14, -0.14 | -93.8 | 93.8 | 0.0009 | 0.015 | -94.1 |
| HTC One Max (headphones attached) | +0.26, -0.02 | -93.6 | 93.6 | 0.026 | 0.080 | -80.4 |
| LG G Pro 2 | +0.02, -0.23 | -93.8 | 94.2 | 0.0040 | 0.029 | -93.3 |
| LG G Pro 2 (headphones attached) | +0.07, -0.02 | -93.7 | 93.4 | 0.050 | 0.039 | -73.5 |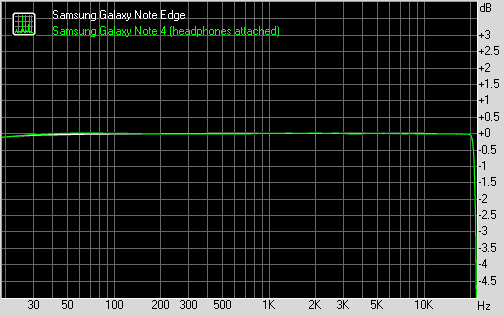 Samsung Galaxy Note Edge frequency response
You can learn more about the tested parameters and the whole testing process here.