Samsung Galaxy Note Edge is now available for pre-order in the United Kingdom. The online retailer Clove is now taking pre-orders for the flagship phablet with curved display.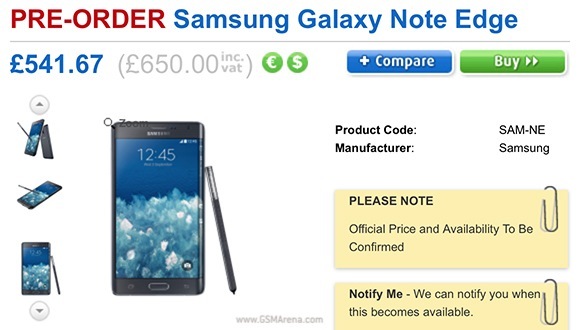 As expected, the handset is anything but cheap - Clove is asking £650 for it with VAT included. Without VAT, the Samsung Galaxy Note Edge costs £541.67.
Samsung Galaxy Note Edge carries a premium over its conventionally designed sibling, the Samsung Galaxy Note 4. Clove is asking £575 for the latter with VAT included. This should hardly catch anyone by surprise, as the Note Edge is officially labeled as a niche device.
?
The phones are either 32gb and 64gb as per previous Galaxy Note models.
D
If you wait just a short while you will be able to buy the handset from EGlobal Digital for a much lower price! It will still have to come from their Hong Kong warehouse and will be subject to VAT and Duty but will start at a lower price to begin wi...
ADVERTISEMENTS