The Samsung Galaxy Note Edge is slowly spreading over more and more markets. It is now set for official launch in Malaysia, where it will be available starting February. To publicize its unconventional phablet offering, the Korean company has released a promotional video with a couple of sky-diving thrill seekers.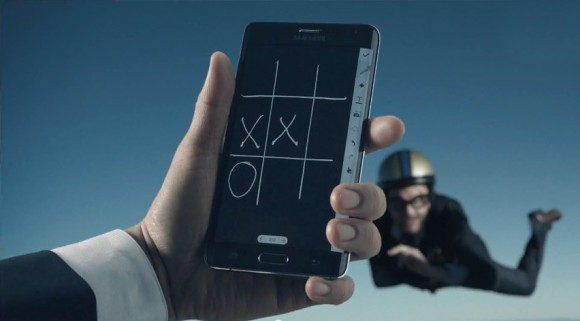 The Samsung Galaxy Note Edge is the pioneer in a current trend of display innovation. Based on the international version of the Galaxy Note 4, it packs the same Snapdragon 805 chipset with quad-core 2.7GHz processor, 3GB of RAM and a choice of 32/64GB storage options. What sets it apart is the 160-pixel display strip that curves around the smartphone's right side, offering additional functionality.
The reel barely brushes on the smartphone's features though, but is nonetheless fun to watch. Two exorbitantly rich chaps use their smartphones to set a location where they meet up for a game of tic-tac-toe in mid air. The intense exchange of crosses and circles is disturbed by a call from one's Mom. Had he chosen to ignore her, the game could have remained uninterrupted, showcasing the edge screen's notification capabilities.
The Galaxy Note Edge commands a RM500 premium over its ordinary sibling for a RM2,999 asking price ($826). Reportedly, quantities will be limited.
p
The phone is still small. Not for me. sorry Samsung. I still like the size of Galaxy Mega 6.3, too bad Samsung doesn't know how to put a bigger ram in it. Just a mere 1.5G. I was told the during manufacturing, the robotic arm is only able to recogni...
?
It's an expensive gimmick at best. Now that LG is getting serious with bendable displays, we will see the price of this kind of stuff come down in the years to come.