This article is outdated. We have already published a full review.
Text input - keyboard, S Pen or something else?
The Samsung Galaxy Note II comes with several text input options. Yes, there is handwriting recognition using the S Pen, but even the standard on-screen QWERTY has several different layouts.
The big screen makes for a comfortable portrait typing, and we really appreciate the extra row just for the numbers. Two finger typing is comfortable on the Note II in portrait mode, but becomes a pain in landscape. The landscape QWERTY also obscures too much of the screen, so we ended up sticking to portrait orientation for text input.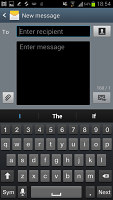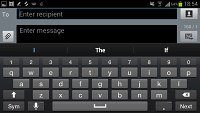 Portrait and landscape QWERTY keyboards
Here are a handful of clever tricks that this keyboard can offer. You can swipe left and right on the keyboard to position the cursor. Okay, this isn't new but this is - you can hover over a text field with the S Pen and a cursor appears. You have to tap to position it there.
You can also enable "Continuous input", which lets you input words by swiping over the keyboard (yes, like Swype). This is available on the Galaxy S III too.
Moving on to handwriting recognition, it's very accurate (even with our awful penmanship) and the thicker, longer S Pen helps quite a bit to improve the experience.
The Samsung Galaxy Note II has very advanced text prediction features to minimize typos. If you allow it, it will scan through your emails, Facebook posts and Twitter posts and learn how you write (which words you use more often and so on).
We move on to the non-keyboard text input methods. You can, of course, use voice input and since the Galaxy Note II is running Android 4.1 Jelly Bean, this will work even if the phablet is offline as long as you have downloaded the required language package.
Finally, there's the camera - yes, the camera. You can snap a photo of text and the Galaxy Note II will run OCR on it and enter it automatically. The great thing about this is that you don't need an Internet connection for this either. You can fit an entire A4 page and the Note II will transcribe it in a matter of seconds. You'll need to proof-read the text though.
By the way, the Galaxy Note II is smart about picking which text input method to show you. If you tap a field with you finger, it will bring up the QWERTY keyboard. If you tap a field with the S Pen instead, it will launch the handwriting recognition.
S pen features
The S Pen truly is pivotal to the Samsung Galaxy Note II experience. It has a large array of new features that considerably boost its usability over what you can do with just your finger tips.
We already covered the contextual page, which comes up automatically when you pull out the S Pen. It's only visible when the stylus is out and it's icon is a little pencil, while regular homescreens are still indicated by dots.
Anyway, there's another way to launch apps - with gestures. You press the S Pen button and swipe up to access Quick command. Here you can draw a "@" sign to launch email, or "?" to do a quick search. Besides the symbol you can add a keyword - what to search for with the "?" or define search range for the "@": recipient, message body or both.




The Quick command lets you do gestures with the S Pen
You can also hover the S Pen over various things to get a better look at them - expand S Planner events, preview emails and text, preview videos and even a position in the video timeline.










Hover over something with the S Pen to launch a preview
The S Pen also lets you quickly snap a portion of the screen and use it in an app - email, S Note, etc. Speaking of S Note, you can launch it by double tapping with the S Pen while holding down its button.



The floating window version of the S Note app
Here's a video from Samsung that does a great job of showcasing all the S Pen features.