This article is outdated. We have already published a full review.
Connectivity
The Samsung Galaxy Note II is a connectivity powerhouse. Let's start off with the basics - quad-band GSM/GPRS/EDGE and quad-band 3G (AWS is missing though). The 3G connectivity is backed by HSPA (21Mbps downlink, 5.76Mbps uplink).
The Note II has an LTE-enabled version too, which uses the same Exynos 4412 Quad chipset (rather than moving to a Qualcomm chipset like some other models), it just has an extra modem. The LTE speeds are 100Mbps down and 50Mbps up.
The Wi-Fi support covers a/b/g/n, with both 2.4GHz and 5GHz band compatibility. Wi-Fi Direct and DLNA are part of the package, of course.
The second-generation phablet also has Bluetooth 4.0 LE. It incorporates Bluetooth 3.0, but also includes the efficient Low Energy mode. It also supports the high-quality Apt-X audio codec.
The Note II lets you share all sorts of media via NFC by simply touching the devices back-to-back. You'd need two S Beam-enabled devices to get this to work - while not many models support it, there are plenty of Galaxy S III's around.
You can share with other NFC devices as well, but the functionality is limited to what is provided by the stock Android Beam.
The AllShare functionality is now split into two: AllShare Play and AllShare Cast. The first is for transferring and sharing data and multimedia files to your notebook or PC. AllShare Cast on the other hand provides streaming content to and from different kind of devices (TV or computer) over DLNA.
Web browser
A new Android version always comes with an improved web browser and the Jelly Bean browser running on the Samsung Galaxy Note II is no exception. Samsung has put its own spin to it too.
The browser interface is almost non-existent - just a row at the top of the screen for the back and forward buttons, the URL bar with a refresh button in there too, the tab switching key and the bookmarks key.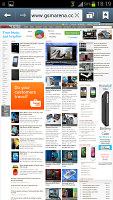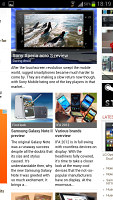 Browsing GSMArena.com on the Samsung Galaxy Note II
The browser supports both double tap and pinch zooming along with the two-finger tilt zoom. There are niceties such as text reflow, find on page, save page for offline viewing, request desktop site and so on. A neat trick is to pinch zoom out beyond the minimum - that opens up the tabs view.
The Web browser comes with Incognito mode, which lets you surf the web without the browser keeping track of your history or storing cookies.
As you can expect, the S Pen also comes into play when using the browser. With it, you can hover over elements of the page as you would with a mouse (very, very few smartphones can do this and this is the first to do it properly). This comes in quite convenient for all those sites that haven't updated their interface yet to work well on a touchscreen (where you can tap something, but not hover over it).
You can also use the S Pen to do quick web searches - just swipe up with the S Pen button pressed to launch Quick command and then scribble your query.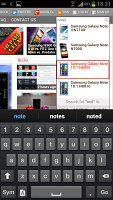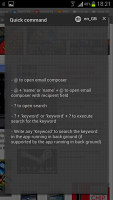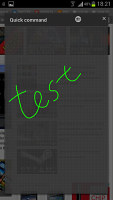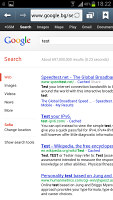 Hovering over a link • doing a Google search with Quick commands
Another Samsung feature in the browser is the Print option, which lets you print out web pages straight from your phone. Unfortunately, this only works only with Samsung printers.
Quick controls are our favorite feature of the Android browser and they've gotten even better with Android 4.1 Jelly Bean. In case you've missed it, Quick Controls are basically a jog-dial menu that replaces the buttons on the top and appears when you place your finger near the left or right edge of the screen. It's even more minimalist than the regular UI and it's very comfortable to use single-handed.
You get five cotrols, but as you highlight one with your finger, it fans out into further options. The tabs, for example, brings out the tab switcher by default, but it also brings out options to open a new tab, a new incognito tab or close the current tab.
Brightness and colors gives you four different presets to adjust the display. Automatic brightness is an option, too, and works only within the browser.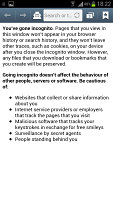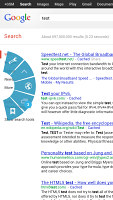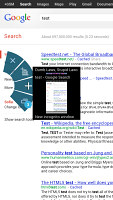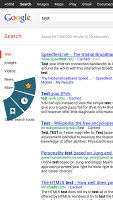 Web browser sports incognito mode • the new and improved Quick controls
Adobe do not officially support Flash on Jelly Bean, but you can side-load it if you like. Still, you'd be better off sticking to the HTML5 versions of web sites - YouTube works and there are even a number of HTML5 games.