Writing home
Samsung Galaxy Note II N7100 review: Writing home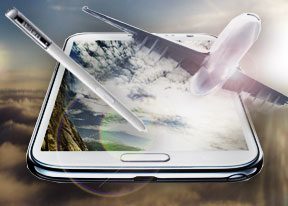 A great display just got better
Plenty of people were keen for Samsung to put a non-PenTile screen on the Galaxy Note II and the Koreans delivered. They changed other properties of the display too, like the top coating, which is not made by Corning this time. In fact this is probably part of the explanation, why the Note II is slimmer than its predecessor, despite rocking a larger battery.
Back to the display, we note that the diagonal grew to 5.5" (up from 5.3") and the aspect ratio changed to 16:9 from 16:10. What this amounts to is a taller, narrower screen (and consequently taller, narrower device) and a slightly increased surface area - the Galaxy Note II screen has just about 2% more surface area than the original.
Of course the resolution also had to be altered to accommodate the change - the Note II has a 720p (1280x720 pixels) screen, whereas its predecessor used WXGA (1280x800 pixels).


The Samsung Galaxy Note II display
Getting rid of that 80-pixel-wide strip resulted in a slightly lower pixel density - 267ppi vs. 285ppi. The new matrix, however, more than makes up and the perceivable sharpness of the screen is actually higher.
As we mentioned, the PenTile matrix is now gone and the slight crosshatch pattern went with it. Perhaps these photos snapped with a digital microscope will help clear up the differences in pixel arrangements.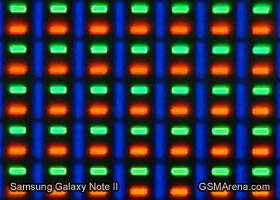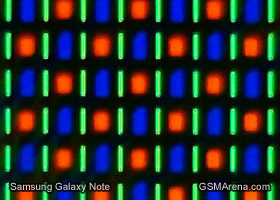 Samsung Galaxy Note II screen • Samsung Galaxy Note screen
The pixels of the Note II have one tall Blue sub-pixel on the left and smaller Green and Red pixels stacked one on top of the other. It's an odd arrangement, but it has three subpixels per pixel. The reason for the different Blue pixel size is that Blue AMOLEDs typically have a shorter life and making them bigger balances things out. Being bigger, the Blue pixel doesn't need to emit as much light to match the other two, which helps it last longer without affecting color balance.
To illustrate how the different arrangement improves sharpness we used our microscope to snap a picture of very small font - the line width here is 1px, the letters are white.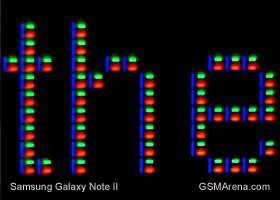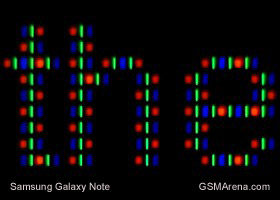 Samsung Galaxy Note II screen • Samsung Galaxy Note screen
As you can see, the Galaxy Note II screen lights up individual pixels to display the 1px-wide lines. The old Galaxy Note, however, can't use a single pixel to make white, as it only has two of the three needed colors.
To fix that, the screen uses sub-pixel rendering, which "borrows" a subpixel from a neighboring pixel to make white. But now the line has become 1 2/3px wide, which means that it uses more resolution than it should. In all instances when the original Galaxy Note had to revert to this trick, it was basically having 2/3 of its effective resolution, which explains why the Note II looks way sharper, despite having fewer pixels.
Another thing we noticed was that the new matrix makes better use of the space allotted to each pixel and there's less left to waste. Notice how the distance between individual pixels is far less here, compared to the original Note and that also improves the image quality.
This new arrangement seems to result in some very slight color aberrations around sharp edges, but it takes a great deal of eye-strain to see it.
One cool addition to the display settings is that even with Automatic brightness turned on, the brightness slider remains active. This allows you to fine-tune the brightness, but still have it automatically adapt to the ambient light.
And now for our usual display tests. The Galaxy Note II fared decently in the first one, showing good brightness levels (for an AMOLED screen, anyway). Our review unit did fall short of both its predecessor and the pre-release sample we had for the preview, though.
Display test
50% brightness
100% brightness
Black, cd/m2
White, cd/m2
Contrast ratio
Black, cd/m2
White, cd/m2
Contrast ratio
Samsung Galaxy Note II
0
215
∞
0
402
∞
Samsung I9300 Galaxy S III
0
174
∞
0
330
∞
HTC One X
0.15
200
1375
0.39
550
1410
Samsung Galaxy Note
0
287
∞
0
429
∞
Samsung Galaxy Nexus
0
112
∞
0
247
∞
Apple iPhone 5
0.13
200
1490
0.48
640
1320
Sunlight legibility was good, too, although nothing spectacular. The Wacom digitizer required for the S Pen operation obviously adds some extra reflections which resulted in a score lower than other Super AMOLEDs of similar brightness.
Contrast ratio
Nokia 808 PureView
4.698
Apple iPhone 5
3.997
Samsung I9300 Galaxy S III
3.419
Samsung Omnia W
3.301
Samsung Galaxy S
3.155
Nokia N9
3.069
Samsung Galaxy Note
2.970
HTC One S
2.901
Samsung Galaxy S II
2.832
Huawei Ascend P1
2.655
Nokia Lumia 900
2.562
Samsung Galaxy Note II
2.307
Apple iPhone 4S
2.269
HTC One X
2.158
Nokia N8
2.144
Apple iPhone 4
2.016
Sony Ericsson Xperia ray
1.955
Sony Xperia T
1.894
Sony Xperia U
1.758
LG Optimus 4X HD
1.691
HTC One V
1.685
LG Optimus Vu
1.680
LG Optimus 3D
1.542
Nokia Asha 302
1.537
Nokia Lumia 610
1.432
Gigabyte GSmart G1355
1.361
HTC Desire C
1.300
LG Optimus L7
1.269
Meizu MX
1.221
Samsung Galaxy Pocket
1.180
Sony Xperia tipo
1.166
Samsung Galaxy mini 2
1.114
If you are interested you can find more on our display testing procedures, over here.
Bigger, more comfortable S Pen
The Samsung Galaxy Note II grew in size over the original and so did the new S Pen. The old one is about 10.4cm tall and 5mm thick, while the new one measures 11.3cm in length and 7mm in thickness.
While nowhere near as comfortable as the S Pen on the Galaxy Note 10.1, the one that comes with the Note II feels more like a pen and less than a stylus, compared to what the original Note had.
The button on the S Pen now has a ribbed pattern, making it easier to locate by touch (the old one is flat and flush against the surface.
The Galaxy Note II can detect when you pull the S Pen out and brings you to a contextual page, which offers shortcuts (with preview thumbnails) of your recent S Notes. It also changes the icons docked at the bottom of your homescreen, and gives you another set of shortcuts in the notification area.
Overall, Samsung has done a really good job of the S Pen integration even deeper in the interface. We'll come back to the subject later on in this review, when we look at the software in more detail.
Since there's no lanyard linking the S Pen and the Galaxy Note II, the phablet uses its accelerometer to detect you walking away and will alert you if the stylus isn't in its slot. The feature is finely balanced and it won't trigger unless you're several steps away - so you won't be getting false positives when walking and writing, but if you really misplaced it and walked away it will start beeping.
The new Samsung Galaxy Note II screen can detect the S Pen from a distance, similar to how the Galaxy Note 10.1 worked. The hover feature, called Air View, is not part of the stylus though, we tested the S Pen from the original Note and it worked just fine.
The Samsung Galaxy Note II also features a more sensitive digitizer compared to the original. It can distinguish between 1024 different levels of pressure (quadruple what the original managed) and you can really feel the difference in the drawing apps - you get fine-grained control between thin and thick lines.