Just like the Samsung Galaxy S4, the Samsung Galaxy Note III is allegedly going to launch in a couple of versions each sporting a different chipset under the hood.
Apparently, SamMobile has got hold of a list of countries to which Samsung is going to distribute the Galaxy Note III powered by the Exynos 5420 Octa chipset and the Snapdragon 800 variants.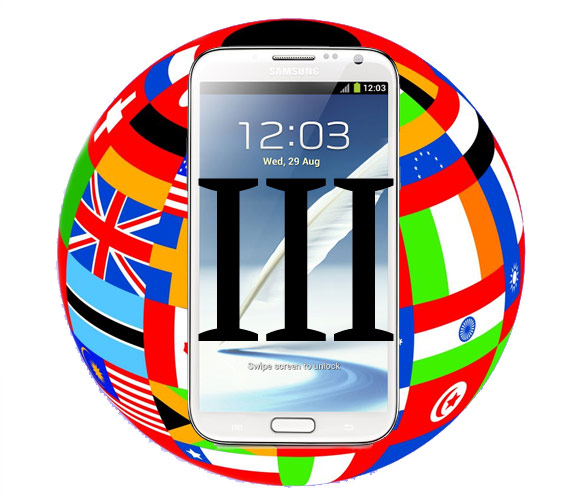 The Exynos 5420-powered Galaxy Note III is listed under the SM-N9000 model name, while the Galaxy Note III with Snapdragon 800 goes by the SM-N9005 name and it is the one to sport LTE connectivity. Unfortunately, the Exynos-one lacks 4G network support. Both versions are going to pack 3GB of snappy LPDDR3 RAM.
Here's a quote from SamMobile's source regarding availability of both versions of the Galaxy Note III in countries where LTE is available.
If your country gets both processor variants, it is a decision based on the marketing plan of Samsung. Which means if there are LTE networks in your country, Samsung will start with the LTE variant (Snapdragon 800) first.
Here's the full list of countries and carriers that are bound to get the Samsung Galaxy Note III with Exynos 5420 chip (SM-N9000) and the Samsung Galaxy Note III with Snapdragon 800 chip (SM-N9005).
Samsung Galaxy Note III with Exynos 5420
(SM-N9000)



Afghanistan
Algeria
Bangladesh
Egypt
France
Germany
Hong Kong
India
Indonesia
Iran
Iraq
Israel
Italy
Kazakhstan
Kenya
Malaysia
Mauritania
Morocco
Nepal
Nigeria
Pakistan
Poland
Russia
Saudi Arabia
Singapore
South Africa
Sri Lanka
Taiwan
Taiwan
Thailand
Tunisia
Turkey
Ukraine (Kyivstar)
United Arab Emirates
United Kingdom
Uzbekistan
Vietnam

Samsung Galaxy Note III with Snapdragon 800
(SM-N9005)



Australia
Australia (Optus)
Australia (Telstra)
Australia (Vodafone)
Austria (3 Hutchison)
Austria (A1)
Baltic
Belgium / Luxemburg
Bosnia and Herzegovina
Bosnia and Herzegovina
Bosnia and Herzegovina (BH TELECOM)
Bulgaria
Bulgaria
Bulgaria (MTL)
Bulgaria (VVT)
Croatia (TELE2)
Croatia (VIPNET)
Cyprus
Cyprus (Cytamobile Vodafone)
Czech Republic
Czech Republic (O2C)
Czech Republic (Vodafone)
France
France (Bouygues)
France (SFR)
Germany
Germany (O2)
Germany (T-Mobile)
Germany (Vodafone)
Greece
Greece (Cosmote)
Greece (Vodafone)
Hong Kong
Hungary
Hungary (Telenor)
Hungary (VDH)
Ireland
Ireland (Meteor)
Ireland (O2)
Ireland (Three)
Ireland (Vodafone)
Italy
Italy (H3G)
Italy (TIM)
Italy (Vodafone)
Italy (Wind)
Japan
Luxembourg
Malaysia
Netherlands
Netherlands (Vodafone)
New Zealand (Vodafone)
New Zeeland
Nordic countries
Norway (Telenor)
Open Austria
Papua New Guinea
Philippines
Philippines (Globe)
Philippines (Smart)
Philippines (Sun)
Poland
Poland (PLUS)
Poland (Play)
Portugal (Optimus)
Portugal (TMN)
Portugal (TPH)
Portugal (Vodafone)
Romania
Romania (Vodafone)
Saudi Arabia
Serbia (Telekom)
Serbia (Telenor)
Serbia (VIP)
Singapore
Singapore
Singapore (SingTel)
Singapore (StarHub)
Slovakia
Slovakia
Slovenia
Slovenia (Mobitel)
Slovenia (Si.mobil)
South Africa (Vodafone)
South Africa (XFM)
South East Europe
Spain
Spain (Movistar)
Spain (Vodafone)
Spain (Yoigo)
Sweden
Sweden
Sweden (Tre)
Switzerland
Switzerland (Swisscom)
USA (AT&T)
United Kingdom
United Kingdom (H3G)
United Kingdom (O2)
O2U
United Kingdom (Vodafone)
VOD
Additionally, there's going to be a third Galaxy Note III variant that's going to feature two SIM card slots. According to the leaked country list, it's going to only be available in China and carriers the SM-N9002 model number. It's going to be powered by Samsung's Exynos 5420 with 3GB of LPDDR3 RAM.
Samsung will announce the Galaxy Note III on September 4 event in Berlin and we'll be covering it live so make sure you stick around when the time comes.
l
Sorry but you are wrong they are NOT obliged to write where the phone is made
G
Samsung is obliged to writ the made production country because it is different contracts of international commerce,also it is more safe for us ,I am looking for Korea production & Samsung could not help me to cover their huge mistake ,also the pr...
p
i want to know about which country is producting is samsung galaxy note-3
ADVERTISEMENTS