Power play
Samsung Galaxy Note N7000 review: Power play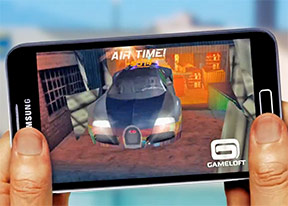 Connectivity chock-full of new technologies
The Samsung Galaxy Note starts off with the basics – quad-band GSM/GPRS/EDGE and quad-band 3G (AWS is missing though). There's HSPA+ with 21Mbps downlink and 5.76Mbps uplink too, which some carriers brand as "4G" even though it's not.
Moving on, there's Bluetooth 3.0 with High Speed, which promises transfer speeds of up to 21Mbps. Wi-Fi Direct is a similar technology, which offers simple pairing of two devices but blazing speed.
The Wi-Fi support includes a/b/g/n versions, with both 2.4GHz and 5GHz band compatibility.
The AllShare app allows you to stream content to and from different kind of devices (TV or computer). We didn't give it a proper run for its money, but we guess it works over DLNA.
And finally, for wired connectivity we have the MHL port. By all appearances it is a normal microUSB port and works as one (a charger port as well). But the MHL port enables video output by using a MHL-to-HDMI dongle. There isn't one included in the retail box and those are quite hard to get by, which is pretty disappointing.
Once you plug the dongle into the phone you also need to plug a charger into the additional microUSB port on the dongle and the Galaxy Note screen will be mirrored on the TV.
The MHL port has yet another feature – it enables USB On-The-Go. You'll need an adapter for that too (there isn't one in the box) but this one is fairly straight forward – you plug it into the Galaxy Note and plug a standard USB cable on the other end.
A great web browser
While the interface of the Android web browser has hardly changed, the hardware specs of the Samsung Galaxy Note propel it to great heights of user experience. The large, sharp display with great colors makes surfing a joy.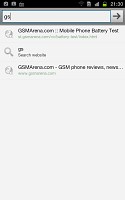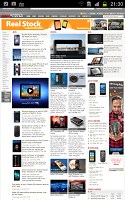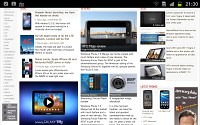 Browsing GSMArena.com on the Galaxy Note
The browser supports both double tap and pinch zooming along with the new two-finger tilt zoom. There are niceties such as multiple tabs, text reflow, Find On Page and so on. A neat trick is to pinch zoom out beyond the minimum – that opens up the tabs view.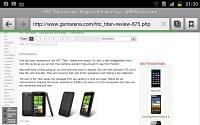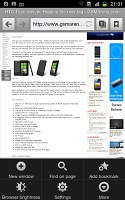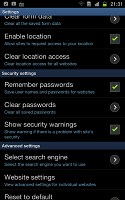 The web browser is one of the most complete packages in business
The powerful dual-core CPU (and the GPU acceleration) enables the Galaxy Note browser to play 1080p Flash video. That was truly impressive stuff – a lot of netbooks would still choke on something like that. You can play touch-optimized Flash games without a hitch too.
The bad news is that all this performance comes at the price of rather mediocre battery life when browsing the web. The Galaxy Note only managed 3:35 hours of browsing before it depleted its fully charged battery, which is not that impressive. Hardly surprising though, considering how taxing white screens are on the AMOLED screens and knowing that most websites predominantly serve their text content on white backgrounds.
One of the best parts of the Android ecosystem is that even if you don't like the default browser there's nothing to worry about. The Android market offers more alternatives than any of its competitors – there's Opera Mobile and Mini, Dolphin HD, SkyFire and many more. Those are slightly more battery-efficient, improving the Note browsing time to about 4 hours, but that's merely because they lack GPU acceleration and that means worse performance than the default browser.
The Note likes to edit Office files
The Samsung Galaxy Note comes with the Polaris Office preinstalled, which seems to be getting rather popular with hardware manufacturers lately. And for good reason, we guess – it's one of the most feature rich mobile editors we've seen. You can view and edit Word, Excel and PowerPoint documents and there's a PDF viewer to boot.
Editing covers an almost full set of options – text style, justification, paragraph formatting, bullets, even creating tables (that's a first). If you're editing an Excel file, you get a formula wizard, resize rows/columns, border style, merge cells and so on. Even full-featured PowerPoint presentations are doable.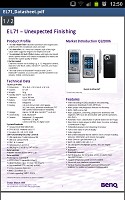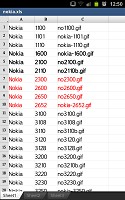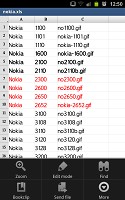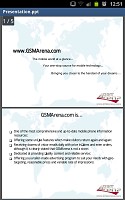 Viewing and editing documents on the Galaxy Note
You can do practically anything with the app – it's better than the other mobile editors we've tested. Plus it doubles as a file manager and also integrates with Google Docs and Box.net.