By the dozen
Samsung Galaxy Note Pro 12.2 review: By the dozen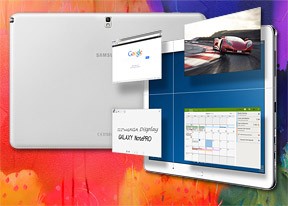 Rich connectivity misses NFC
The Samsung Galaxy Note Pro 12.2 comes in two flavors - Wi-Fi only and LTE. The LTE model is powered by the Snapdragon 800 chipset and features quad-band GSM and 3G support with HSPDA up to 42Mbps. The LTE support covers six bands and is category 4, which means you get up to 150Mbps downlink and up to 50Mbps uplink speeds.
Both tablet versions feature Wi-Fi a/b/g/n/ac support, with 2.4GHz and 5GHz band compatibility. Wi-Fi Direct and DLNA support are also available. Bluetooth 4.0 handles local connectivity.
Both models of the Note Pro 12.2 feature GPS and GLONASS receivers, unlike some tablets that omit accurate positioning methods on the Wi-Fi only models.
There is a microSD card slot as well, on top of the 32/64GB of internal storage. All that storage can be filled quickly enough thanks to the microUSB 3.0 port. It's backward-compatible with microUSB 2.0 if you don't happen to have a USB 3.0 cable around.
The Samsung Galaxy Note Pro 12.2 also supports USB-on-the-go, but you will need to buy an adapter for that. The tablet can work with USB storage, mice and keyboards (but Samsung also offers Bluetooth mice and keyboards).
You can also buy an HDMI adapter and connect the tablet to your HDTV with a regular cable. Yet another adapter you can grab for the Note Pro 12.2 is an Ethernet to microUSB adapter for connecting to wired LAN networks.
An IR blaster on top allows the tablet to control TV's and other devices using Samsung's WatchON app.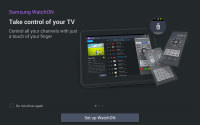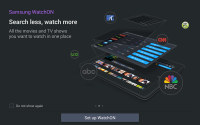 WatchON will tell you what's on TV and change the channel too
The last piece of the connectivity puzzle, NFC, is missing as it was on the Galaxy Note 10.1 (2014 edition).
Web browser
The Samsung Galaxy Note Pro 12.2 comes with both the stock Android browser (customized by Samsung) and Google's Chrome. Both support Multi-window, but only the stock browser supports Pen Window.
Anyway, the interfaces of both browsers are virtually identical. Tabs are kept in a bar on top, much like on a desktop browser, and the address bar and search bar are incorporated in a single field (with a voice input shortcut).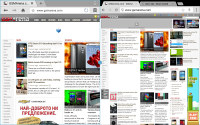 Browsing GSMArena.com on the Samsung Galaxy Note Pro 12.2
Both browsers feature incognito tabs and request desktop view. Chrome has a Google-powered feature that syncs open tabs between devices that run Chrome, but Samsung has integrated a similar feature into the stock browser (this one goes through your Samsung account).
The new tab page for Chrome shows a grid of often visited sites and other options, while the stock browser just loads the home page.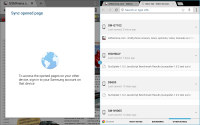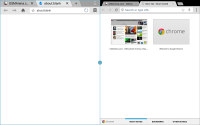 Tab syncing solutions • the new tab interface
Air view, Smart scroll and Smart stay all work in the browser, the first of which lets you simply hover your S Pen over a web element and it will act as if a mouse cursor was over it instead, which is great for websites not optimized for mobile devices.
Flash is no longer welcome as even the stock browser has dropped support for plug-ins.
Premium apps
Samsung has positioned the Galaxy Note Pro 12.2 as the premium tablet in the lineup and as such it comes with a rich app package that most other tablets don't get (even other Galaxy Pro tablets). These are mostly centered around productivity.
The usual suspects - Flipboard, Dropbox (with 50GB for two years bonus), Evernote and TripAdvisor - are on board.
Among the more interesting are Office apps from Hancom Office - Hword, Hcell and Hshow. They feature interfaces similar to the desktop Microsoft Office apps, meaning they are busy with tons of buttons. While they can be operated with a finger or the S Pen, we get the feeling it would be more comfortable to use a mouse.
Speaking of which, it's hard to use those apps without an external keyboard too - the large QWERTY just takes up too much space (from what little was left with such a complicated UI). You can switch to one of the smaller on-screen keyboards in a pinch.
Don't think that we're knocking these apps - they really do feel like a desktop Office package and we think this is intentional. For one, it would make people who are not tech savvy feel at home and also they are packed to the rafters with features.
This is followed up by two collaboration apps - Cisco WebEx and Samsung e-Meeting. The first handles conferencing (complete with screen-sharing), while the second handles sharing content without the need for a central server.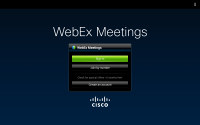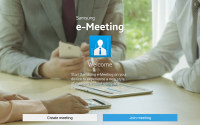 WebEx meetings pairs well with e-Meeting
There's more - if you're going to connect a keyboard and mouse to the Galaxy Note Pro 12.2, you can launch Remote PC, which is just what it sounds like. It gives you remote access to your home or office PC, which works rather well on the large screen. SideSync does something similar, just in reverse. It shares windows and data between a computer and the tablet, so you can manage it on you PC.
The bespoke Sketchbook app will be of great interest to artists - it's a sketching app that makes full use of the S Pen, including pressure sensitivity. The app supports layers with blending modes, visual guides and symmetry tools. It turns the Galaxy Note Pro 12.2 into a powerful tool for digital artists that can replace Photoshop and a Wacom tablet setup.
The premium app package is said to include $700 worth of apps and tools. A lot of that is for subscriptions actually - one year BusinessWeek+, 12 weeks of NY Times, 6 months of Livesport.tv, 3 months of LinkedIn. There's a free Oxford's Advanced Learners Dictionary too.
Other apps are included as well, like Bitcasa, which offers a lot more storage than Dropbox - a whopping 1TB - but the subscription is for three months only. Note that RemotePC is also subscription-based (2 years) and so are Evernote (3-12 month subscription, market dependent) and LinkedIn (3 months of Premium Membership).