By the dozen
Samsung Galaxy Note Pro 12.2 review: By the dozen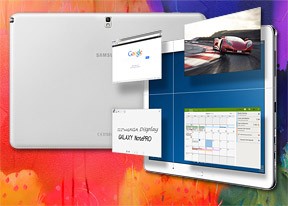 Phonebook
The Galaxy Note Pro 12.2 comes in Wi-Fi only and LTE versions but neither features voice call functionality. There's still a Contacts app for all the other methods of communication.
Your contacts get automatically synced with your Google account and your social networks. The list of contacts is displayed on the left and the available info on the currently selected contact on the right.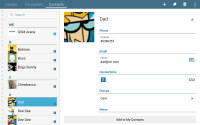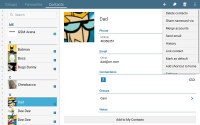 The Galaxy Note Pro 12.2 contact manager
Contacts are listed by either first or last name, depending on preference. There is a handy search field in the top left corner, as well as an alphabet scroll.
Your own contact info is treated differently and adds a third panel on the screen with your recent posts on Google+. We wish this worked for other contacts and their social network posts too.
The advanced menu offers a few more options: edit contact, import/export, join contacts, send or print namecards, get friends via social services, etc.
Editing a single contact takes place in a popup window, where the available fields are displayed, with plus and minus signs on the right that let you remove or duplicate details. There's also an Add another field button at the bottom that lets you insert a field that hasn't existed so far for the specific contact. Custom field names aren't available.
Messaging and text input
The Galaxy Note Pro 12.2 comes with two familiar email applications out of the box - one for your Gmail and a generic app to use with any POP3/IMAP account.
They both have a split-screen interface. Initially, your folders are listed on the left and the emails in the currently selected one appear on the right. Upon clicking on a single message, the list of emails moves to the left tab while the body of the selected one pops up on the right.
Bulk actions are supported too, so you will easily manage mailboxes that get tons of messages.
Gmail is smart about categorizing messages and grouping them - e.g. all promotions go in a folder, all social networking-related messages in another and so on, keeping the Primary folder clean and containing only the important stuff.
The Gmail app can handle multiple Gmail accounts, but doesn't offer a combined inbox, while the generic email client supports any email service and has a combined inbox. The two panel interface can also be adjusted by dragging the separating line between the two panes.
A couple of chat applications are preloaded on the Note Pro 12.2 to make up for the lack of SMS support. Google's Hangouts does IM complete with group chat and sending photos, but it can also handle video chat too.
There's also Samsung's proprietary ChatOn. It adds some social flare with a custom page for each user, which you can follow. This includes Facebook-style pages for sports teams and web sites rather than just individuals.
The Samsung QWERTY keyboard occupies about half of the screen. That makes it rather large, so there are two additional keyboard layouts to try and suit everyone's taste. You can opt for the small floating keyboard and a split keyboard too.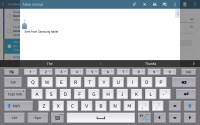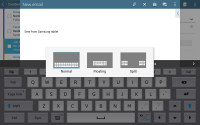 The large on-screen keyboard • all three layouts
Choosing the latter allows you to quickly thumb-type while holding the tablet (much better on a 12.2" tablet than reaching for keys in the middle of the screen). It also leaves much more room for text.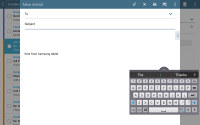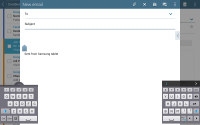 Floating mini keyboard and split-screen keyboard
Several other options are available to make text input easier, including various options for predictive text and auto correction. Swipe input is also supported or if you disable it, you can swipe left and right on the keyboard to move the cursor. The large keyboard does have arrow keys though.
If you tap a field with the S Pen, the keyboard can automatically switch to handwriting recognition, which works very well. This is great for alphabets too complicated for a keyboard and can be disabled if you prefer to swipe over the on-screen QWERTY with the S Pen.
Dictation is also available with an option to work offline (provided you download the necessary files first). Note that this is not as accurate as the online version.
There's also an alternative keyboard view that shows the clipboard and all the items you've recently copied.