First look
Samsung Galaxy Note Pro and Tab Pro hands-on: First look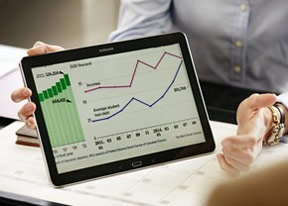 Samsung Galaxy Note Pro 12.2 hands-on
The Samsung Galaxy Note Pro 12.2 is going to run the latest Android 4.4 KitKat plus the most recent version of Samsung's TouchWiz UI on top. In addition to all the KitKat goodies and optimizations (incl. Project Svelte that lowers the Android specs and makes the OS run smoother and faster), you'll also get a major overhaul of TouchWiz.
There are two upgrades worth mentioning - the brand new homescreen and the new Multi-Window UI that now supports up to four apps running simultaneously, each in its dedicated window.
The new TouchWiz UI coming with the Android 4.4 KitKat offers brand new resizable widgets plus an entirely different approach to the homescreen. You can have up to eight homescreen panes and you can put up to four widgets on each. If you fill the screen with enough widgets, the actual homescreen wallpaper will be completely out of sight.
The homescreens now look much like the Samsung News service that premiered on the 2013 Note devices, much similar to the HTC's Blinkfeed. Samsung has widgets for pretty much everything - you can have social updates, various news topics (the new disassembled and more functional Samsung News service is now available as a series of separate widgets), weather, mail boxes, shortcuts, office documents, Scrapbook albums, NY Times app, Hubs, Gallery, S Note docs, S Planner, messages, bookmarks, etc. And all these look just fabulous - every homescreen is completely different, not intrusive at all and very useful - it's like running four apps on a homescreen simultaneously and thanks to the huge screen and resolution you won't even need opening them in full-screen.
Imagine filling your homescreens with such widgets - you can have a number of active apps the entire time. But what's most important is that the slate ran silky smooth despite all the simultaneous action! Maybe the Android 4.4 KitKat optimizations helped here.
The second worthy upgrade is the new Multi-Window service. Instead of two, it now supports up to four running apps and you can even have one app opened more than once. You can easily resize the windows, and copying and pasting content across windows is a matter of two clicks. The Galaxy Note Pro 12.2 continued to run smooth even with four apps opened at the same time.
We've a short video to demo the new features. Enjoy!
The S-Pen features and apps are the same as on the Note 3 and Note 10.1, as far as we had the time to check. Once you pop the S-Pen out you get the Air Command menu with the usual S-Pen shortcuts - Action Memo, Scrap Booker, Screen Write, S Finder and Pen Window.
The Action Memo lets you write stuff and then use it to initiate an action - i.e. add a contact name and number to your phonebook, or check out an address on Google Maps. You just need to mark a part of the text and send it to one of the supporting apps.
Scrap Booker lets you add pieces of your screen to... well, a Scrapbook. You don't need to take a full-size screenshot - just mark the stuff you need. The Scrap Booker will automatically extract pictures and text from the selected area and will save them to one of your Scrapbook categories. You can then add an optional memo to every scrapbook entry you create.
Screen Write allows you to start writing on the display no matter what screen you are on. You can either use a clean sheet or a snapshot of the screen you are currently using. It's the best tool for taking quick memos.
The S-Search is local search that'll browse through all the content on your Note Pro 12.2 with preset filters. It can search in all S-Pen content you've added (including notes, scrapbook pages, etc.), messages, multimedia, settings, phonebook, even the internet. You can even search for symbols you've drawn with the S-Pen.
The last item on the Air Command menu is Pen Window. It lets you launch a mini window with one of the supported apps by drawing a rectangle on the screen. The Galaxy Note Pro 12.2 will then fit the floating app in the said rectangle (correcting the aspect, of course).
Even though we had very little time with the Galaxy Note Pro 12.2, we saw enough to want a closer look very soon. It's a blazing fast gadget thanks to all optimizations under the hood, it is an even greater multi-tasker and an amazing tool whatever you are using it for - work or pleasure.
Samsung made sure you have everything you may EVER need and we mean it. You get subscriptions worth around $700 to many popular services: 50GB of Dropbox storage for 2 years, 1TB Bitcasa storage for 3 months, 1 year of Bloomberg Businessweek+ subscription, 3 months of LinkedIn Premium Membership, Remote PC 2 year free subscription, NY Times free for 2 months, Cisco WebEx Meetings for half a year, free Hancom Office package, and even an Evernote free subscription for up to 1 year. Yes, that impressive!
So, the Galaxy Note Pro 12.2 is probably the ultimate slate you can buy this year. It has everything - excellent display and hardware, the latest Android OS with an amazing feature set, value-adding services, S-Pen integration and much more.