First look
Samsung Galaxy Note Pro and Tab Pro hands-on: First look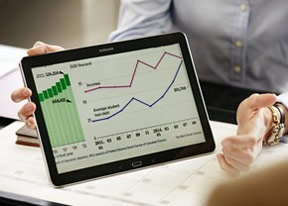 Samsung Galaxy Tab Pro 12.2 hands-on
Obviously, we'll start our hands-on of the Samsung Galaxy Tab Pro with the new size. The mass consumer tablet realm hasn't witnessed a 12.2" slate so far, but you can count on Samsung to shake things up.
However, besides the larger screen diagonal, there's not much in terms of surprises regarding the Galaxy Tab Pro 12.2. In terms of specs, it's very close to the Galaxy Note 10.1 (2014) and, naturally, comes without the S Pen stylus (that's Galaxy Note Pro's property). At the front, there's a 12.2" 16:10 Super Clear LCD display with a resolution of 2,560 x 1,600 pixels (WQXGA). With a pixel density of 247 ppi, the display is very sharp and bright. Colors aren't as saturated as on Super AMOLED units, but decent nonetheless.





Samsung Galaxy Tab Pro 12.2 live photos
Under the hood, the LTE version of the Galaxy Tab Pro 12.2 is a potent beast. The LTE version of the slate packs a 2.3GHz Snapdragon 800 chipset with four Krait 400 cores, Adreno 330 GPU and 3GB of RAM. This is a proven combination that runs Android 4.4 KitKat with the latest version of TouchWiz on top without breaking a sweat. There're a lot of pixels to push and Samsung has added a ton of features to the stock Android experience, so it's not the easiest of times the Snapdragon 800 has seen. Nevertheless, it does its job effortlessly.
The Wi-Fi model is decently powered too, packing Samsung's Exynos 5 Octa chipset with four 1.9GHz Cortex-A15 cores as well as four 1.3GHz Cortex-A7 cores. The GPU is a Mali-T628 MP6 and RAM is 3GB.
On the outside, the Galaxy Tab Pro 12.2 looks very similar to the Galaxy Note Pro 12.2. At the back, there's the same leather–like texture that was introduced with the Galaxy Note 3 and later used on the Galaxy Note 10.1 (2014). We quite like it for the grip it provides, on top of looking stylish. We're just not sure it's the kind of device to carry around too much for others to see.
There's a main 8MP camera with LED flash and zero shutter lag. It's capable of recording full HD video at 60fps, which is impressive for a tablet.
Anyway, in terms of feel in the hand, it's very similar to holding the Galaxy Note Pro 12.2. In fact, the Galaxy Tab Pro 12.2 shares the same dimensions - 295.6 x 204 x 7.95mm and weighs nearly the same. 732 grams for the WI-Fi version and 8g more for the LTE-enabled model is quite heavy for single hand operation. Undoubtedly, the Galaxy Tab Pro 12.2 is a big device.
The 12.2" display has given Samsung engineers enough space to fit a 9500mAh battery. Samsung hasn't specified how much it'll last while web browsing and video watching, but we guess it'll be good for a solid day of use.




Samsung Galaxy Tab 12.2 live photos
On the software side, Samsung has integrated its latest version of TouchWiz on top of Andoird 4.4 KitKat. In short, it's a marvelous combination. Instead of just going with the flow and have the same traditional homescreens, Samsung has stirred them up by making the widgets more flexible than before. Now, they're also edge-to-edge meaning there' re no gaps between them.
Such a large display also favors enhanced multitasking and Samsung has delivered. Productivity is now much improved with the latest version of Multi Window. It now allows you to split the screen into four equal parts each fitting a different app.
Samsung has done a great deal to include pre-paid subscriptions to some of the most popular services and cloud storage providers. Some of the partners include Cisco, Dropbox, Evernote, LinkedIn, The New York Times, Oxford Advanced Learner's A-Z as well as a copy of Sketchbook Pro.