First look
Samsung Galaxy Note Pro and Tab Pro hands-on: First look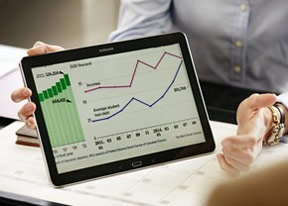 Samsung Galaxy Tab Pro 10.1" hands-on
Onto the more standard Galaxy Tab Pro 10.1" tablet, which is the premium alternative of the lower-midrange Galaxy Tab 3 10.1. And it's well worth the extra bucks. Its display sports the same resolution as its bigger sibling, making for a pixel density of 298ppi.





Samsung Galaxy Tab Pro 10.1 live photos
The 10.1" tablet looks just like the 12.2" model. At the back, there's the same leather-like material covering the 8,220mAh battery. It's also significantly lighter than its sibling at 469 grams for the Wi-Fi model and 477 grams for the LTE variant.
As far as performance goes, the Galaxy Tab Pro 10.1" is identical to the twelve-incher. The Wi-Fi and 3G versions are powered by Samsung's own Exynos 5420 Octa chipset, with Snapdragon 800 ticking inside the LTE units. The difference is in the amount of RAM, which in the case of the 10-inchers is 2GB.
Samsung Galaxy Tab Pro 8.4" hands-on
While the Samsung Galaxy Tab Pro 12.2" was awash in rumor well ahead of its launch, the Galaxy Tab Pro 8.4" comes right out of the blue, to the dismay of the LG G Pad 8.3 and the Apple iPad mini.





Samsung Galaxy Tab Pro 8.4 live photos
The Galaxy Tab Pro narrowly beats them at screen size - but it's the screen resolution that makes the real difference. Just like the rest of the Galaxy Tab Pro pack, the Tab Pro 8.4" features a 2,560 x 1,600 pixel display resulting in the jaw-dropping pixel density of 359ppi - highest ever on a tablet.





Samsung Galaxy Tab Pro 8.4 live photos
Under the hood, we find a Snapdragon 800 chipset with a 2.3GHz quad-core Krait CPU and 2GB of RAM (no Exynos version here). There is 16GB/32GB of internal storage, which is further expandable via the microSD card slot.
The slate fits comfortably in larger hands and weighs the cool 331 grams - exactly the same as the iPad mini 2.