A droid of stature
Samsung Galaxy Premier review: A droid of stature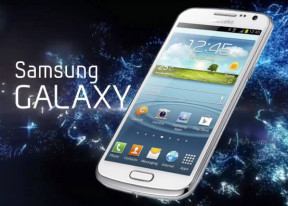 Display
The display on the Galaxy Premier is a 4.65" Super AMOLED unit with a resolution of 720 x 1280 pixels, resulting in a density of approximately 316 pixels per inch. The specs might be identical to what we had a year ago, but this still remains the most pixel dense AMOLED screen out there.


The Samsung Galaxy Premier display
As usual for AMOLED display, colors are vibrant and contrast is impressively high. Unlike the Galaxy Nexus, the Galaxy Premier offers three display modes, which lets you tune down the colors if you don't like the default oversaturated look.
The brightness of the screen isn't particularly impressive, but the Galaxy Premier is still brighter than the Galaxy Nexus, so it's definitely a step in the right direction. And given that Super AMOLED displays are pretty resistant to reflections, the sunlight legibility of the Galaxy Nexus is pretty good.
Here go the Samsung Galaxy Premier results from our display tests.
Display test
50% brightness
100% brightness
Black, cd/m2
White, cd/m2
Contrast ratio
Black, cd/m2
White, cd/m2
Contrast ratio
Samsung Galaxy Premier
0
138
∞
0
328
∞
Samsung I9300 Galaxy S III
0
174
∞
0
330
∞
HTC One X+
0.23
232
1016
0.28
421
1521
LG Optimus G
0.14
197
1445
0.33
471
1438
LG Optimus 4X HD
0.34
369
1077
0.68
750
1102
Apple iPhone 5
0.13
200
1490
0.48
640
1320
Contrast ratio
Nokia 808 PureView
4.698
Samsung I9300 Galaxy S III
3.419
Samsung Omnia W
3.301
Samsung Galaxy S
3.155
Samsung Ativ S
3.129
Nokia N9
3.069
Samsung Galaxy Note
2.970
Samsung Galaxy Premier
2.958
HTC One S
2.901
Samsung Galaxy S II
2.832
Huawei Ascend P1
2.655
Nokia Lumia 900
2.562
Apple iPhone 4S
2.269
HTC One X
2.158
Nokia N8
2.144
Apple iPhone 4
2.016
Sony Ericsson Xperia ray
1.955
HTC Desire X
1.878
HTC Windows Phone 8X
1.873
Sony Xperia U
1.758
LG Optimus G
1.753
LG Optimus 4X HD
1.691
HTC One V
1.685
LG Optimus Vu
1.680
HTC Desire V
1.646
LG Optimus 3D
1.542
Nokia Asha 302
1.537
Nokia Lumia 610
1.432
Gigabyte GSmart G1355
1.361
Sony Xperia miro
1.324
HTC Desire C
1.300
LG Optimus L7
1.269
Meizu MX
1.221
Samsung Galaxy Pocket
1.180
Sony Xperia tipo
1.166
Samsung Galaxy mini 2
1.114
You can find more about our screen testing procedures here.
Handling
Overall, the handling of the Samsung Galaxy Premier is a very pleasant experience. It's just big enough to remain comfortable to hold in one hand. The plastic finish is of high quality and is quite enjoyable to the touch.



Samsung Galaxy Premier held in hand
There's a certain charisma to the Samsung Galaxy Premier - it's both good looking and solidly built. Samsung seems to be adopting the premium design of the Galaxy S III in both its entry- and mid-range products and the result is an elegant device, which is done just right, without being overdesigned.