A droid of stature
Samsung Galaxy Premier review: A droid of stature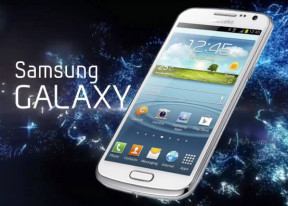 S Voice and Google Now
Samsung released S Voice as an answer to Siri before Google came out with its own solution in Google Now. S Voice is the culmination of Samsung's ongoing effort at integrating voice commands into the Android experience, an effort which goes back to the days of Vlingo. You may remember the voice activation (saying "Hi Galaxy" to trigger S Voice).
S Voice can do the usual - search the web, make calls, send texts (which Android natively supports and so does Vlingo), but you can also use it instead of the notification area toggles, answer or reject incoming calls, start the camera and take a photo, control the music player and FM radio and stop or snooze alarms all with voice commands.
It's also a tool for quickly looking up facts - it's powered by Wolfram Alpha (which handles some of Siri's answers too). It has an enormous database covering topics ranging from Culture and Media to Physics. S Voice can also be used as a calculator.
Samsung has decided to keep S Voice alongside Google's solution as the two do differ in functionality. Jelly Bean has the unspoken Google Now info cards, but it also brought Google's Knowledge Graph, which can answer factual questions.
Google Voice Actions can handle stuff like sending messages (SMS or email), initiating a voice call, asking for directions, taking a note or opening a site. Since the latest update came, Google Now can also launch apps, check and manage your calendar and look for nearby places of interest and stuff like movie openings in theaters.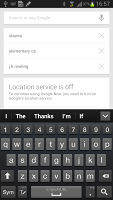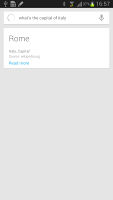 Asking Google's Knowledge Graph a question
One big advantage of Google's Jelly Bean is that the voice typing functionality doesn't require an internet connection to work. You can enter text by speaking anywhere you can use the on-screen keyboard - be it the Messaging app or a note taking app - without the need for a data connection as long as you have pre-downloaded the needed language packs (and those only take about 20-25MB of your storage per pack).
Making voice typing available offline also made it faster as it's not dependent on your connection. What's even more impressive is that the transition hasn't cost it anything in terms of accuracy.
Synthetic benchmarks
The Samsung Galaxy Premier is powered by a TI OMAP 4470 dual core chipset clocked at 1.5 GHz, 1GB of RAM and a PowerVR SGC544 GPU. In essence, it is a beefed up Samsung Galaxy Nexus with a better GPU, faster CPU and microSD support. Let's see how it does when compared to its predecessor (updated to Jelly Bean), as well as some other popular devices.
In Benchmark Pi, the Premier did very well, beating all Cortex-A9 dual-core competitors. It did come short of the times posted by the dual-core Krait packing smartphones, like the HTC One S.
Benchmark Pi
Lower is better
HTC One S
306
Samsung Galaxy Premier
372
Samsung Galaxy Nexus
447
Samsung Galaxy S II
452
Samsung Galaxy S Advance
530
HTC Sensation XE
536
Sony Xperia S
536
Sony Xperia go
543
Sony Xperia sola
551
In Linpack, the One S retains its title as king of dual-cores, and its Krait processor eclipses the Cortex-A9 on the Galaxy Premier. That being said, the Premier did better than the other dual-core offerings in our benchmarks, including the Samsung Galaxy Nexus.
Linpack
Higher is better
HTC One S
210.0
Samsung Galaxy Premier
96.1
Sony Xperia S
86.4
Samsung Galaxy S II
77.6
Sony Xperia go
69.95
Sony Xperia sola
68.1
Samsung Galaxy S Advance
64.74
Samsung Galaxy Nexus
63.7
The new GPU inside the Galaxy Premier shined in NenaMark 2,posting a very impressive score despite the high native resolution.
NenaMark 2
Higher is better
HTC One S
60.5
Samsung Galaxy Premier
55.3
Samsung Galaxy S II
51.6
Samsung Galaxy Note 10.1
43.6
Sony Xperia go
42.8
Sony Xperia S
37.5
Samsung Galaxy Nexus
28.7
Sony Xperia sola
27.7
The SunSpider JavaScript benchmark showed some very good browser performance from the Premier. There are few smartphones we have seen do better than that and they all belong to much higher price range.
SunSpider
Lower is better
Samsung Galaxy Premier
1171
Samsung Galaxy Nexus
1626
HTC One S
1708
Samsung Galaxy S II
1849
Apple iPhone 4S
2217
Sony Xperia S
2587
Samsung Galaxy S Advance
2663
Sony Xperia sola
2837
Sony Xperia go
3228
The story continues with BrowserMark, where the Galaxy Premier dominates the mid-range competition in terms of browser performance with some truly impressive numbers for a dual-core CPU.
BrowserMark
Higher is better
Samsung Galaxy Premier
160836
Samsung Galaxy Nexus
115613
Samsung Galaxy S II
111853
HTC One S
98435
Apple iPhone 4S
88725
Samsung Galaxy S Advance
81557
Sony Xperia go
76820
Sony Xperia S
74990
Sony Xperia sola
73840
In multithreaded performance, Krait proves to be better when comparing core for core than the Cortex-A9. However it's a whole different ballgame when looking at web browsing - the Premier is one of the best phones you can have if you spend a lot of time on the internet. Ultimately, when compared to the Nexus, the Galaxy Premier is an improvement in almost every regard.