Utility droid
Samsung Galaxy Pro B7510 review: Utility droid

Connectivity
The Galaxy Pro is worldwide roaming-ready with quad-band GSM/GPRS/EDGE and dual-band HSPA with download rates of up to 7.2 Mbps.
The connectivity package offers Wi-Fi (b/g/n), Bluetooth v3.0 with A2DP support and USB v2.0. The USB interface is standard microUSB, which makes finding a suitable cable a lot easier.
Android 2.2 Froyo enables Bluetooth file transfers, so there's little else to ask for.
The Samsung Galaxy Pro doesn't pack much internal memory (133MB is downright low for app installation), but it comes with a microSD slot with supports for cards up to 32GB. Thanks to Android Froyo you can install compatible apps on the SD card though we admit, it might be a hassle.
The 3.5 mm standard audio port completes the connectivity tally. You can keep your favorite headphones and use them with the Galaxy Mini hassle-free.
Overall any self-respecting smartphone messenger should offer the complete connectivity package and the Galaxy Pro delivers on it.
Stripped Android browser fails to impress
The Android browser is one of the best available on a mobile device. It's relatively fast, generally bug-free and really easy to use. In the case of the Galaxy Pro it's truly stripped and feels low end in a way with the low resolution display, lack of multi-touch and flash support.
The user interface, at least, is pretty much nonexistent at first sight. Once the page loads, all you see is the URL bar and the bookmark button on a line at the top of the screen. Once you zoom in and pan around though even that line disappears (scroll to the top or press menu to bring it back).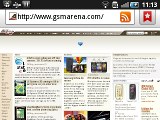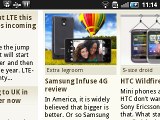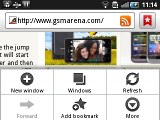 Browsing GSMArena.com on the Galaxy Pro
The minimalist UI is quite powerful – hit the menu key and six keys pop up. You can open a new tab, switch tabs, refresh the page, go forward, and open bookmarks. The final button reveals even more options (text copying, find on page, etc.).
The supported zoom methods are double tap and the zooming icons, labeled "+" and "-".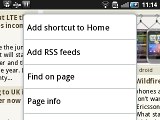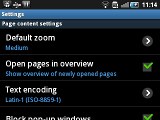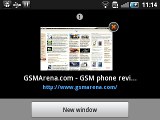 Page options • open tabs preview
The bookmark list shows a thumbnail of the bookmarked page and you also get a "most visited" list in addition to the history. Most visited is self-explanatory and history shows your last visited pages.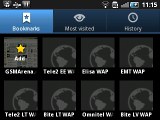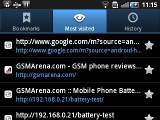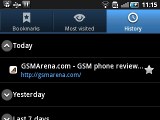 Bookmarks • most visited • history
The 2.8" landscape display offers enough real estate for even complex pages but the low resolution just can't handle showing too much on it. Overall not a very good Android browsing experience, topped with the lack of flash, which makes watching videos a no go.
Organizer is good enough
Coming to the organizing skills of the Galaxy Pro we have almost no complaints. It has a nice preload of apps and those that are missing can be downloaded through the android market easily and in no time.
The calendar app is very good. It has four different types of view - agenda, daily, weekly and monthly. Adding a new event is quick and easy, and you can also set an alarm to act as a reminder.
The agenda view shows a list of all the calendar entries from the recent past to the near future. It's a very handy tool when you need to check your appointments for the next few days.
There is also a calculator aboard. It is nicely touch optimized – the buttons are big enough and easy to hit. The voice recorder is good too and offers the same usability as on a Galaxy S.
The alarm clock app is decent and allows a huge number of alarms to be set, each with its own start and repeat time. But you don't have the Stopwatch, the Timer and World Clock options.
As usual, Samsung has included the My Files app – a simple to use but functional file manager, which also doubles as an image gallery. It can move, copy, lock and rename files in bulk, even send multiple files over Bluetooth. It will only browse the memory card.
Quick office is here too and offers support for viewing all manner of office documents. You'll have to cash out for the editing functions to be unlocked though.
Finally we come to the notes application. It's great and offers perfect usability. You can store as many notes as you like and even change the color of the note.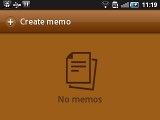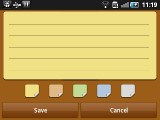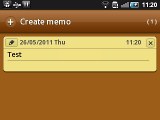 The familiar TouchWiz notes app
Overall great organizing package but this should come as no surprise as the Galaxy Pro is a smartphone with droid blood in its plastic veins.
Apps for QVGA resolution is limited
The Samsung Galaxy Pro is running on Android version 2.2 (Froyo) so it's a little behind its family members. The Android Market is where you can download thousands of apps for whatever you can think of and the Mini will have no problems running them.
The structure of the Android Market is quite simple – featured apps on top and above them, three sections (Applications, Games and Downloads). There is also a shortcut up there for initiating a search.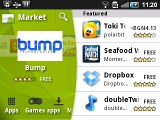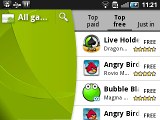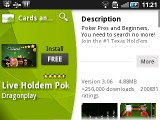 The Android Market will give you access to over 100 000 applications
The Applications and Games sections are divided into subsections (e.g. Communication, Entertainment etc.) so you can filter the apps that are relevant to you. Of course, there is also an option of displaying them all in bulk, but you'll probably need days to browse them all that way.
There are all kinds of apps in the Android market and the most important ones are covered (file managers, navigation apps, document readers etc.).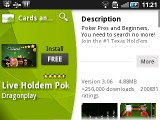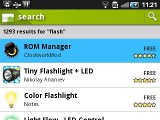 App support is limited because of the QVGA display resolution
This is another place where the Galaxy Pro loses ground due to limitations. The QVGA resolution is a limitation and we guess pretty soon the software version will be one too. Hopefully, the Galaxy Pro will get Gingerbread just like the Galaxy Ace, Gio and even the Mini will.
GPS the Google way
The Samsung Galaxy Pro packs a GPS receiver, which got a satellite lock in about five minutes with A-GPS turned off. A-GPS can speed this up quite a bit, but requires Internet access.
Google Maps is on board, complete with Navigation, which can do voice-guidance for free. Availability is still limited though, and it relies on Internet connection.
Still, even without Navigation, there is some kind of guidance: your route and current location appear on the screen so you'll reach your destination eventually, but you'll need a co-pilot to read you the instructions for that one.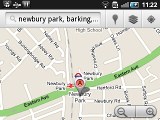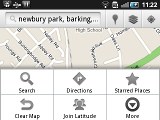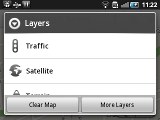 Google Maps without multi-touch
Quite naturally, the app also supports the Street View mode. In fact, this mode is probably the best part of Google Maps. If the Street View is available in the area you're interested in, you can enjoy a 360-degree view of the surroundings. When the digital compass is turned on it feels like making a virtual tour of the location!
If you're not content with Google Maps as your primary navigation app you can always go for a third-party one but keep in mind that the galaxy Pro doesn't offer one and you'll need to browse the Android Market and even need to prepare a couple of bucks.