Utility droid
Samsung Galaxy Pro B7510 review: Utility droid

Final words
The Samsung Galaxy Pro B7510 is not a phone to stun and impress. It sure is the first Android messenger by Samsung but not likely to have a prominent place in the company's lineup. That's not necessarily a bad thing though – the first thing for the Galaxy Pro to worry about is finding its right audience.
There are phones that can't escape the Blackberry-wannabe label. But the Galaxy Pro has a solid argument against that – Android. You know, imitation is in the natural order of things if we're talking about basic feature phones. But with Android inside, you can't help but feel it's all part of a bigger plan.
Back to the Galaxy Pro though – its stand-out feature is the QWERTY keyboard and it just couldn't have been better.If it's the messaging that you're after, you won't be disappointed at all. A perfect keyboard is not alone either –Android is good at email, there are lots of social apps and the Galaxy Pro is no stranger to Facebook, Twitter and MySpace. There is a free document viewer inside too, which can be upgraded to enable editing.
Aiming at the mid-range, the Galaxy Pro probably has most of the features you could expect – passable screen and camera, all the connectivity you may need, including Wireless N and Bluetooth 3.0. The Android 2.2 Froyo inside may not be the latest version, but it runs well on the 800MHz processor powering the Galaxy Pro.
If you could live with the average screen, then your only concern should be the OS limitations due to the QVGA resolution. Lots of apps in the Android Market don't support it, so your app choice will be limited.
The competition at the moment is patchy – there is the outdated and quite cheap Acer beTouch E130 running on Android 1.6 and also the also cheap T-Mobile exclusive Motorola CHARM. The later runs on Android 2.1 Eclair, but in case you live in USA you're a T-Mobile user, then it is not an option for you.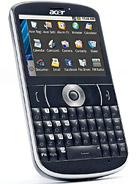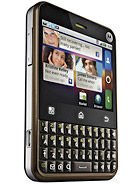 Acer beTouch E130 • Motorola CHARM
Fortunately, there is quite a gang of QWERTY bars preparing to hit the market in the next couple of months.
Both Acer and HTC are arming QWERTY droid bars based on 600MHz processors. HTC ChaCha is already available on pre-order for about €290 and will hit the stores next month. It runs on Android 2.4 Gingerbread, has the fancy HTC Sense on top of it plus an HVGA display and a dedicated hardware Facebook key. On the other hand is the Acer beTouch E210 running on the Android 2.2 Froyo and with a QVGA screen. The E210, though, should come with a seriously cheaper price.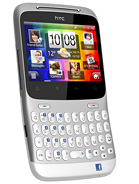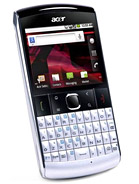 HTC ChaCha • Acer beTouch E210
If you need more power and you're ready to pay for it, then you should wait for the Motorola Pro. It has a lot better 1GHz processor and PowerVR SGX530 graphics, a bigger 3.1-inch HVGA display (but a smaller QWERTY keyboard) and better camera. It also runs on Android Froyo but Motorola has done some MotoBLUR magic on it. Unfortunately, there is still no official info on the pricing and the availability so it might take a while.
Nokia has an excellent competitor in the labs that should be released soon - the E6. We already met with Nokia E6 and we were quite impressed. It runs on the latest Symbian Anna, comes with one of the highest dpi screens out there – a 2.46 capacitive display with VGA resolution. There's also an 8 megapixel snapper and 720p video recording. Add the stainless steel panels and the Gorilla glass protected screen, and we might have the next Nokia bestseller here. If you are willing pay at least €100 more for those features, then you should wait for the E6.
The competition is more or less irrelevant if you factor in all the existing customers using a Corby, Omnia or even older Windows-powered Samsung messengers. But whether the Galaxy Pro will become a bestseller, is not so important. It's a good enough phone to give Android a try. That should probably be enough for most of its target users.
If we look at the bigger picture though – it's the evolution of the messenger form factor that's a lot more interesting. Like it or not – even the once revered Eseries find it hard to keep up. An E6 will never have the clout of an E71. With BlackBerries in a league of their own as usual, the QWERTY messengers of today are inching towards touchscreen. Like it or not. The versatility of Android may as well be a game changer yet again.