Affordable dual-cores
Samsung Galaxy R vs. LG Optimus 2X: Affordable dual-cores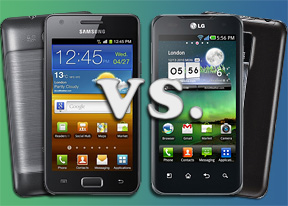 Introduction
Yep, you read that right. Affordable and dual core wouldn't normally belong in the same sentence. In 2011. And you don't need to press fast forward. Just sit back and enjoy. There's a lot stewing in the industry's pot and we think the place smells of quad core already.
So, two affordable dual-core Android smartphones it is. The Samsung Galaxy R and the LG Optimus 2X have been duly and thoroughly reviewed but we thought a head-to-head comparison wouldn't hurt - we've certainly been asked plenty of times which one is better.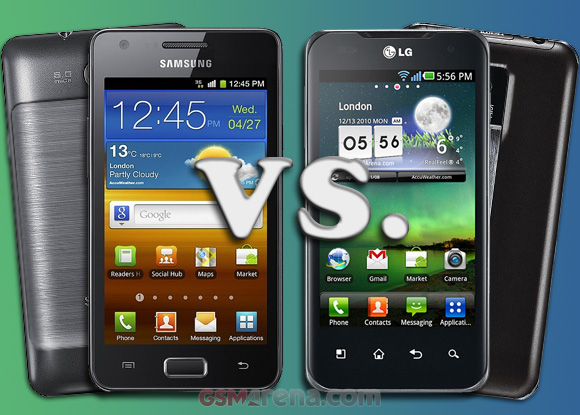 The LG Optimus 2X prides itself in being the first dual-core smartphone. The Samsung Galaxy R follows at quite some distance but runs on the same chipset - the NVIDIA Tegra 2. Both have comparable screens too: 4" of WVGA IPS LCD on the Optimus and a 4.2" WVGA SC-LCD on the Galaxy R.
What sets them apart is imaging - the Optimus 2X is in line with the current flagships with an 8MP still camera and 1080p video, while the Galaxy R stops at 5MP/720p.
Here's a quick summary of the ups and downs of the two phones in direct comparison.
Samsung I9103 Galaxy R over LG Optimus 2X:
A bigger screen: 4.2" vs. 4"
Thinner: 9.5mm vs. 10.9mm
Double the RAM: 1GB vs. 512MB
Faster HSDPA: 21Mbps vs. 7.2Mbps
Slightly better battery life
USB On-The-Go support
Bluetooth 3.0 vs. 2.1
LG Optimus 2X over Samsung I9103 Galaxy R:
Better still camera: 8MP vs. 5MP
Better video camera: 1080p vs. 720p
HDMI TV-Out (with cable in the box) over no TV-Out at all
The Optimus 2X has fewer wins in its column, but they're all major victories. At least on paper - we'll see if the difference holds up in our tests or if the Samsung camera can make up for the lower resolution with better detail.
There are, of course, other differences too. It's between Samsung's TouchWiz and LG's custom skin on top of Android Gingerbread. And there's the design and build quality too: both have metal inlays on the back but the Galaxy R is more than a millimeter thinner.





LG Optimus 2X • Samsung I9103 Galaxy R
Other than that, the two phones are close enough in terms of specs to make this a fair and square fight. And exciting too. Let's get started with an overview of the hardware and software. Later, we'll move on to more specific tests.
D
The Camera Is So Cool In HD.Casually Screen Is Best Looking Ever.!
D
Galaxy R got ICS update in India Woohoo