Samsung Galaxy S10+ leaks in another live image, still has dual selfie cams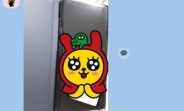 We're now less than a month away from Samsung's grand unveiling of its Galaxy S10 family, so the leaks are intensifying with every day that goes by. Last week we got a look at a live photo of the Galaxy S10+, showcasing the premier model's dual selfie cameras, nestled in an oval-shaped hole punched into its AMOLED display.
Today a new live image of the phone has been outed, although this time the screen is off. The dual selfie cams are still there to be admired, and possibly hated by anyone who loves symmetry because of their position to the right in the top part of the display.
If you look closely, you'll see that this unit is inside a case that's meant to obfuscate as much of its final design as possible, so it's clearly a prototype that's in testing somewhere in the wild, perhaps with a Samsung employee. That's about all that this image offers, but the point to remember is that you need to get ready for the onslaught of punch-hole selfie camera designs that are already starting to flood the mobile world. It's going to be a close call between this and 5G as the trend (or fad?) of 2019.
The S10+ is rumored to cost as much as €1,600 if you get the top of the line version which will apparently sport a whopping 12GB of RAM and 1TB of storage. If you don't need all that, then the entry-level model with 6/128GB should set you back "only" €1,050 - that is if you live in the EU.
s
I have an S8, and still really like it. I may go for another high-end phone if I have enough credit points. If I do, I think I may go for Sony's XZ4 this time. It's looking more and more interesting
?
Oh but it double the storage and has more ram....
M
Snap 855 + punch hole cam + UD scanner + maybe bigger battery ahhh that's not enough for that price
ADVERTISEMENTS