Flagship-grade Infinity-O Super AMOLED Plus display
Screens have always been one of the centerpiece features of Samsung smartphones and that's true even for its low-end and mid-range phones. Most of the company's handsets feature OLED screens and the Galaxy S10 Lite offers one of the best-in-class solutions. It's not the so-called Dynamic AMOLED display the high-end S10 and Note10 lineups have. This one they call Super AMOLED Plus and it's in a standard pentile configuration. We don't know what the "Plus" is for but we suspect it's because of the HDR10+ certification. The Note10 Lite, for example, has the same 6.7-inch panel but caps at HDR10 support and there's no "Plus" in its name. Oh, and we've checked - both the Netflix and YouTube apps recognize the phone as HDR10 capable.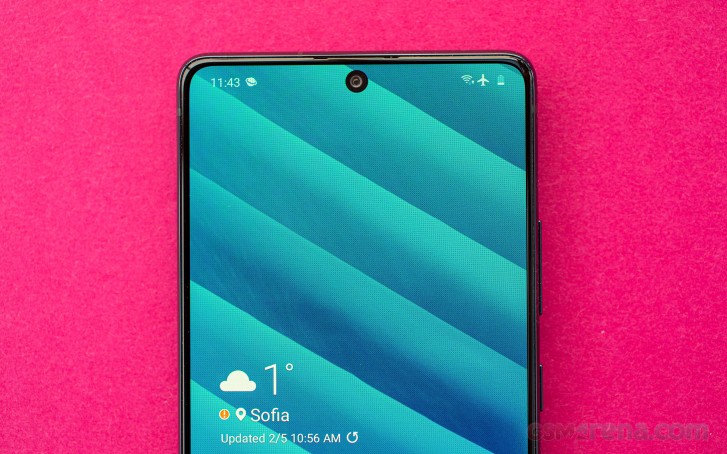 Specs-wise, the display isn't anything out of the ordinary - a tall 20:9, 6.7-inch panel with 1080 x 2400px resolution and a small punch-hole in the upper-center of the screen for the front-facing camera. Our tests revealed excellent sunlight legibility as it can go up to 400 nits in manual mode but when the Max Auto kicks in, it can get up to 705 nits - enough to deplete your battery in a matter of minutes but also makes everything on the screen visible even on a bright sunny day.
Display test
100% brightness
Black,cd/m2
White,cd/m2
Contrast ratio
Samsung Galaxy S10 Lite
0
400
∞
Samsung Galaxy S10 Lite (Max Auto)
0
705
∞
Samsung Galaxy Note10 Lite
0
410
∞
Samsung Galaxy Note10 Lite (Max Auto)
0
622
∞
Xiaomi Mi Note 10
0
427
∞
Xiaomi Mi Note 10 (Max Auto)
0
597
∞
OnePlus 7T
0
525
∞
OnePlus 7T (Max Auto)
0
743
∞
Samsung Galaxy S10+
0
385
∞
Samsung Galaxy S10+ (Max Auto)
0
793
∞
Realme X2 Pro
0
500
∞
Realme X2 Pro (Max Auto)
0
708
∞
In terms of color accuracy, the display is just as impressive. The handset ships with the Natural mode by default, which produces an average dE2000 of just 1.4 while the maximum dE2000 is as low as 2.7. Switching to Vivid mode will produce more saturated, AMOLED-like colors with boosted reds, greens, cyans, and yellows. The white color is also a bit blue-ish. The average dE2000 is 4.6 and goes as high as 10.2.
Battery life
Battery life probably makes the best case to opt for the Lite version instead of choosing one of the "real S10s". Due to its size, the S10 Lite can hold a significantly bigger battery than its siblings and offers a 4,500 mAh unit. Coupled with the 7nm Snapdragon 855 chipset, the S10 Lite performed exceptionally well in our battery tests scoring high on our screen-on and screen-off tests. The web browsing one could have been just a tad better for the offered battery capacity but the standby test was on par with the current flagship phones on the market.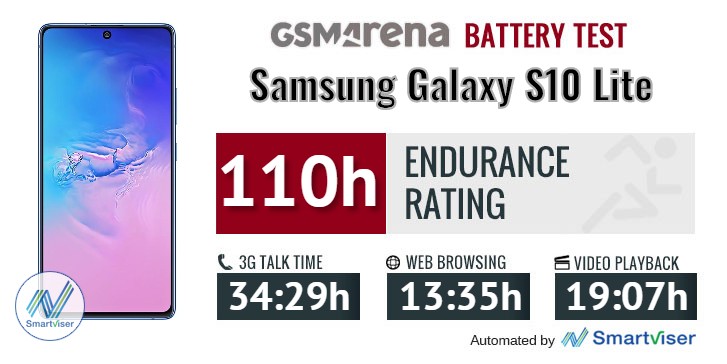 Our battery tests were automated thanks to SmartViser, using its viSerDevice app. The endurance rating above denotes how long a single battery charge will last you if you use the Samsung Galaxy S10 Lite for an hour each of telephony, web browsing, and video playback daily. We've established this usage pattern so that our battery results are comparable across devices in the most common day-to-day tasks. The battery testing procedure is described in detail in case you're interested in the nitty-gritty. You can check out our complete battery test table, where you can see how all of the smartphones we've tested will compare under your own typical use.
And fast charging hasn't been overlooked either. As we've mentioned in the previous pages, the device supports up to 45W of fast charging over USB Power Delivery 3.0 as long as the charger or the power bank support the PPS standard. The same goes for the 25W speeds but that's provided by the included brick in the box. And don't forget the USB-C to USB-C cable too, as it's essential for the Super Fast charging to work.
So when all criteria are met, you can top up the phone from flat in just 62 minutes while the first 63% can be reached within 30 minutes. Keep in mind, though, that the 45W charger won't have a huge impact on the charging speed as we've already established with the Galaxy Note10+. Besides, the 25W charger is already doing better than its rival proprietary chargers that are capped at 30W or even 40W.
Speaker test
The Galaxy S10 Lite has a single speaker located on the bottom - if you want stereo, you need to step up and look at one of the non-Lite S10s. Much like the Note10 Lite, the S10 Lite posted a 'Good' score in our Speaker test delivering adequate but not spectacular results.
Use the Playback controls to listen to the phone sample recordings (best use headphones). We measure the average loudness of the speakers in LUFS. A lower absolute value means a louder sound. A look at the frequency response chart will tell you how far off the ideal "0db" flat line is the reproduction of the bass, treble, and mid frequencies. You can add more phones to compare how they differ. The scores and ratings are not comparable with our older loudspeaker test. Learn more about how we test here.
Audio quality
We moved on to testing the audio output of the Samsung Galaxy S10 Lite via its USB-C port. The phone doesn't have a dedicated 3.5mm audio jack so we used the official Samsung dongle, but if you happen to have a different adapter your experience might vary.
When hooked to an active external amplifier the Galaxy S10 Lite was nicely loud and posted excellent scores top to bottom.
Headphones didn't bother it much either with a well-contained increase in stereo crosstalk the only observed change. A very solid performance overall.
Test
Frequency response
Noise level
Dynamic range
THD
IMD + Noise
Stereo crosstalk
Samsung Galaxy S10 Lite
+0.04, -0.17
-93.7
93.7
0.0016
0.0013
-94.7
Samsung Galaxy S10 Lite (headphones)
+0.05, -0.16
-93.8
93.7
0.00327
0.021
-71.6
Samsung Galaxy S10 Lite
+0.03, -0.04
-92.9
92.7
0.0015
0.0074
-89.4
Samsung Galaxy S10e (headphones)
+0.05, -0.05
-92.7
92.5
0.0017
0.037
-73.0
Samsung Galaxy S10
+0.03, -0.04
-92.2
92.0
0.0015
0.0079
-92.7
Samsung Galaxy S10 (headphones)
+0.06, -0.03
-91.9
91.7
0.0020
0.037
-77.0
Samsung Galaxy S10+
+0.03, -0.05
-93.0
92.8
0.0015
0.0070
-94.3
Samsung Galaxy S10+ (headphones)
+0.06, -0.03
-92.7
92.5
0.0044
0.044
-87.2
Honor V30 Pro
+0.22, -0.23
-98.8
96.2
0.014
0.0092
-45.4
Honor V30 Pro (headphones)
+0.59, -0.20
-93.9
93.9
0.020
0.516
-42.0
Huawei P30 Pro
+0.04, -0.02
-90.5
90.4
0.0014
0.013
-93.0
Huawei P30 Pro (headphones)
+0.14, -0.23
-90.4
90.3
0.0046
0.211
-47.0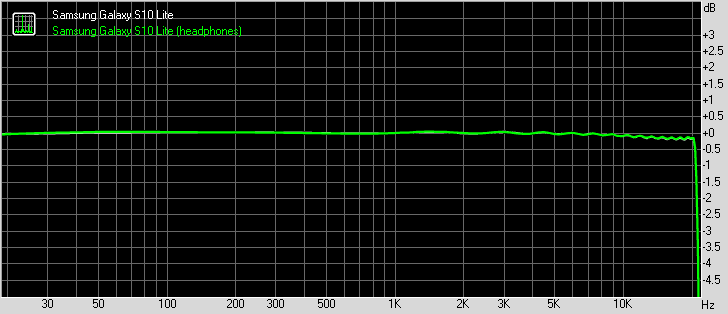 Samsung Galaxy S10 Lite frequency response
You can learn more about the tested parameters and the whole testing process here.