Galaxy S10 Lite's firmware update adds Super Steady at 4K, other camera upgrades
The first update for the Samsung Galaxy S10 Lite brings new capabilities to the phone's camera. Despite its name, the device straddles the line between the S10 and S20, having the design and some of the features of the latter.
The biggest improvement that comes with this update is that the Super Steady video mode is enabled at 2160p resolution (even the S20 flagships are still stuck at 1080p-only Super Steady, but that will probably change soon).
Another upgrade is the addition 60fps mode for video capture at 2160p resolution. Technically, the Galaxy S10 Lite was always capable of that (our review unit had the option), though some people in the Samsung forums were complaining that they only had 2160p / 30fps available to them (this may have been a regional issue).
Additionally, the camera's picture quality and the stability of the camera app itself have been improved.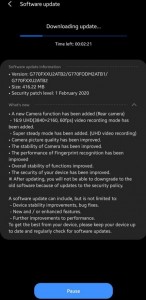 Samsung Galaxy S10 Lite's first firmware update brings several improvements to the camera
The in-display fingerprint reader will unlock the phone faster after you install the update. The stability of the phone's software has been improved as well.
Finally, the G770FXXU2ATB2 update brings the security patch level up to February 1. The update is a 416MB download and is well worth it, given the change log.
The s10 lite is a better deal than Galaxy s10 in India. Cheaper by around 100-200 dollars. SD855+ beats Exynos in every department. Cameras might be slightly better but now with this 4k steady update and gcam, the camera is pretty comparable t...
ADVERTISEMENTS