Samsung Galaxy S10/Note10 fingerprint issue might be more serious than it appears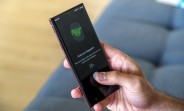 Last week, news broke out that some Samsung Galaxy S10 users were experiencing an issue with the ultrasonic fingerprint which would allow their phones to be unlocked from non-registered fingerprints. Later on it became apparent that the issue was also replicated on the Galaxy S10+ and Note10 series which brought more attention to the problem.
Samsung issued an official statement on the matter claiming that "certain silicone screen protectors" were causing the issue and that users should stop using these protectors and re-register their fingerprints without them. In a new development, a Note 10 user managed to trick the fingerprint scanner by placing a TPU cutout over it. This shows the vulnerability is not just related to fingerprints that were registered over a screen protector.
The video above shows the user's Note10 is without a screen protector and we even see him re-register both his thumbs and index fingers for the purpose of the test. At the 1:22 mark, the user places the TPU cutout over the lower part of the screen which manages to trick the scanner to unlock the phone with a non-registered fingerprint.
The same process is performed multiple times with different fingers and each time the scanner gets bypassed. It's also worth mentioning that the test was performed on the Exynos variant of the Note 10 as we are yet to see if the Snapdragon models are also experiencing the same flaw.
Samsung did issue a software update for the Exynos Note 10+ 5G recently which provides improvements to the fingerprint scanner and should also offer one for the rest of the Note10 and S10 lines soon.
Thanks for the tip Fadil Žili
K
How do you relocate the fingerprint sensor?
a
Do you have note 10 plus
ADVERTISEMENTS