What's in the box
Both phones come with reasonably rich retail bundles that will have you charging fast and listening to music without having to reach to your drawer with known and unknown cables and accessories all tangled up together (you can't not have one).
The Galaxy S10+ is using the (rather ancient) 15W Adaptive Fast Charger that is Qualcomm QuickCharge 2.0 based. There's a USB-A-to-C cable to complete the link. A set of AKG branded in-ear headphones with braided cables ends in a 3.5mm plug - the S10 is likely the last S-series phone to have the legacy headphone jack. And then, as usual, Samsung also includes two USB adapters - female A to male C and female micro B to male C, though these could vary by region.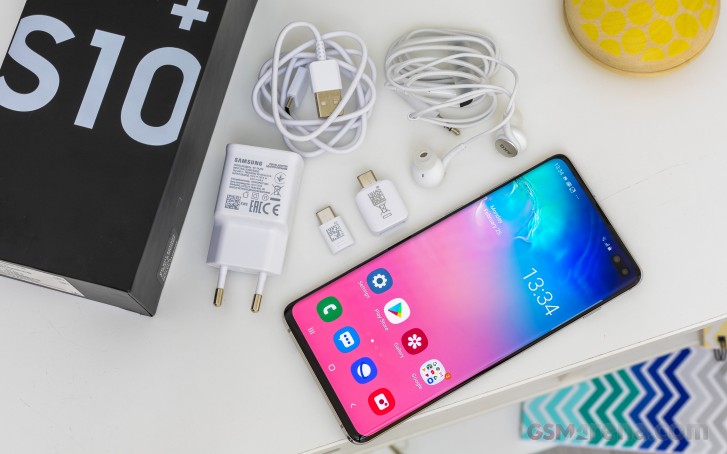 The Xperia 1's charger is more in keeping with the times as it's USB Power Delivery compliant. It's not the most powerful one around but it's still rated 3W higher than the Galaxy's at 18W. And since it's PD, it outputs through a USB-C port and there's a C-C cable included. The Xperia doesn't have a headphone jack, but it does ship with a USB-C to 3.5mm adapter, which you'll also need if you want to plug in the bundled headset - it has a 3.5mm plug as opposed to USB-C.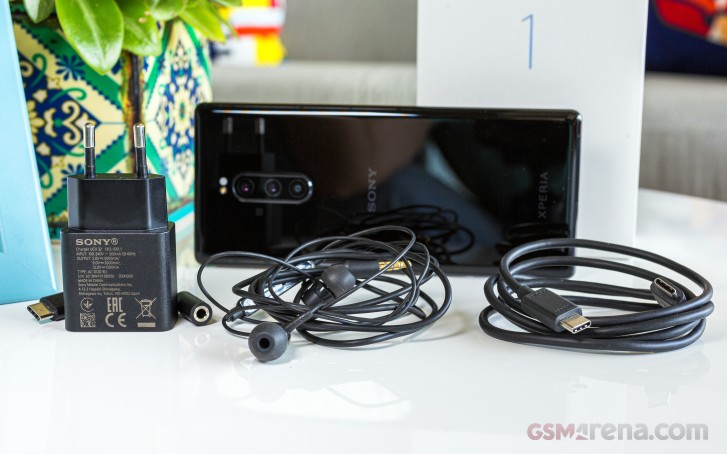 Winner: Tie. The Xperia gets the nod for the slightly better charger, not because of the extra 3 watts, but because it's PD and that's the way of the future. It's got a headset you can't plug in directly into the phone (not ideal), but there's a dongle to help with that (better). The Galaxy could have had a beefier charger, but as we'll establish later, it's not necessarily suffering from this one. It packs a couple of useful USB adapters, and we like the Galaxy headphones a bit more too.
Design
The Xperia is the more striking phone and no pill-shaped camera cutout can give the Galaxy the edge here. Sony's latest takes the tall screen to a new level, stretching it to cinematic 21:9 proportions, hence the CinemaWide moniker. On top of that, with some frame still left above and below, it makes for a remarkably long device.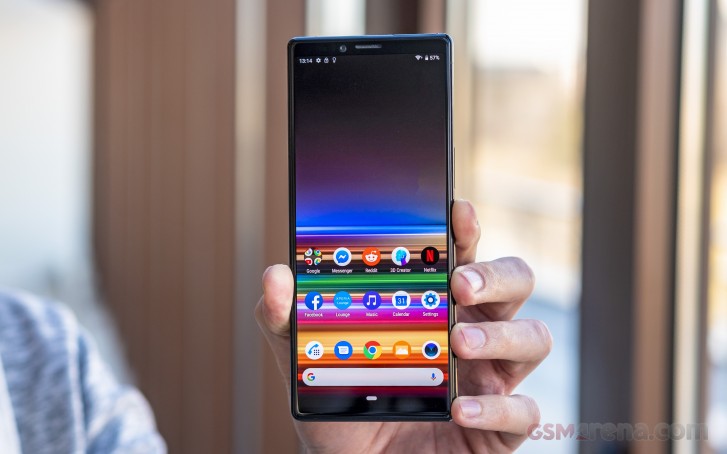 It's the glass sandwich that the industry has settled on for high end phones, with Sony opting for Gorilla Glass 6 on both sides, kept together by an aluminum midframe. The Xperia carries an IP65/68 rating for dust and water resistance, meaning it's tested against both water jets and immersion up to 1.5m for as long as 30 minutes.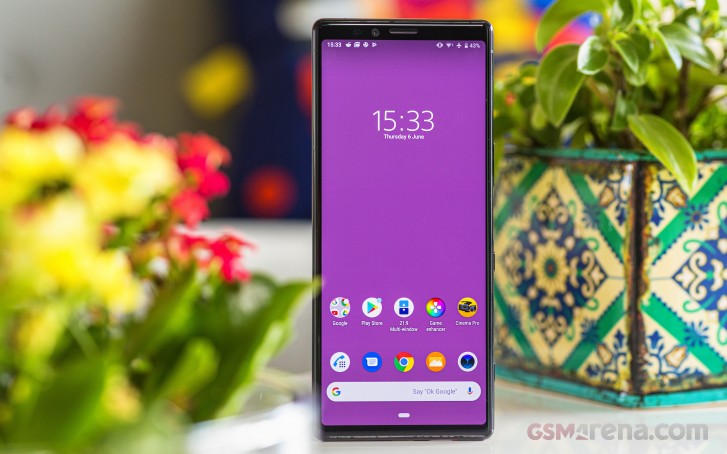 The Galaxy S10+ is wider and shorter and somehow more conventional looking. And yes, we're talking about one of the most refined industrial designs you can get on an phone - the dual curved display with thin bezels all around has become a staple of Samsung phones. It's a design we're really fond of, even though some complain about the curved sides leading to unwanted touchscreen operation.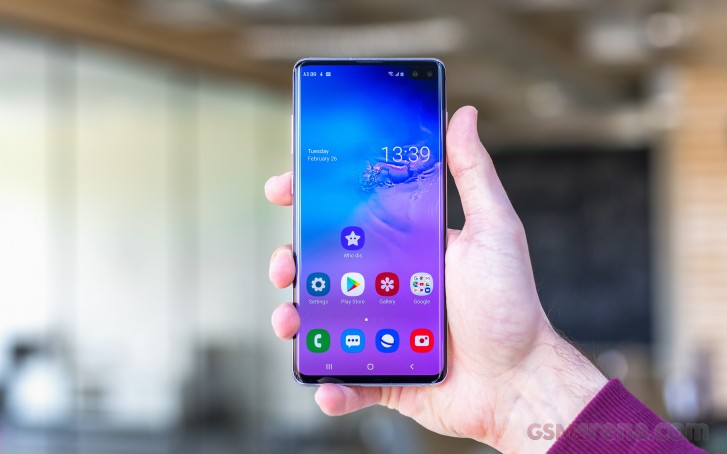 Samsung's gone with Gorilla Glass 6 for the front and 5 for the back, again with aluminum in between. The S10+ is only IP68 rated, so try to keep it away from water jets (it's the '5' in the IP65 on the Xperia).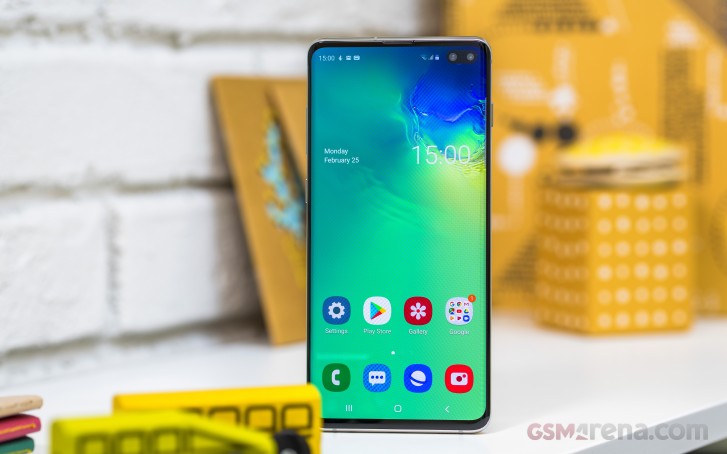 Both require two hand operation most of the time, but the Xperia being narrower, it lets you reach across more easily. Both phones let you access the notification shade by pulling from an empty area on the homescreen, so you don't really need to stretch all the way up.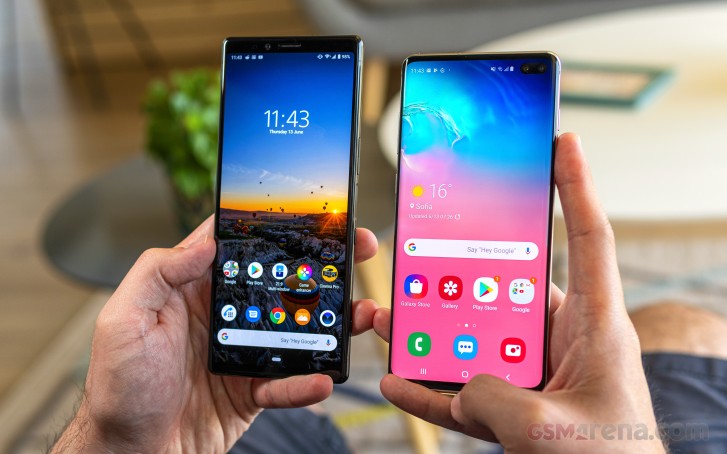 You will need to stretch to reach the Galaxy S10+'s power button, placed inexplicably high on the right side. It's way inconvenient for use with either hand. And speaking of buttons we don't like, the Bixby key on the left is always worth a mention. Admittedly Samsung's revised the software to allow you to set a double press to launch the in-house assistant, with the single press either doing nothing, or setting a sequence of actions, but more customizability will be appreciated.
The Xperia is less than ideal in its control layout too. You see, there's a power button and a fingerprint reader on the right, but the two are separate items with their functions decoupled - you unlock by placing your finger on the sensor, but lock by pressing the power button, and it's counterintuitive. Retro-loving folks will probably appreciate the two stage dedicated shutter release button, but we've largely moved on to touch operation.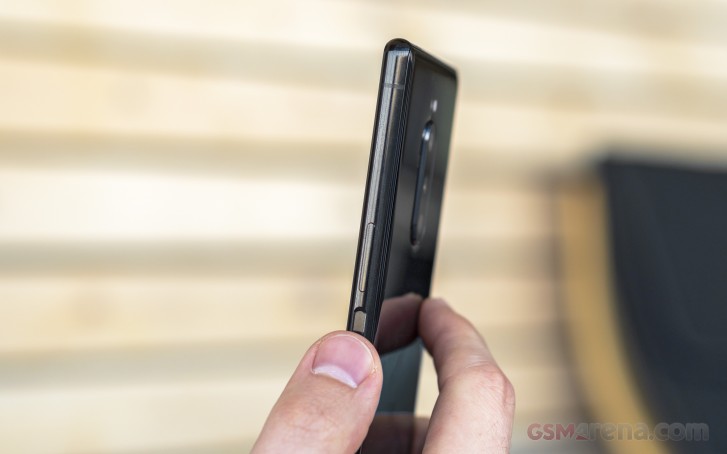 We had issues with both phones and their fingerprint readers, but over time we learned to wipe the Xperia 1's sensor clean every now and then, while Samsung tweaked the software for the S10+'s under-display reader making it a lot more usable than what we initially experienced with earlier builds.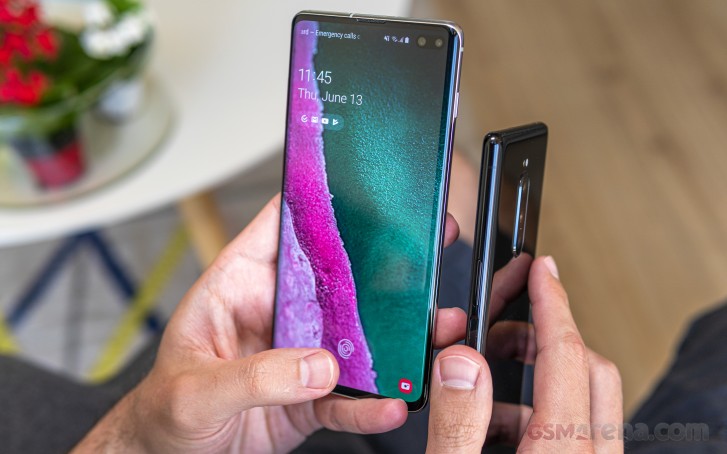 Winner: Tie. We enjoy the Xperia for the wow factor of its 21:9 display and the Galaxy for its curves (both very polarizing features, admittedly). The two phones have major usability flaws with button placement, however, and we'd struggle to name a winner on account of those alone. In any case, those are two premium phones with a high-quality build and you can't really go wrong.