HDR-capable OLEDs on both
The Xperia 1 has the world's first 4K OLED display, though it's only sort of 4K - it's certainly not 2160p, that is. It's got a resolution of 3840x1644px in a 21:9 aspect ratio - you may have never thought about it, but that's the resolution you'd effectively get when letterboxing 21:9 content on a 16:9 4K screen - say, your TV. Stretched across the 6.5-inch diagonal, the pixels work out to a density of 643ppi - that's like Retina times two.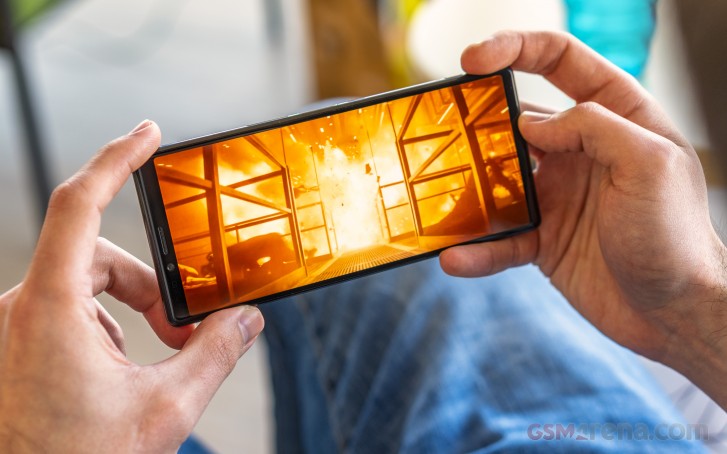 The Galaxy S10+ doesn't have quite as many pixels - just 3040x1440px (QHD+ some call it) in a 19:9 aspect. It's got a 6.4-inch diagonal and you'd be forgiven to think the display is smaller going by that number alone. In fact, due to the different ratios, the S10+ actually has more display area than the Xperia. Having said that, with the punch hole and the bigger corner radii accounted for, it's definitely less than the 5.2cm2 that we get from the difference in the plain rectangles (103.8 vs. 98.6).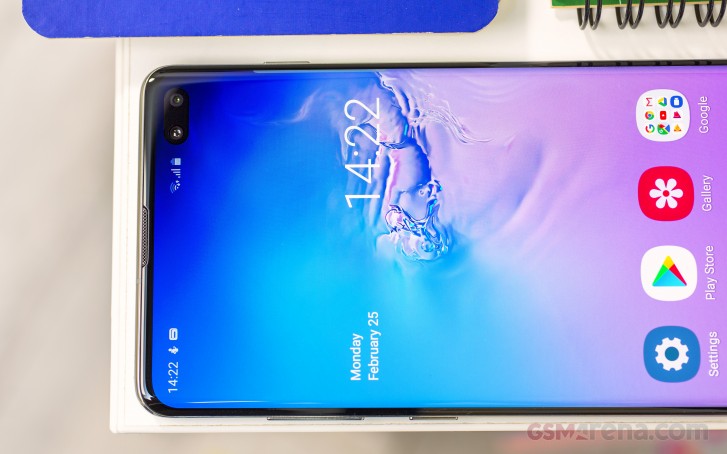 In our testing, the Galaxy S10+ proved capable of reaching higher brightness in auto mode under direct light - nearly 800nits, as opposed to the 665nits we got out of the Xperia 1.
There were caveats with the Xperia, however, in that its auto brightness boost doesn't work across the board, but only kicks in when you're viewing photos or video. On the Galaxy you get all the nits regardless of whether you're using Maps or just scrubbing through the UI.
If you don't use auto, you'll get virtually identical brightness results out of the two phones, to the tune of 400nits with the sliders all the way to the right.
Display test
100% brightness
Black, cd/m2
White, cd/m2
Contrast ratio
Samsung Galaxy S10+
0
385
∞
Samsung Galaxy S10+ (Max Auto)
0
793
∞
Sony Xperia 1
0
391
∞
Sony Xperia 1 (Max Auto)
0
665
∞
Google Pixel 3
0
426
∞
Huawei P30 Pro
0
571
∞
Huawei P30 Pro (Max Auto)
0
605
∞
Apple iPhone XS Max
0
653
∞
LG V40 ThinQ
0.002
323
161500
LG V40 ThinQ (Max Auto)
0.008
638
79750
Xiaomi Mi 9
0
428
∞
Xiaomi Mi 9 (Max Auto)
0
620
∞
Oppo Reno 10x zoom
0
440
∞
OnePlus 7 Pro
0
436
∞
OnePlus 7 Pro (Max Auto)
0
616
∞
We achieved these numbers while adhering to our standard testing procedure using test swatches that cover 75% of the screen area. Since these are both OLEDs, a smaller active area means higher brightness and we've previously measured numbers in excess of 1000nits with 10% or 20% test patterns.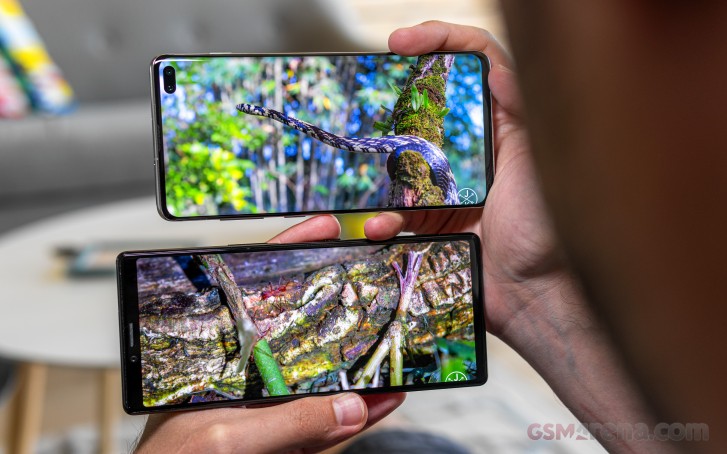 We're saying this just to preface that both of these panels can display HDR content. The Galaxy S10+ will take HDR10 from Netflix and HDR10+ from Amazon Prime Video, while the Xperia doesn't do '+' and only works with HDR10, so no dynamic metadata for dynamic range allocation. The Xperia, however, will stream in full 4K resolution, while the S10+ is limited to 1080p. Neither supports Dolby Vision content.
Both displays cover a wide color gamut, but only the Galaxy S10+ is capable of very accurate reproduction of content in the tighter sRGB color space - Natural mode produced an average deltaE of 1.9. The Xperia doesn't have a mode to cater to such content. Measuring against DCI-P3 test patterns, the Galaxy returned an average deltaE of 4.8 while the Xperia was slightly more accurate (4.3). The thing is, with all the image enhancement going on under the hood that you have little control over, these numbers are hardly relevant.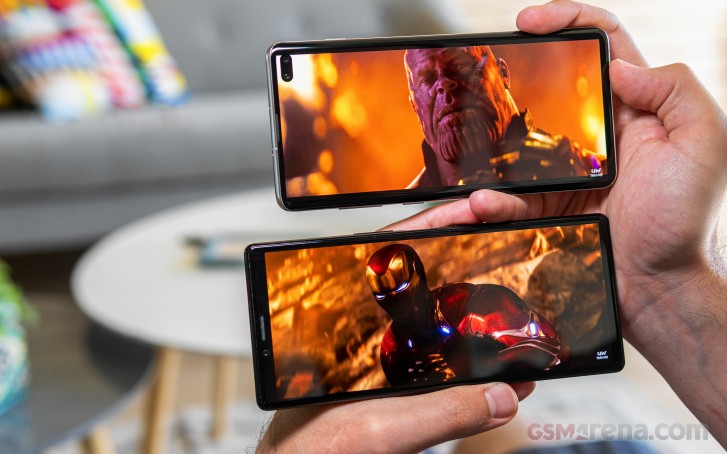 Winner: Galaxy S10+ for general use, Xperia 1 for video streaming. The Galaxy's display is brighter and can render sRGB content properly. The Xperia 1 is one of select few phones which can stream 4K video, and the 21:9 panel with no cutouts is just made for moviewatching.
Battery life
The Galaxy S10+ has a 4,100mAh power pack inside, which happens to be on the bigger end of the battery spectrum. Directly opposite that is the Xperia 1 with its 3,330mAh unit. With only a marginally smaller display to light up it's no surprise that the Xperia does fare worse than the Galaxy in terms of endurance.
The Galaxy has a nearly identical 33% advantage in both web browsing and video playback which translates to around 3 hours extra of scrolling web pages and nearly 4 hours more of looping videos. However, the Galaxy's radios aren't as efficient, it would seem, as the Xperia outlasts it by an hour in 3G voice calls.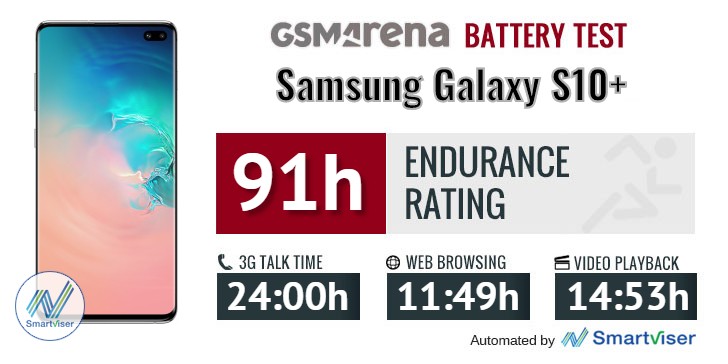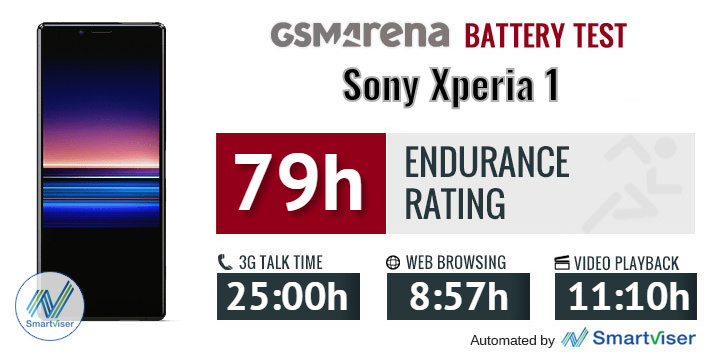 Our battery tests were automated thanks to SmartViser, using its viSerDevice app. The endurance rating above denotes how long a single battery charge will last you if you use the Samsung Galaxy S10+ or the Sony Xperia 1 for an hour each of telephony, web browsing, and video playback daily. We've established this usage pattern so that our battery results are comparable across devices in these basic day-to-day tasks. The battery testing procedure is described in detail in case you're interested in the nitty-gritty. You can check out our complete battery test table, where you can see how all of the smartphones we've tested will compare under your own typical use by adjusting the ratio of the three types of usage as you prefer.
Filling those batteries does bring a surprise victory for the Galaxy, which has the higher capacity and the less powerful charger (admittedly only slightly so at 15W vs. the Xperia's 18W). It takes the S10+ 1:33h to get from zero to full, an exercise that the Xperia completes in 1:45h. The Xperia racks up percentages quicker, reaching 50% in half an hour, compared to the Galaxy's 41% for the same amount of time. Having said that, one could still argue that there's more usage potential in the Galaxy's 41% than there is in half of an Xperia 1 battery.
Mind you, the Galaxy also supports wireless charging up to 15W, and it can also charge other devices wirelessly up to 9W. The Xperia can do no such thing.
Winner: Galaxy S10+. The S10+ does have a higher capacity battery but is also more efficient with it, outlasting the Xperia 1 in the two screen-on tests we carry out. The Galaxy is also quicker to a full charge, against all odds, and it has two-way wireless charging.
Loudspeaker
Both the Galaxy S10+ and the Xperia 1 have stereo setups with a primary speaker on the bottom and the earpiece doubling as a second channel. On the Galaxy, when holding the phone in landscape, each speaker handles the respective channel according to the direction it's facing, while in portrait they're assigned the channel they had last time they were in landscape. The Xperia doesn't bother with switching and the earpiece is always the left channel, even if you're holding the phone horizontally the other way around - we'll let you draw your own conclusions.
In our testing, the Galaxy proved a bit louder, placing in the 'Excellent' bracket, while the Xperia 1 only had enough decibels for a 'Very Good' rating. The Galaxy does also have fuller sound with boomier bass, compared to the rather shallow Xperia.
| | | | | |
| --- | --- | --- | --- | --- |
| Speakerphone test | Voice, dB | Pink noise/ Music, dB | Ringing phone, dB | Overall score |
| LG V40 ThinQ | 68.2 | 74.1 | 77.4 | Very Good |
| Oppo Reno 10x zoom | 69.7 | 74.7 | 79.3 | Very Good |
| Sony Xperia 1 | 69.8 | 74.5 | 81.0 | Very Good |
| Xiaomi Mi 9 | 70.1 | 74.2 | 81.6 | Very Good |
| Apple iPhone XS Max | 70.5 | 74.0 | 84.7 | Excellent |
| Google Pixel 3 | 77.5 | 71.7 | 81.1 | Excellent |
| Samsung Galaxy S10+ | 74.4 | 74.2 | 83.6 | Excellent |
| Huawei P30 Pro | 70.9 | 73.8 | 90.9 | Excellent |
| OnePlus 7 Pro | 79.6 | 77.7 | 87.2 | Excellent |
Sony does have the Dynamic vibration system for enhancing the perceived reproduction of the low frequencies by engaging the vibration motor in tune with the sound. In practice, it comes with a slight lag, it doesn't always follow the rhythm too well, and the motor itself doesn't produce the most satisfying of vibrations.
Winner: Galaxy S10+. The Galaxy S10+'s speakers are simply louder and of higher quality.
Audio quality
Both smartphones delivered stellar scores with an active external amplifier with the only thing to separate them being volume levels. The Sony Xperia 1 was above average, but the Galaxy S10+ was among the loudest we've seen and got the early edge.
Headphones increased the gap as they caused far more damage to the Xperia 1 output than they did to the Galaxy S10+'s. Here the Sony flagship had merely good output, whereas its Samsung competitor remained flawless, while retaining its more powerful output.
| | | | | | | |
| --- | --- | --- | --- | --- | --- | --- |
| Test | Frequency response | Noise level | Dynamic range | THD | IMD + Noise | Stereo crosstalk |
| Sony Xperia 1 | +0.02, -0.01 | -93.6 | 93.5 | 0.0010 | 0.007 | -85.2 |
| Samsung Galaxy S10+ | +0.03, -0.05 | -93.0 | 92.8 | 0.0015 | 0.0070 | -94.3 |
| Sony Xperia 1 (headphones) | +0.31, -0.26 | -92.1 | 91.9 | 0.0060 | 0.302 | -55.1 |
| Samsung Galaxy S10+ (headphones) | +0.06, -0.03 | -92.7 | 92.5 | 0.0044 | 0.044 | -87.2 |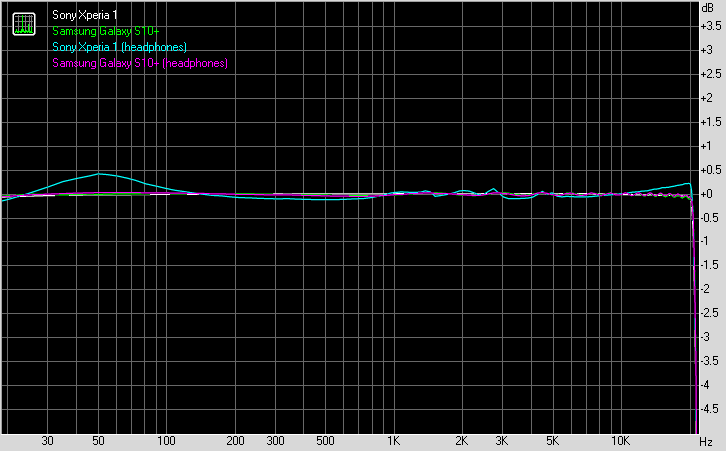 Xperia 1 vs Galaxy S10+ frequency response
Winner: Samsung Galaxy S10+. The Sony Xperia 1 is a competent performer, but the Galaxy S10+ is among the best we've seen. The Samsung phone delivered higher volume across the board and had better clarity to its output when headphones were plugged in, making this a comfortable victory.