Software
Both phones run Android 9.0 out of the box, but the two companies do have their own ways with software, so the S10+ and the Xperia 1 look and feel quite different.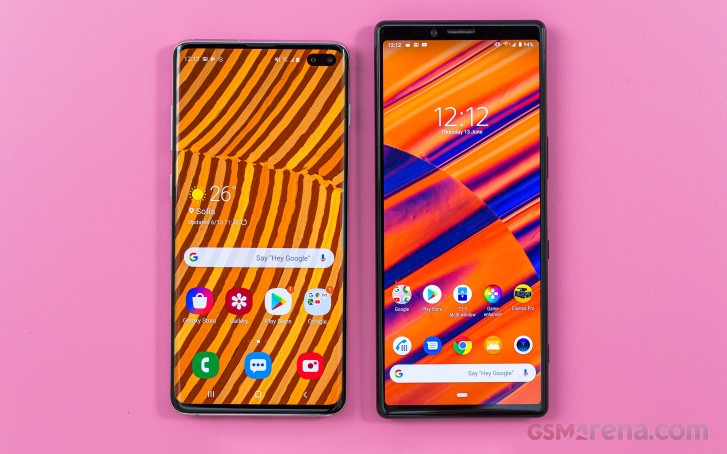 Samsung's OneUI is the latest iteration of their proprietary overlay, with improvements in single-handed use thanks to a shift of UI elements towards the bottom half of the display. There's yet another iconography overhaul and a general roundness to menus and buttons.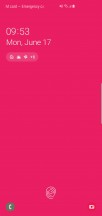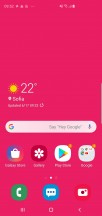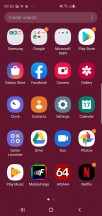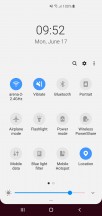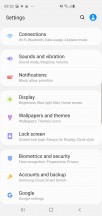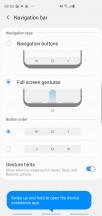 Galaxy S10+ UI: Lockscreen • Homescreen • App drawer • Quick toggles • Settings • Navigation
Samsung's added a gesture navigation option with a swipe action replacing the tapping of a button on the classic nav bar. There are proprietary Samsung apps for gallery needs and sound settings, and the Game launcher/tools combo helps you stay focused on the task at hand. There's Secure folder too for stashing private stuff, and dual messenger capability for keeping two instances of messaging apps logged into different accounts.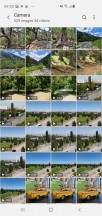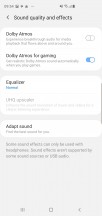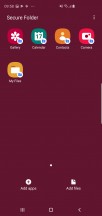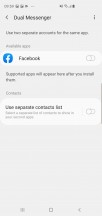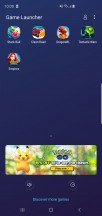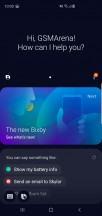 Galaxy S10+ software: Gallery • Sound settings • Secure folder • Dual Messenger • Game launcher • Bixby
The Xperia does have proprietary apps - in fact, all of the media consumption is handled by in-house software. Then there's Game Enhancer for doing much the same things that its Galaxy counterpart does. There's a one-handed mode for bringing distant stuff like the notification shade closer, while Side sense is the type of edge shortcuts no one uses (the Galaxy has such too).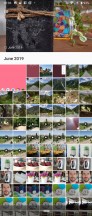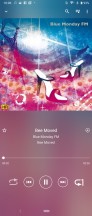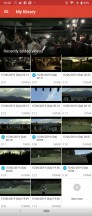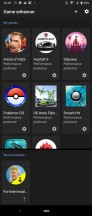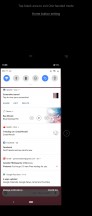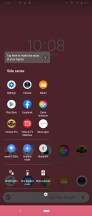 Xperia 1 software: Gallery • Music player • Video player • Game Enhancer • One-handed mode • Side Sense
Otherwise, the UI can be kept to an almost stock level with the pill navigation an option in settings. App drawer, task switcher, notifications - it's basically a Pixel. Okay, a very tall Pixel, capable of showing almost the entire settings menu on a single screen - 21:9 is great for long lists.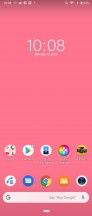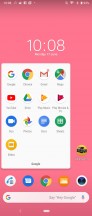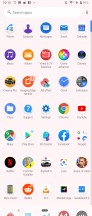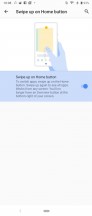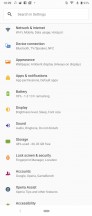 Xperia 1 UI: Homescreen • Folder view • App drawer • Pill navigation • Settings
Winner: Tie. The software section is the definition of 'to each their own' - some will prefer the feature rich and heavily customized Galaxy, others will enjoy the Pixel-like Xperia.
Synthetic benchmarks
The Galaxy S10+ exists in two versions with different internals depending on the market - most of the world gets an in-house Exynos 9820 chipset, while North America and China get the Snapdragon 855. The Xperia features the Snapdragon 855 regardless of region.
Galaxies ship with 8GB of RAM by default, with 12GB version available at a premium, while the Xperia comes in 6GB trim only. The Sony has two storage versions - 64GB and 128GB, while the S10+ starts at 128GB, there's a 512GB option, and also 1TB of storage to go with the 12GB of RAM of the ceramic variants.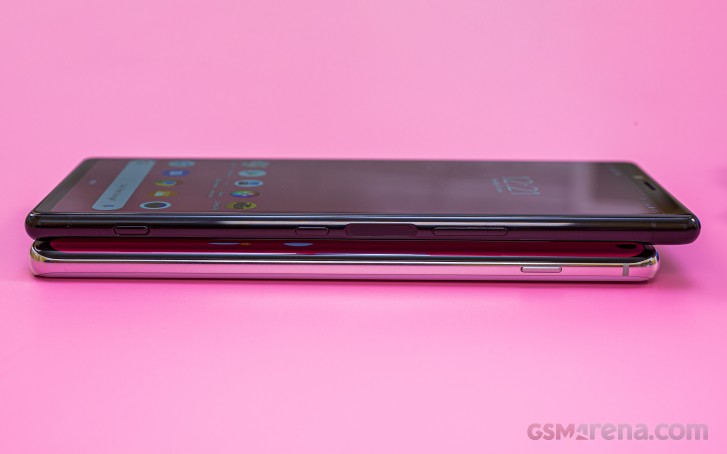 The differences in performance between the Exynos and Snapdragon Galaxies are well documented, but since we haven't had a Snapdragon S10+ for testing, we're throwing in a few other phones with Qualcomm's top-of-the-line SoC. For comparison, we've also included the Huawei P30 Pro with a Kirin 980 and an iPhone XS Max to keep these droids company.
The Xperia puts out the benchmark scores you'd expect from a Snapdragon 855 phone, meaning that in the regions with an S855 Galaxy you'd be getting similar performance. And the Exynos version's advantage in single-core tasks is mostly good for academic qualms only. Mind you, for the purposes of graphics benchmarks, the Xperia's display is being treated as FullHD+ so it outscores the QHD+ Galaxy S10+.
GeekBench 4.1 (multi-core)
Higher is better
Apple iPhone XS Max
11432
Xiaomi Mi 9
11181
Sony Xperia 1
10985
OnePlus 7 Pro
10943
LG G8 ThinQ
10735
Asus Zenfone 6
10721
Samsung Galaxy S10+
10387
Huawei P30 Pro
9649
GeekBench 4.1 (single-core)
Higher is better
Apple iPhone XS Max
4777
Samsung Galaxy S10+
4522
Asus Zenfone 6
3505
Xiaomi Mi 9
3503
Sony Xperia 1
3447
LG G8 ThinQ
3419
OnePlus 7 Pro
3402
Huawei P30 Pro
3270
AnTuTu 7
Higher is better
Xiaomi Mi 9
372006
OnePlus 7 Pro
364025
Asus Zenfone 6
361679
Sony Xperia 1
356734
Apple iPhone XS Max
353210
Samsung Galaxy S10+
333736
LG G8 ThinQ
331537
Huawei P30 Pro
290189
GFX 3.1 Manhattan (1080p offscreen)
Higher is better
Apple iPhone XS Max
99
Sony Xperia 1
71
Asus Zenfone 6
71
Xiaomi Mi 9
70
Samsung Galaxy S10+
69
OnePlus 7 Pro
68
LG G8 ThinQ
65
Huawei P30 Pro
54
GFX 3.1 Manhattan (onscreen)
Higher is better
Apple iPhone XS Max
60
Asus Zenfone 6
57
Xiaomi Mi 9
56
Sony Xperia 1
55
Huawei P30 Pro
50
Samsung Galaxy S10+
37
LG G8 ThinQ
33
OnePlus 7 Pro
33
GFX 3.1 Car scene (1080p offscreen)
Higher is better
Apple iPhone XS Max
60
Samsung Galaxy S10+
42
Sony Xperia 1
42
Xiaomi Mi 9
42
Asus Zenfone 6
42
OnePlus 7 Pro
41
LG G8 ThinQ
40
Huawei P30 Pro
29
GFX 3.1 Car scene (onscreen)
Higher is better
Apple iPhone XS Max
47
Asus Zenfone 6
36
Xiaomi Mi 9
35
Sony Xperia 1
33
Huawei P30 Pro
27
Samsung Galaxy S10+
23
LG G8 ThinQ
20
OnePlus 7 Pro
19
3DMark SSE 3.1 Unlimited
Higher is better
Asus Zenfone 6
6263
OnePlus 7 Pro
6093
LG G8 ThinQ
6017
Xiaomi Mi 9
5816
Sony Xperia 1
5792
Samsung Galaxy S10+
4632
Huawei P30 Pro
3522
Winner: Tie. The Xperia 1 and the Galaxy S10+ are both equipped with the highest-end chipsets of the time and deliver outstanding performance across the board.