Wide, regular and tele - both phones have one each
The Galaxy S10+ and the Xperia 1 are equipped with generally similar camera hardware, each phone offering a moderately wide angle main camera, an ultra wide one that captures even more of the world in a single frame, and a short telephoto delivering 2x zoom capabilities if you count from the main camera.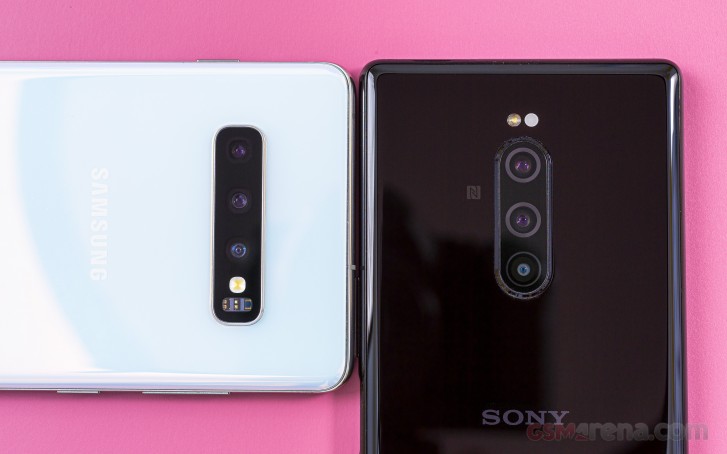 The main modules of both phones are based around a 12MP sensor with 1.4Ám pixel pitch and dual pixel autofocus, with Samsung quoting a 1/2.55" sensor size and Sony listing 1/2.6". Samsung has a dual-aperture lens in front which it uses stopped down to f/2.4 in good light, but can open it up all the way to f/1.5 in the dark. The Sony's lens is f/1.6 all of the time. Both main cameras deliver a field of view equivalent to a 26mm lens on a full frame camera, and both feature optical image stabilization.
The telephotos are stabilized too, and we're seeing very similar numbers here as well. The lenses have a 52mm equivalent focal length, with Sony's EXIF data reporting 5.95mm and the Samsung's a nice round 6.00mm. The S10+'s product page lists the sensor size at 1/3.6" and Sony says 1/3.4" with both makers specifying individual pixels at 1.0Ám and a total of 12 million on each. Technically for the same pixel size and the same overall resolution, the size should be the same, but with the image circle designation for sensor size not really an exact science, we won't dwell on these discrepancies too much.
The ultra wides are where we observe the most difference. Samsung's first ultra wide camera on a high-end phone has a 12mm equivalent lens - that's very wide. It's got an f/2.2 aperture and its focus is fixed. Behind it there's a 16MP sensor with 1.0Ám pixels.
Sony is more restrained with its ultra wide module, opting for a 16mm equivalent lens, which is also ever so slightly dimmer than the Galaxy's at f/2.4. Resolution is also lower on the Xperia 1 at 12MP, but at least it allows for consistency between all of the Xperia's image sizes.
Selfies
Over on the front, the Galaxy S10+ has a pill-shaped cutout whose existence it needs to justify, and does so by having a couple of cameras vs. the Xperia's single front-facing unit. The Galaxy's setup consists of a 10MP primary module and a second 8MP unit for depth detection. The main cam has 1.22Ám pixel size and dual pixel autofocus with the lens in front specced to have a 26mm equivalent focal length and an f/1.9 aperture.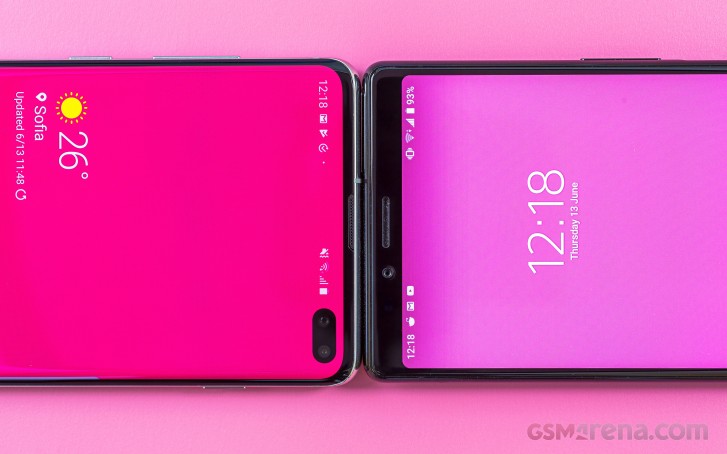 Against that, the Xperia offers an 8MP selfie camera with 1.12Ám pixels. Its lens is a bit wider at 24mm and negligibly dimmer at f/2.0, but more importantly it lacks autofocus, dual pixel or otherwise.
App interface
Starting off with the Galaxy, you get a familiar Samsung-style viewfinder with a tree designation for switching between the three rear modules. '3 trees' means ultra wide angle cam, '2 trees' denote the regular camera, and '1 tree' means the telephoto. Pinch to zoom is also available and it switches seamlessly between the three cams.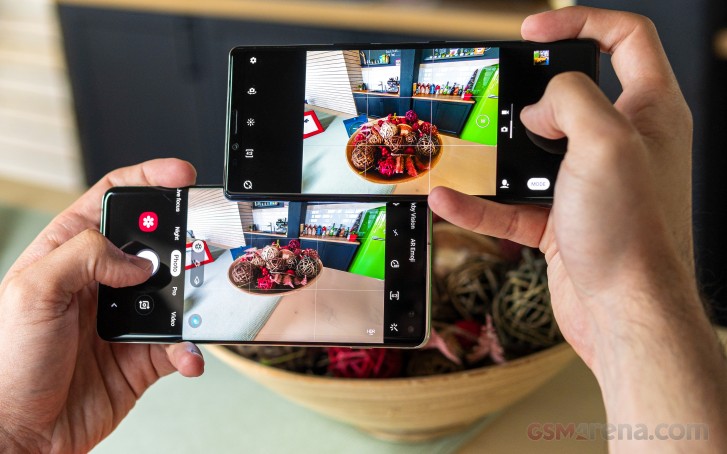 You change modes with side swipes and in the settings you can add, remove and rearrange the modes you have at hand. Vertical swipes switch between the front and rear cameras. Perhaps here is a good place to mention the maddening decision on Samsung's part to default to a cropped-in view for selfies (6.5MP, 32mm equivalent), with the full-res full coverage mode a whole extra tap away. An extra tap every single time, that is - they add up.
Anyway, the row of icons above the viewfinder includes a cog wheel for accessing settings, an aspect ratio selector that toggles the full view mode (to fill the 19:9 display), flash mode selector, filter bank, and self timer. Inside the settings menu you get access to the usual stuff: an HDR setting (effectively Auto/On/Off), grid lines, shooting methods and resolutions for photo and video.
Live focus is Samsung's portrait mode, and it used to work with the telephoto cam for image capture and the main one for depth mapping. A recent update, however, gave you control over which camera to use for taking portraits, giving you the best of both worlds - the telephoto's better perspective and more convenient shooting distance when there's plenty of light, and the much better light gathering capabilities of the main camera when you're in a dimmer than ideal setting.
There's a Pro mode too, and it's one of the pro-est around, but even so you only get manual control over the primary cam - not the ultra wide and not the telephoto. Still, you can select ISO (50-800), push shutter speed around (1/24000s-10s), manually select the aperture of the main cam (f/1.5 or f/2.4), focus manually (with peaking to aid you), add exposure compensation (in 0.1EV increments between -2EV and +2EV) and select the white balance (by light temperature). Metering mode and AF area options are available too. A new addition with the last generation Galaxies is a set of picture controls for contrast, saturation, and whatnot. Sadly, there's no live histogram.
The app on the Xperia 1 is lifted from the XZ3 with an additional toggle for cycling between the different cameras - 1x, 2x, and Wide. Unfortunately, the switch to the ultra-wide camera on this phone takes more time than on any other phone we've tried. Add to that the fact that you have to cycle between the tree cameras instead of having direct access to each, and then the exposure compensation slider overlapping the camera selection button, and you can clearly see that the multi-cam handling on the Xperia could use some more work.
You have dedicated viewfinders for stills and video, and extra modes behind a mode button. In the stills mode viewfinder, you have settings for flash, self-timer, aspect, basic white balance, and exposure compensation. There's also a toggle to switch between front and rear cameras, but you can do that more easily with a swipe on the screen.
The Xperia 1 has a hardware shutter release button and consequently a correct-side-up - the UI doesn't rotate accordingly if you tilt the phone to landscape to the right instead of to the left. We sort of get the reasoning, but still think it's backwards thinking - it isn't hurting anyone to have the UI aligned properly if the button ends up on the bottom every once in a while. But the Xperia doesn't observe the proper rotation for the purposes of its stereo speakers, so no wonder it's being stubborn here as well.
Auto mode is the new Superior Auto and it's AI scene optimization since before it was cool. It detects the scenes and adjusts parameters accordingly, and it even takes into consideration whether the phone is stable enough to invoke longer shutter speeds. Mind you, its 'Backlit' scene mode for handling high-contrast scenes isn't quite as HDR-y as the HDR on toggle in Manual mode, which is much better for such scenarios. The problem is, same as on the Galaxy, you can only shoot with the main camera in Manual mode, so there's no proper full-on HDR for the telephoto and ultra wide cameras.
Speaking of Manual mode, in addition to the HDR toggle (well, at least it should have been a toggle, but it's a two-choice menu, why?) you get to tweak exposure parameters yourself. It's not the most full-featured - white balance, for example, can only be set to one of four presets, but not by light temperature. ISO range is 64-3200, so that's pretty good, while shutter speed can be set between 1/4000s and 30s. You can dial in exposure compensation in the -2EV to +2EV range in 1/3EV increments and you can also focus manually, but there's no focus peaking.
Winner: Galaxy S10+. The Xperia 1's camera app has kinks that need ironing out and the less than perfect user interface sometimes gets in the way. The Galaxy S10+'s app UI is more polished, though we're still bummed about the selfie viewfinder's default crop.