After the massive Galaxy S10 leak from yesterday, there were few things left uncertain about the Samsung lineup. One of those was the name of the budget variant but we can cross it off the list. According to Samsung's official French website, the handset will indeed be called Galaxy S10e with a lowercase "e".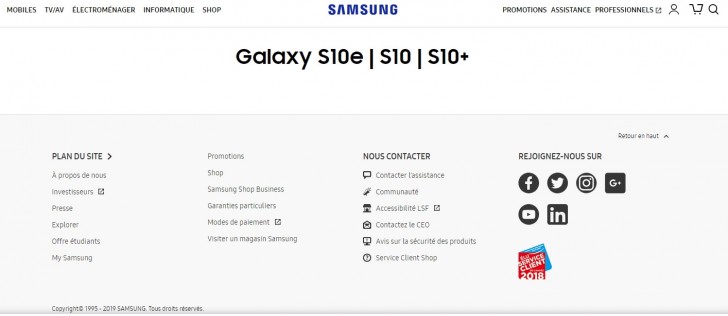 The French branch set up a landing page and without giving any further details, it lists all three Galaxy S10 models with their names. This is as official as it gets.
There's also no info regarding the fourth 5G model, but we assume it will come out later this year, while the upcoming foldable smartphone will be a part of a different lineup, hence why isn't listed either.
Man i correct you they are expensive apart from that nothing else. Chinese phones have equal quality for much less money. Maybe a bit less features as well but who needs so many features in phone pay fiorthem in a phone price and will never use...
B
Kindda was looking forward to a sammy flagship wi5h flat screen but if the 3100mah battery rummor is true I'm out.
s
probably data costs and he doesnt watch intense love making on his phone.
ADVERTISEMENTS