A brand new triple camera setup
As the proverbial "runt" of the S20 family, the vanilla model, naturally, has to settle with the smallest camera count of the bunch. Its setup consists of two 12MP snappers and a 64MP one. That being said, the S20+ only adds a "DepthVision Camera" on top of that, with the sole purpose of improving portrait shots and bokeh performance. We would consider the latter nice to have, rather than a major upgrade. So, unless the S20 Ultra is on the table at all, you can definitely curb your fear of missing out, seeing how the S20 really doesn't skimp on anything important the camera department.
Looking at this new camera setup on a surface level doesn't really excite all that much. Comparing it to Samsung's last generation array in something like the Galaxy Note10, a bump in the telephoto resolution does stand out, but also the decrease in the megapixel count for the ultrawide and the absence of Samsung's signature dual aperture tech for the 12MP main snapper.
Of course, we need to look a bit deeper than that to notice the upgrades in this new generation camera. Starting with the main Samsung S5K2LD 12MP sensor, behind an f/1.8 aperture lens. What you get with this snapper are nice and big 1.8µm pixels, adding up to a 1/1.76" sensor. Quite a decent upgrade over the last generation 1.4µm pixels and type 1/2.55" sensor. And in terms of other extras, this new SAMSUNG ISOCELL sensor still has Dual Pixel PDAF tech and OIS.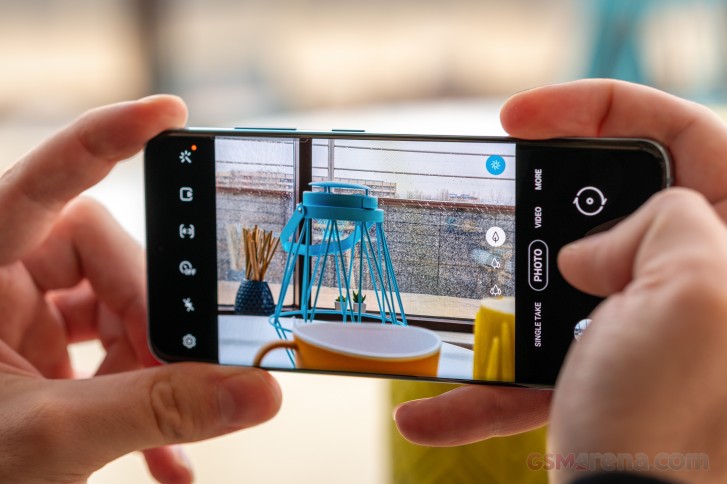 The 12MP, f/2.2, Samsung S5K2LA ultrawide camera has also grown in size for this generation of Samsung flagships. A pixel size of 1.4µm doesn't sound nearly as impressive as the one on the main camera, but compared to the Galaxy Note10 and its 1.0µm, it still constitutes a big upgrade. Just like last year, the ultrawide is the S20's first choice when it comes to capturing its rather impressive Super Steady video. But, more on that later.
Finally moving on to what is likely the most interesting new addition to the S20 and one already striking-up controversy left and right due to Samsung's marketing, as well as a bit of confusion. The 64MP, f/2.0 Samsung Bright S5KGW2 sensor, with its 1/1.72" size and 0.8µm pixels is the hardware behind Samsung's "3x hybrid optical zoom" marketing for the S20. Sounds good enough on the surface, but as it turns out, the actual optical zoom level the lens provides is practically insignificant, compared to the main 12MP camera. This means that Samsung is using cropping, combined with some advanced processing algorithms, to pull off its "hybrid optical zoom", up to an impressive-sounding 30x magnification. Using "optical" in the name is hence technically correct, but understandably a bit deceitful. Even so, like the saying goes - if it works, it is not stupid. So, we definitely approached the zooming capabilities on the S20 with an open mind, giving the tech the benefit of the doubt in our tests. Plus, the Samsung Bright S5KGW2 does sound interesting with its OIS.
Camera hardware, experience and features
Before we move on actual camera and video samples and quality discussions, we want to mention a few things regarding the current state of Samsung's camera interface. Honestly, it has been a rather mixed bag for us. One the one hand, certain things have definitely been simplified, like the removal of manual HDR toggles from the main UI. Instead, it's either AutoHDR or nothing.
On the other hand, the camera UI still feels a bit cluttered and clunky in many areas. For instance, the quick aspect toggle on the left-hand side, not only switches between the already rather confusing 4:3, 1:1, 16:9 and Full modes, but in the particular case of the S20, you can also select a 64MP mode from here. The latter flips over from the main 12MP camera to using the new 64MP camera for stills. A great feature, but probably one that could have been positioned a bit better. And in video capture mode this menu is equally as confusing, offering options for - 1:1, 16:9, Full and then 16:9 8K, with no actual indication of what resolution the other modes are using. Again, not a major deal and we do understand why Samsung decided to do things this way, but we still find mixing aspects and resolutions in a single toggle an imperfect solution. Plus, things get more confusing still when you add zooming into the mix, but more on that in a bit.
What we will say about Samsung's actual zooming controls is that while these do end up having a few confusing aspects to them, their overall execution is clean and makes sense, for the most part. You get convenient toggles for zoom levels on the right, with the maximum level depending on your current shooting mode. Stills can go up to 30x in regular mode and 10x in night mode and video goes up to 12x. Of course, since Samsung is achieving this zoom via cropping, any setting in between these levels is also possible, works just as well and can be achieved by pinch zooming the UI.
Beyond the main camera UI, there is the settings menu, which is pretty well laid out. Nothing really stands out as being confusing or hard to understand. The more advanced and some times experimental things, like HDR10+ video capture are confined within their own Advanced menu, which is a nice touch. The Zoom-in mic is enabled by default.
Video resolution selectors are pretty intuitive and generally do a decent job of disabling options that are not available in a given moment. For example, neither the 64MP camera or the ultrawide can capture video at 60 fps. Hence, when you switch to the ultrawide, the 4K and FullHD 60fps options in the resolution selector menu get grayed-out. By the same logic, if you first go into settings and select a 60-fps capture mode, the zoom toggles get disabled. This is done since the S20 uses its main 12MP camera to shoot regular videos, but flips over to the 64MP one if you want to do a zoom-in video or 8K.
There is a workaround if you really want to capture zoom videos at 60fps. You need to select a 30fps mode first, then zoom in and then go in the settings again and flip over to 60fps. The camera will actually remember your zoom settings across most settings changes. Hence, you will end up with a zoomed-in 60fps mode, but it will be cropped from the main 12MP camera and the results look quite disappointing. Still, if you really want to, the option is kind of there.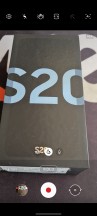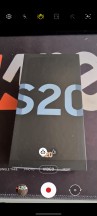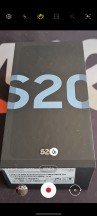 Samsung Galaxy S20 video capture interface
Super Steady video capture is only available at FullHD resolution, which is no surprise. That is also the case on the S20 Ultra. What is surprising to see on the S20, in particular, is that unlike the ultra, which uses the ultrawide for both Super Steady zoom levels, the vanilla S20 actually leverages its regular camera for the zoom mode. Hence, you still get the benefits of autofocus from it.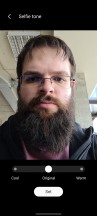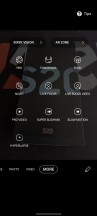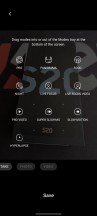 Selfie tone settings • Mode settings
Finishing some of the advanced settings options off, we have a nifty interface to fine tune the overall selfie skin tone you would like to see from the 10MP front snapper. You also ger more than a few additional shooting modes, hidden away under "More" in the camera UI, by default. You can freely pick and rearrange the options in this menu as you see fit.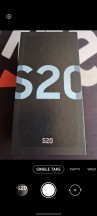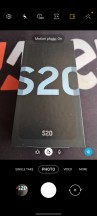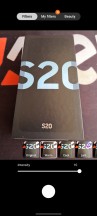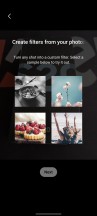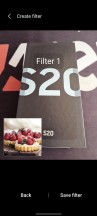 Single Take • Motion photo • Filters
Single Take is a new feature, which is great if you find all these camera options a bit overwhelming or too much for your taste. What it does is actually capture both photo and short clips from all of the phone's cameras simultaneously, all the while encouraging you to try different angles and pan around. After that, you get an Ai-curated album full of the best shots out of the bunch from the different cameras, including some stylized ones, animated gifs and short videos. It works surprisingly well and is naturally best suited for capturing dynamic moments and subjects that move around, like kids and pets or even both together. We kind of get why Samsung has found a place for Single Take on the main camera mode selector.
If you just want a short clip with your stills, the much simpler Motion photo is still present. So are filters, for that extra flare. The camera app actually includes a nifty feature for creating custom filters, based on the look of any photo you feed into the algorithm. Not a bad idea.
Of course, a full-featured Beauty mode is also present, with all the Sims-like sliders your heart desires.
And to spice up your videos in particular, Samsung has some of its older generation headlining features, or gimmicks, depending on how you look at things still present. Like the ability to craft and overlay an animated avatar in AR mode or simply draw something that maintains its place within the frame.