6.5-inch AMOLED isn't Dynamic, still 120Hz
The Galaxy S20 FE is equipped with a 6.5-inch Super AMOLED display - it doesn't carry the 'Dynamic' branding of the other S20s or the Note20 Ultra. So it's also kind of like the vanilla Note20, only better - it does support a 120Hz refresh rate, unlike the plain Note.
Resolution is FullHD, or 1080x2400px in a 20:9 aspect for a pixel density of 393ppi. You could say it's a downgrade compared to the 1440p panels of the other S20s, though an argument could be made that it's really the same - after all, if you run the non-FEs at 120Hz, their display resolution is similarly capped at 1080p.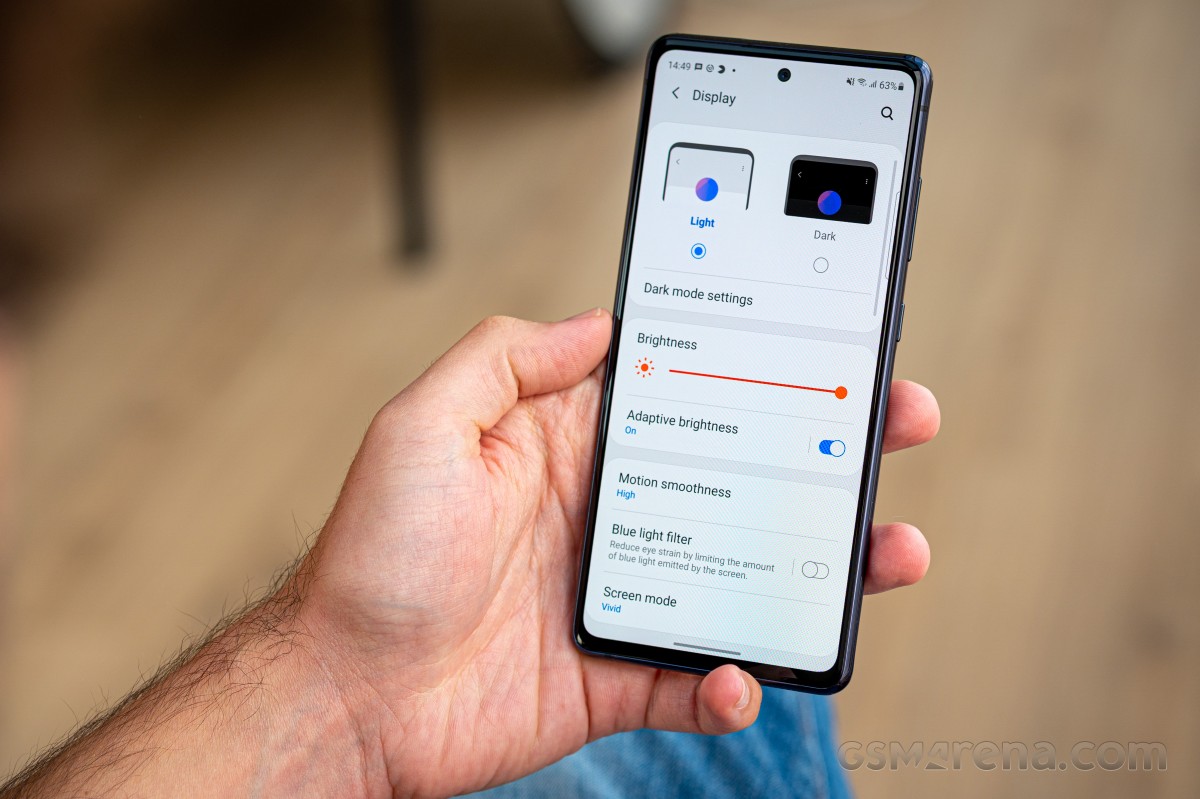 When it comes to brightness, however, the Fan Edition is as good as the other S20s. With the slider operated manually, we measured 404nits on the FE, with a healthy boost to double that in bright environments if you have the adaptive brightness enabled. The 823nits we measured on the Galaxy S20 FE isn't quite as high as the Note20 Ultra's 1024nits, but it's a couple dozen more than the S20+.
Display test
100% brightness
Black,cd/m2
White,cd/m2
Contrast ratio
Samsung Galaxy S20 FE
0
404
∞
Samsung Galaxy S20 FE (Max Auto)
0
823
∞
Samsung Galaxy S20+
0
379
∞
Samsung Galaxy S20+ (Max Auto)
0
797
∞
Samsung Galaxy S20
0
397
∞
Samsung Galaxy S20 (Max Auto)
0
814
∞
Samsung Galaxy Note20 Ultra 5G
0
504
∞
Samsung Galaxy Note20 Ultra 5G (Max Auto)
0
1024
∞
Samsung Galaxy S10 Lite
0
400
∞
Samsung Galaxy S10 Lite (Max Auto)
0
705
∞
OnePlus 8
0
496
∞
OnePlus 8 (Max Auto)
0
803
∞
LG Velvet
0
405
∞
LG Velvet (Max Auto)
0
617
∞
Asus Zenfone 7 Pro
0
529
∞
Asus Zenfone 7 Pro (Max Auto)
0
741
∞
Xiaomi Poco F2 Pro
0
516
∞
Xiaomi Poco F2 Pro (Max Auto)
0
854
∞
Xiaomi Mi 10 5G
0
522
∞
Xiaomi Mi 10 5G (Max Auto)
0
854
∞
LG V60 ThinQ 5G
0
511
∞
LG V60 ThinQ 5G (Max Auto)
0
622
∞
Realme X50 Pro 5G
0
525
∞
Realme X50 Pro 5G (Max Auto)
0
635
∞
Color reproduction is handled in a typical Samsung manner. There are two modes - Natural and Vivid. Natural is tailored for sRGB content, and we measured an average dE2000 of 2.4 for our set of sRGB test swatches - fairly accurate, but others have done even better. A notable lack of 'pop' is characteristic for this mode, too, as is normal.
Vivid mode is the one you get outside the box, and that's pretty colorful. It covers a wider color gamut, and we measured an average dE2000 of 3.9 for DCI-P3 test patterns with white having a moderate blue shift (around 6 units). This mode gets a five-position cool-to-warm slider and bumping that all the way to the right makes for more accurate whites (dE2000 of 2) and a slightly better overall result (average dE2000 of 3.4). There are additional RGB sliders if you want to tweak the color reproduction further.
The high refresh rate implementation is the older, non-adaptive kind. The phone will respect the setting you have in the menu, and that's that - if you have it at 120Hz, it'll stay there regardless of inactivity or viewed content. The UI, social apps, browsers, video playback - it's all 120Hz. Games are an exception to this rule. However, as usual - if you have the phone set at 120Hz, but the game doesn't support a high refresh rate, it'll switch down to 60Hz. Obviously, if you keep it at 60Hz, it'll be at 60Hz all the time.
One thing worth noting is that Netflix does not support HDR playback on the FE as of writing this - YouTube and Amazon Prime Video, on the other hand, do, so the phone definitely supports HDR, but it will be up to Netflix to enable the streaming support in HDR. The DRM Info app reports the phone is indeed capable of HDR10, HDR10+, and HLG playback, and it has Widevine Level 1.
Samsung Galaxy S20 FE 5G battery life
The Galaxy S20 FE is powered by a 4,500mAh battery - the same capacity as on the S20+ and Note20 Ultra. Mind you, we have the 5G version of the Fan Edition for testing, so it's equipped with the Snapdragon 865 chipset - usually, our Galaxy review units have Exynos chipsets inside. Naturally, we tested the S20 FE in both 120Hz and 60Hz modes with our lives made easier by the lack of smart adaptive refresh rate switching.
In 120Hz mode, we clocked 13:40h on our Wi-Fi web browsing script - a properly excellent result for 120Hz browsing. The Mi 10 Pro and One Plus 8 are in the same ballpark, but they only go as high as 90Hz. At 120Hz, the OnePlus 8 Pro and the Galaxy S20+ can only do 11 hours, though that's an Exynos S20+, so not a direct comparison, strictly speaking.
In video playback, the Galaxy S20 FE was good for 15:31h, and that's 2 hours more than the S20+, again at 120Hz. In our testing, the FE also posted some of the best results for standby power draw and voice calls that we've gotten from a Snapdragon 865 phone.
All of the above means that the Galaxy S20 FE 5G has an overall endurance rating of 110h with the display set at 120Hz.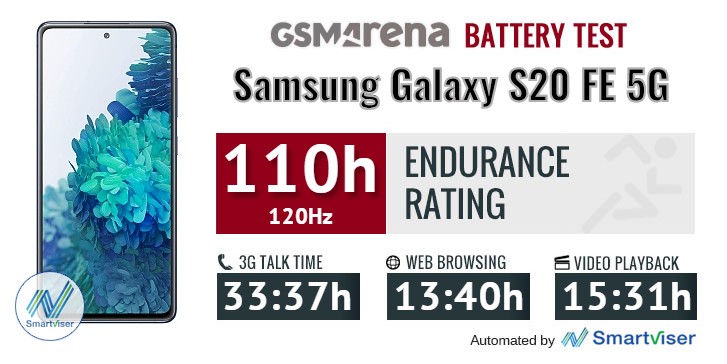 When switched to 60Hz, the S20 FE ups the numbers somewhat, adding an hour of web browsing and three hours of video playback, for an overall Endurance rating of 118h. Solid!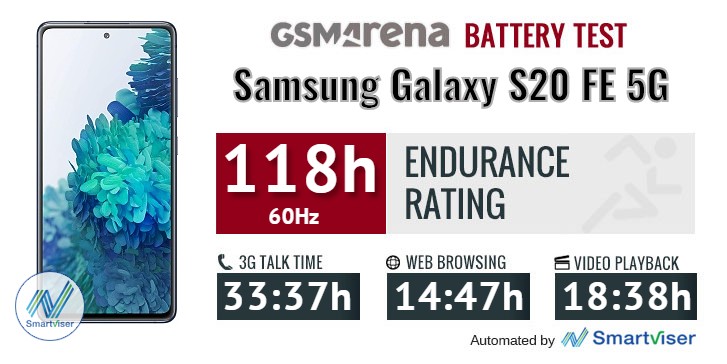 Our battery tests were automated thanks to SmartViser, using its viSer App. The endurance rating above denotes how long a single battery charge will last you if you use the Samsung Galaxy S20 Ultra 5G for an hour each of telephony, web browsing, and video playback daily. We've established this usage pattern so that our battery results are comparable across devices in the most common day-to-day tasks. The battery testing procedure is described in detail in case you're interested in the nitty-gritty. You can check out our complete battery test table, where you can see how all of the smartphones we've tested will compare under your own typical use.
Battery charging
The Galaxy S20 FE supports fast wired charging up to 25W with Samsung's USB PowerDelivery with PPS adapter. The caveat here is that the phone is supplied with the old, Qualcomm QC2.0-compliant 15W adapter - even the S10 Lite had the proper 25W brick!
Anyway, with the bundled adapter, we got a full charge from flat in 1:35h with just 37% in the battery indicator at the half-hour mark. A much better 57% in 30 minutes and okay 1:10h to a full charge is what you can expect if you purchase Samsung's 25W charger separately, or if you have a PPS-capable third-party charger that goes to 25W or above.
30min charging test (from 0%)
Xiaomi Mi 10 Pro 5G
77%
vivo iQOO 3 5G
76%
OnePlus 8
69%
Galaxy S10 Lite
63%
Galaxy S20+
62%
Galaxy S20 FE (25W)
57%
Asus Zenfone 7 Pro
56%
Sony Xperia 5 II
45%
Galaxy Note20 Ultra 5G
43%
Galaxy S20 FE (15W bundled)
37%
Time to full charge (from 0%)
vivo iQOO 3 5G
0:50h
Xiaomi Mi 10 Pro 5G
0:50h
OnePlus 8
0:53h
Galaxy S20+
0:57h
Galaxy S10 Lite
1:02h
Galaxy S20 FE (25W)
1:10h
Galaxy Note20 Ultra 5G
1:23h
Asus Zenfone 7 Pro
1:32h
Galaxy S20 FE (15W bundled)
1:35h
Sony Xperia 5 II
1:49h
What the S20 FE does better than the S10 Lite, we'll give it that, is wireless charging - last year's Lite doesn't have it, the Fan Edition does. It's specced as on the regular S20, so it should be able to charge at up to 15W from compatible pads, and it supports Wireless PowerShare allowing you to charge other devices off of the FE's back.
Speaker test
The Galaxy S20 FE 5G has the usual Samsung stereo speaker setup with a bottom-firing main speaker and the earpiece serving as a second channel. In portrait orientation, the earpiece gets the left channel by default, while in landscape, the phone will switch them around to match the orientation.
The Fan Edition earned a 'Good' rating for loudness in our test - about as loud as a Zenfone 7 Pro, not quite as much as a OnePlus 8. The Galaxy sounds clean at max volume with well-defined highs and vocals, decent lows.
Use the Playback controls to listen to the phone sample recordings (best use headphones). We measure the average loudness of the speakers in LUFS. A lower absolute value means a louder sound. A look at the frequency response chart will tell you how far off the ideal "0db" flat line is the reproduction of the bass, treble, and mid frequencies. You can add more phones to compare how they differ. The scores and ratings are not comparable with our older loudspeaker test. Learn more about how we test here.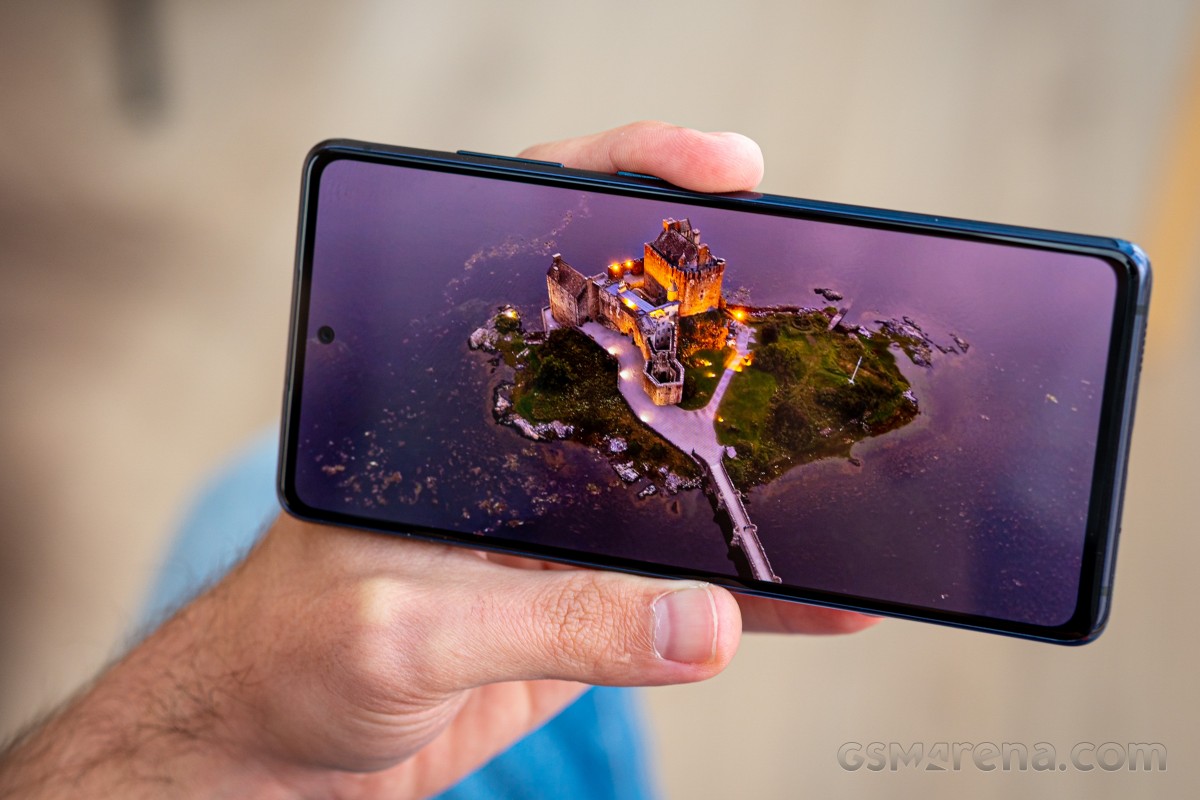 Audio output quality
We've recently discontinued our audio output quality test.
The reason for that is that most phones that arrived for testing were already excellent in this regard. Whatever difference there was, it was marginal and probably indistinguishable to anything but our lab equipment.