Samsung Galaxy S20 FE spin animations surface giving a 360° look at the phone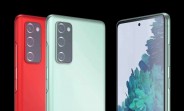 A couple of days ago we saw the Samsung Galaxy S20 Fan Edition renders in six different colors. Today @evleaks adds two 360° spins for a better look at the upcoming flagship. The colors seen in these spins don't quite match up with the ones in the renders, so keep that in mind.
The left side of the phone is now completely bare as the volume rocker jumped on the right and the Bixby key was booted – these are changes shared by all 2020 Galaxy flagships. But this phone isn't a 1:1 copy of one of the current S20 models.
For one, that triple camera on the back may appear identical, however the 64 MP sensor of the S20 and S20+ (which was both a zoom and an 8K video camera) has been replaced with a more traditional 3x zoom 8 MP camera.
Also, pay attention to the screen – while the current S20s have slightly curved sides, the front of the Fan Edition is completely flat. Also, the bezels are a fraction thicker, meaning that the phone is almost exactly the same size as the S20+ despite having a slightly smaller screen (6.4-6.5" vs. 6.7"). Rumor has it that the display will have 1080p+ resolution and 120 Hz refresh rate.
The Samsung Galaxy S20 Fan Edition is expected to come out some time in October and it should cost less than even the S20 (and even more so than the S20+).
E
Still selling us the crap chips? ExyNO thanks!
ADVERTISEMENTS