Display
We've been going on and on about impressive feature parity on the S20 lineup and we kind of feel like we need to bring it up once again when talking about the Ultra and its display. Even by looking at the specs sheet alone, it becomes instantly apparent that the choice between a vanilla S20 and the S20+ basically boils down to size preference. And if you are not the kind of person to really want to be on the bleeding edge of current camera tech, this logic can be extended to the Ultra as well.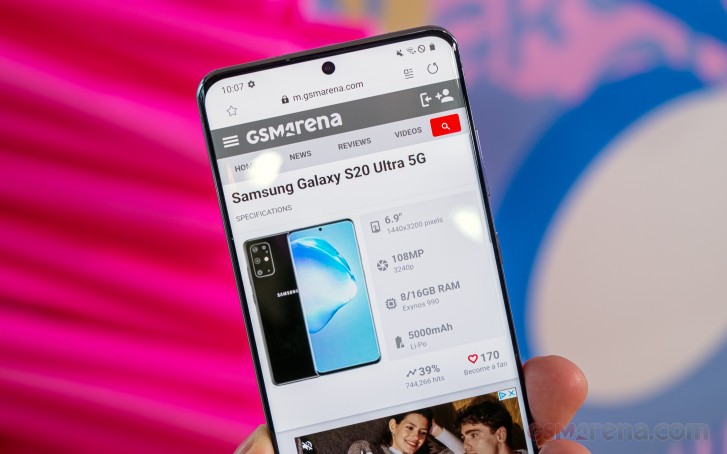 Regardless of how you happen to arrive at this particular purchase decision, you are going to end up with a huge amount of screen real estate to make the best possible use of the sizeable footprint of the Ultra. 6.9 inches of Samsung's top-of-the-line Dynamic AMOLED technology. At this resolution and diagonal, the density math works out to 511ppi. Or in practical terms - crystal clear sharp.
Since this is Samsung we are talking about, punchy colors, excellent contrast and brightness are pretty much expected on any flagship. High dynamic range certification is also quickly becoming a given in this segment and the entire S20 line has it covered with an HDR10+ rating. Speaking of the entire S20 range, we really have to give Samsung credit for not watering-down the display experience at all across models. The S20 gets the same native QHD+ resolution, bells and whistles as the S20 Ultra.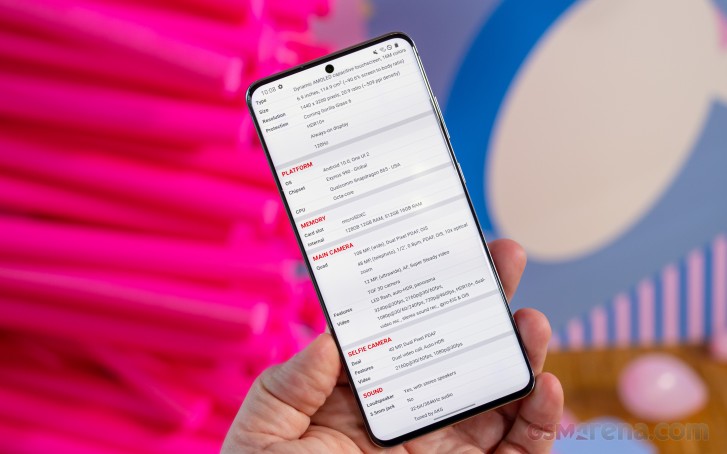 A key point on that list this year is the high refresh rate. 120Hz, to be exact, accompanied by a 240Hz touch screen polling rate. Any S20 model you get will come with a toggle between the familiar 60Hz and a buttery-smooth 120Hz mode, which, if you haven't experienced on a display yet, is definitely worth checking out in person. Going back is honestly kind of hard. Increasing refresh and consequently frame rate does, by definition, come at a battery penalty, which we will definitely be exploring and quantifying in our full review.
Just to make a few other points about Samsung's high refresh rate implementation clear as well - like earlier rumors suggested, Samsung has limited 120Hz to FullHD resolution, presumably due to battery endurance concerns. Perhaps that gave the Korean giant, or at least the officials we talked to at the event, the confidence to claim that every one of the S20 models, even the smallest-battery S20 will be able to last a full day, on 120Hz with a single battery charge.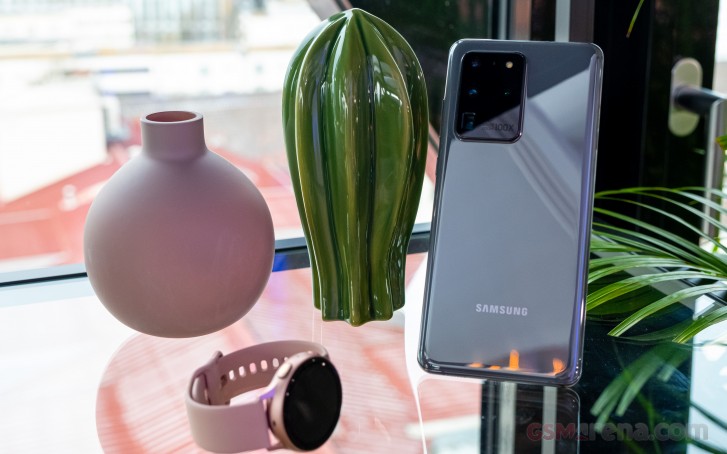 Unfortunately, we are not looking at anything too fancy in terms of the actual 120Hz implementation here - it is a binary setting, so either 60Hz or 120Hz. No variable or adaptive stuff, like you would find on Razer phones and their IGZO panels. We can't really fault Samsung for lacking that effectively one-off (if you don't count certain Apple iPads) extra. As for the FullHD resolution limit for high refresh rate, we really think it is a rather justified compromise to make and one that doesn't bother us much. Still, if you think it's a dealbreaker, then you might hate to wait for the Note20, which rumors claim will offer better high refresh rate implementation or perhaps see what other manufacturers, like OnePlus put out. The latter already boasted about its QHD, 120Hz tech.
Specs and performance
We can't really offer any specifics on performance in terms of actual figures for the S20 Ultra quite yet. We will definitely do so once a unit lands in our office. However, this is one of those rare occasions where we don't really need to stress out too much about CPU or GPU "oomph", since the S20 Ultra and the entire S20 line, in fact, packs either an Exynos 990 chipset or a Snapdragon 865. For global and the US markets, respectively. And those are really as good as it currently gets in the retail space.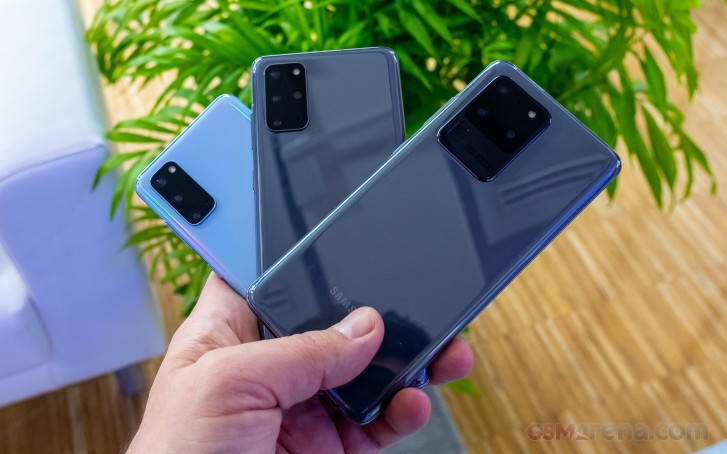 Both chips are paired with fast LPDDR5 RAM and if you really have money to burn and opt for the top-tier 512GB S20 Ultra, Samsung will throw in a ridiculous 16GB of it. This could very well be a world-first achievement, unless somebody else beats the S20 Ultra to market, but not really something we would honestly pay too much attention to. And beyond that, there will be plenty of time to pick apart the pluses and minuses of each of the two chipsets and things like the benefits of Samsung's 7nm EUV process, which is always a fun experience on Samsung flagships. More on that in the full review.
For now, let's just agree that the S20 Ultra is proper fast and instead shed some light on a less-discussed aspect of the aforementioned pair of mobile chipsets. It has to do with connectivity. Samsung's goal for all three S20 models is to propagate 5G connectivity. The official specs sheet notes both SA and NSA support, mmWave and sub-6GHz, which makes for a very versatile setup. 4G is equally impressive, with a 4x4 MIMO setup and Cat.20 speeds. On paper that sounds mighty promising.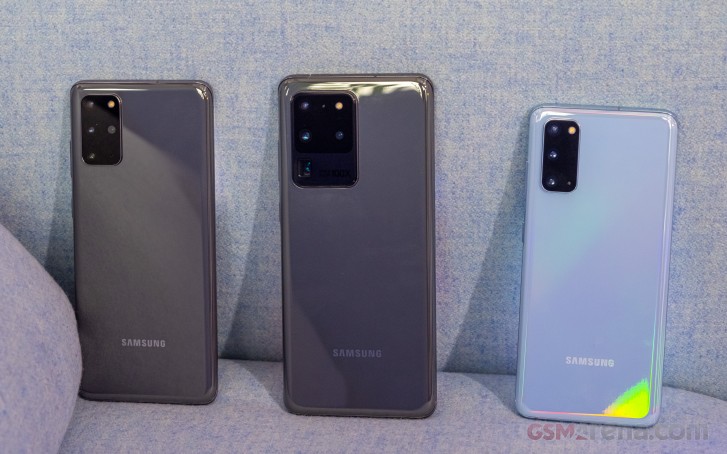 However, a potentially interesting bit here is that neither the Exynos 990, nor the Snapdragon 865 have an internal cellular modem. Instead, both use an external one - Exynos 5123 and X55, respectively. These cover 5G connectivity, as well as fall-backs to 4G, 3G and 2G. As a quick reminder, unlike the S20 and S20+, the Ultra won't, at least according to initial info, be offered in anything other than a full-featured 5G version. So, at least we don't have to wonder how a 4G-only version would behave or exactly what kind of internal changes, if any, it would feature. We are, however, left with the potential issue of increased battery drain, since an external modem, generally, draws more power than an equivalent solution, baked right inside the chipset.
We are yet to see how the Snapdragon 865 and Exynos 990 behave in this regard. Hence, some battery endurance suspense is something to look forward to as we get our hands on an S20 Ultra unit.
Another bit we hardly got to experience on the S20 line is the upgraded Ultrasonic fingerprint reader. This iteration apparently has a bigger surface area and promises major speed and accuracy improvements. Both desperately necessary to bring it closer to the traditional optical under display reader experience. You can look forward for our findings on that in the full review as well.
Software and UI
Familiarity is also the name of the game when it comes the the software and UI of the entire Galaxy S20 line. Just like its sibling, the S20 Ultra runs One UI 2.0 on top of Android 10. You definitely won't hear us complaining and the same likely goes for most current Galaxy users and fans. Samsung has really been extending a lot of effort to polish its otherwise consistently familiar software experience and it only makes sense.
We learned about a few new goodies in the OS, though. QuickShare is a new streamlined way of sharing with nearby devices via Wi-Fi. Google Duo is now baked into the Phone app - probably as an easy way to bring Apple FaceTime-like convenience for video calling. Bixby, which, despite the lack of a dedicated button, has been going strong and growing in features and popularity is also gaining Spotify integration for its actions.
Music share sounds particularly interesting. We didn't quite catch all of the specifics on this one, but from what we can gather it will enable you to pair an S20 series device to a Bluetooth audio speaker and then have a different smartphone connect to the S20 and use it as a relay, of sorts, to stream music to that same Bluetooth client as well. Sounds quite useful with car audio setups.
Samsung's Game Booster has also gotten a bit smarter. Or rather, less annoying in a certain specific use case. Apparently users were having issues with certain background tasks, like the Discord app getting force closed while a game is active with Game Booster Mode on. Samsung says you can now protect any background app you want from getting the boot.
Wrap-up
With initial impressions in, we really do think Samsung has a very strong S20 lineup on its hands. Nothing too "out there", overly experimental or potentially polarizing, just steps forward all around. Especially when it comes to the S20 and S20+. And, realistically, that's probably where playing it safe will count more for overall sales.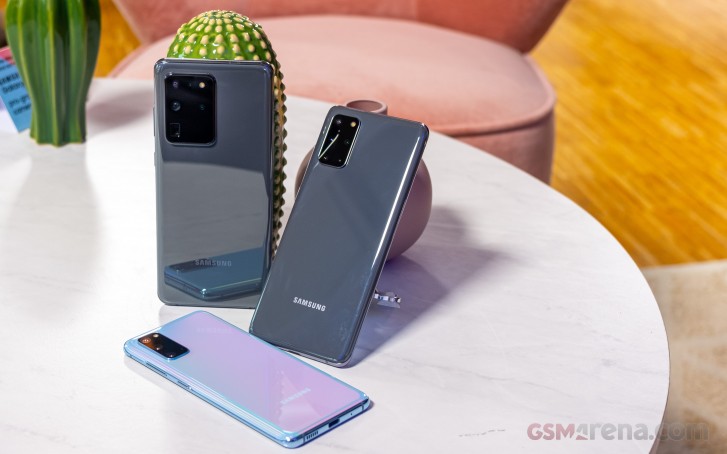 Even if it's not necessarily lining up for the top seller title, the S20 Ultra is clearly the star attraction here. Samsung is pushing plenty of camera innovation this year and potentially shaping its approach to mobile photography for the foreseeable future and consequently influencing the entire industry. There is still plenty to pick apart in the S20 Ultra and the shiny new 108MP and periscope snappers in particular.
Apart from that, we do really feel like we need to commend Samsung once more on the excellent job of structuring the S20 lineup as a whole. Feature parity is really strong this year, leaving plenty of options for users, with little sacrifice along the way.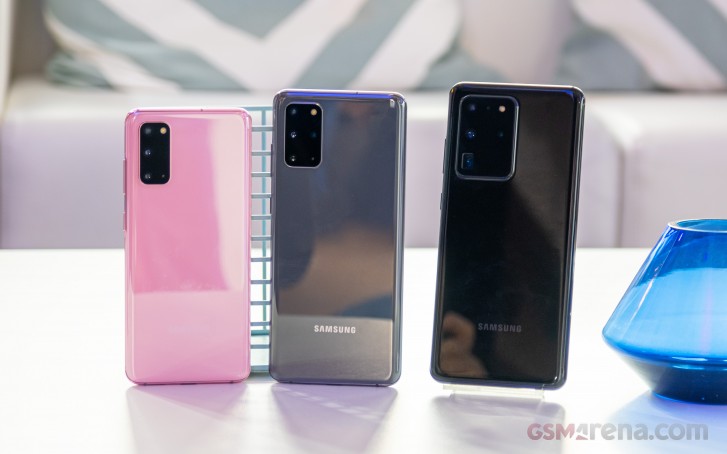 As per initial info, both the Galaxy S20 and S20+, as well as the S20 Ultra should go on pre-order right after the Unpacked event. Or, in other words, as this hands-on goes live. Pre-orders on the S20+ and S20 Ultra (sadly not the vanilla S20) will also be getting a free pair of Samsung's new Galaxy Buds Plus. General sale for all three devices in Europe is expected to commence on March 13. As a reminder, the S20 and S20+ (but not the S20 Ultra) will be available in 4G variants on certain markets. Of course, there are plenty more details to really sink our teeth into now that the S20 line is actually official. Be sure to check back for that.